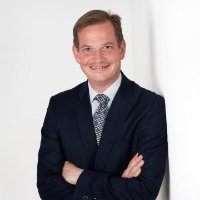 Pierre Baviera
MBA '07
Keen to combine his technology background and interest in business and to have an international career, Pierre Baviera spent 15 years as a management consultant, working in France, the US, the UK, Germany, Ireland and the Middle East. Three years ago, he made the transition into industry and is now chief executive of data analytics company, Presidion.
About Pierre Baviera
Tell us a bit about your education and early career
I grew up in France and did a primary degree in maths and physics and a master's in electrical and computer engineering in Paris. I quickly realised I was not going to be happy in a typical engineering or programming type of career. I was always very interested in combining technology and business rather than being too heavily confined to the technology world and, towards the end of the master's, decided management consulting would be the best way forward for me.
Straight after college I joined the management consulting arm of Cap Gemini in France and that immediately started me on what has been a very international career. For my first job, I spent nearly two years in the United States helping a customer negotiate an outsourcing contract with IBM. Through that project I learnt a lot about building pricing models and negotiating the business side of things. And it made a deep impact on the kind of work I wanted to focus on in the future – so more multi-cultural, international work.
For the next four or five years I did projects in Germany and the UK, and a little bit in Paris. A lot of my work focused on technology-enabled transformation of organisations. I advanced quite quickly through Cap Gemini because dealing with teams, selling and building relationships with customers and all came pretty easily to me.
In the middle of that I met Dearbhalla who was to become my wife. We met on a project and she was based in London and I was in Paris. We commuted for over a year and then lived in Paris for a while. And then there was a call for Dearbhalla to come home to Ireland and that's how I ended up in here. I resigned from Cap Gemini and soon after that was offered a job in PA Consulting Group's Irish office.
I had always planned to do an MBA because I love this type of degree. After a couple of years in PA my boss said it was time to do it. He said I was a future leader of the organisation and would have to learn and put into practice key leadership capabilities. Going forward, I was also going to have to interact with truly senior people across a range of responsibilities and needed to be able to talk their language. I had a busy life and if he had not nudged me I probably would have found some excuses to move the MBA into the future.
I did the exec MBA and got two promotions in the two years while I was doing it. What I learnt through the programme enabled me to do a better job and deliver better work, and to be more successful commercially, selling bigger projects. Part of it was that I was now extremely comfortable engaging with C-suite people in the market and talking the same language as them.
And from a leadership perspective, I had a much more comprehensive view of my interactions and my teams.
A year or so after completing the MBA I really felt the need to accelerate and put into practice my skills and so I took the opportunity to join a team that was setting up PA Consulting in the Middle East. It was my first leap into the entrepreneurial world and more of putting the MBA into practice. We had the backing of the PA group, but we had to make the most of our investment and demonstrate that we could build an organisation. So I had a very interesting and successful four years in the Middle East.
By 2012, we had two kids and were expecting twins so we felt it was time to get closer to the family. Also, the new boss in Dublin was telling me he needed a team to rebuild PA in Ireland. So, for the next two years I contributed to rebuilding the practice.
Then I got a little bored. I had been in consulting for close to 15 years. It was great doing projects and setting up new business units and advising customers how to do things better but I wanted to jump onto the other side. We had been doing a lot of work with Enterprise Ireland, advising smaller companies and start-ups, and I really felt I'd love to lead an organisation from within, not from outside. Then I was approached by the owners of Presidion, where I am now chief executive.
Tell us a bit about Presidion
We're an advanced analytics solutions company. We leverage our customers' data to predict the behaviour of their own customers or assets. For instance, we take the data and build quite complex mathematical models that help produce the insights to enable customers to reduce churn and to up-sell. The company is Irish owned and we operate mainly in the UK and Ireland. We're turning over €5m and growing at close to double digit percentage a year. We also work globally for our global customers, like Vodafone, RS Components and Rolls-Royce. And we're starting to look at other geographies.
I have no doubt that I could not do the chief executive job without my MBA. In any given week, I'm really touching on everything the MBA taught me.
What is your leadership style?
I'm very focused on empowering the teams I work with. I'm big into setting the vision for the team and then empowering people to make things happen. It is okay to fail. I tell my team members I'm here to serve them. I'm there to provide support in trying to solve problems they may encounter on the way, but I'm going to let them go. I'm not a control person at all.
Sometimes, with new hires or when I work with new teams, that may create some problems, because sometimes people want the control. Also, I'm a natural problem solver and do love when people come up with problems but, as much as I can, I try to coach them instead of coming up with the solution myself – sometimes that's hard but that's what I try to do.
Also, I want this leadership style to be cascaded across the organisation because I believe it's truly a great way of growing people.
What motivates you?
It's really problem-solving and bringing teams along so they can solve problems themselves. And I'm very motivated by identifying new ways of doing things from an innovation perspective, testing them, failing and failing fast. I'm fine with that. I get very excited when I feel I'm getting outside my comfort zone. And I love seeing people around me loving their jobs, taking more risks and being really good at what they're doing.
Growing the company financially is also a big motivator. I love getting into new markets and applying existing knowledge to new problems.
Who or what has influenced or inspired you?
Very early in my career, one of my managers in Cap Gemini influenced me strongly. He was always extremely positive, even in the middle of the biggest challenges. Deep inside, he knew there was always a solution to any problem. That really changed my outlook. At that time, sometimes I thought there was no solution. But there is always something that can be done. You always have to look at a problem as something that can be solved somehow.
The person who hired me in PA in 2004 became a very important person in my professional life. He decided to take a risk on me. Also, he encouraged me to do my MBA, which had a major impact on how my career evolved.
These two people were really important and they inspire me still.
What's your biggest achievement to date?
For me, the biggest achievement is I never sit still. I'm always moving on and finding challenges and ways of growing. When I look at all the milestones in my career, it's been all about changing to new positions, starting from scratch, growing and then starting from scratch again.
What failure have you learnt most from?
I fail regularly because I try new things all the time. I'm big into failing fast. What doesn't work is failing slowly. For example, in Presidion we developed a new product that we believed would be a big opportunity. We went full steam ahead with it and sold it a couple of times, but it didn't go beyond that and basically failed. But it was a slow failure. For me, that was an important learning. You need to listen to the market and all the data. You can't be emotionally attached to a new product or service or idea. If you're emotionally attached, you don't listen as well.
What are your tips or advice for success?
It is important to try to get outside your comfort zone all the time. As soon as things are getting a little bit too comfortable, a little bit too routine-like, you are beyond the time that you have to move on. I think it's key to learn and to go after new knowledge all the time and be very open and curious about things, outside even your day-to-day position. It's important to learn every day. We're an economy now where the most important skill is going to be about learning. You need to be able to learn and adapt and embrace change.
It is also important in a career to stay really close to customers. Building customer relationship skills is really important. If you're into becoming a leader in an organisation, you need to be close to the customers.
What are your plans for the future?
It's going to be very much focused on growing Presidion. Personally, I also want to get closer to being able to advise and mentor start-up companies and future leaders in those companies. Now I have a little bit of time after the madness of joining Presidion, I want to be able share some of my knowledge.
What are your interests outside work?
We have four kids so family is a priority – I try really hard to support my wife who has her own business. And I'm very into sports. I run marathons and I started triathlon recentely which I love!
Insight Track
How has your degree benefited your career and/or personal life?
The MBA brought a really good widespread know of all aspect across the organisation, which has been key to my career and embracing leadership positions. I also made some really good friends!
What is your fondest memory from your time in UCD?
Negotiation elective – I was the worst of my study group and as I do not take myself seriously we kind of turned this as funny situation each time I had to do live case study!
How important is your UCD alumni network to you?
UCD Alumni is really important to me – I grew up in France so I did not manage to build a "school" network in Ireland – UCD is the closest thing I have to this type of network.
What piece/s of technology can you not live without?
My GPS running watch! I am a really keen runner and I am so obsessed with my pace that I look at this watch every minute when I run…
What is your pet hate?
I love everything clean and tidy around me – am working on it as this is a real challenge with four young kids at home!
Who's your favourite writer and what's your favourite book?
Hard question. I do love Hemmingway and F Scott Fitzgerald's books. I just finished Shoe Dog book by Phil Knight, Nike's founder. I loved the passion and authenticity of the person.
What is your favourite dish to cook?
Moroccan tagine!
What team do you support?
Leinster!
What is your favourite place in the world to visit and why?
Probably Italy – it is a beautiful country, full of history, family friendly, fantastic food, passionate and welcoming people!
What do you do to relax?
I do a lot of sport – five or six times a week. It is critical for me to stay grounded and mentally healthy.
Name three things on your bucket list
1. Complete an ironman (or four)
2. Go for a cool road trip with the whole family in a campervan in Australia/New Zealand.
3. Go to Augusta for the Masters with my dad and brothers.
What charities or causes are closest to your heart?
Aware is the charity I raise funds for when I register for a big race. Mental health is key to our lives and a lot needs to be done (especially in Ireland) to raise awareness around mental health.
February 2018