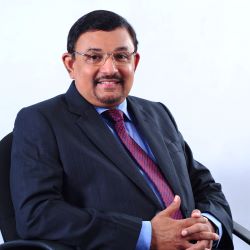 Robert Wijeweera
MSc in Management '13 (SL)
UCD's Outstanding Alumnus of the Year 2013, Robert Wijeweera retired from his role as Chief Executive of Singer Finance (Lanka) PLC in 2019. He is continuing to add to his knowledge – he recently engaged in legal studies and is now preparing to embark on a DBA programme – and to share it as a Non-Executive Director.
About Robert Wijeweera
Tell us about your career and educational background
I started my career in 1976 as a Trainee in Ernst and Young. I trained in financial and management audits and was there for about four years before joining the Hotel Ceylon Intercontinental, which was Sri Lanka's first five-star hotel. I started as an Accounts Executive and moved up the ladder to Credit Manager in the five years I was there.
In mid-eighties, I got into the leasing industry; I joined Mercantile Lloyd Leasing Co, when leasing as an alternate financing option was new to Sri Lanka. After that I joined Central Finance plc, and was there for 10 years as Senior Credit Manager in charge of the Colombo office leasing operations.
In 2001, I moved to Lanka Orix Finance, which is a subsidiary of LOLC, a large conglomerate in Sri Lanka. I joined at the inception of the company and was involved in setting it up, obtaining a licence from the Central Bank of Sri Lanka – it was the first finance company to be approved in 18 years – and launching business operations.
Three years later, I was invited by the Singer Group Chairman Hemaka Amarasuriya to start a finance company – the company wanted to sell its household equipment offering easy payments schemes. I joined and started Singer Finance (Lanka), which became a quoted public company two years later. It created history at its IPO by attracting highest ever over subscription (120 times) at that time on the Colombo Stock Exchange. From 2004 to 2019 I was at Singer Finance as a Director and Chief Executive Officer.
In terms of education, I have an MBA from the University of Sri Jayewardenepura. Soon after finishing that programme in 2009, I saw in the paper that University College Dublin was introducing an MSc in Management in Sri Lanka so I applied and was selected as one of the first batch onto the programme.
What is your current role?
I retired from Singer Finance in 2019 and now I'm serving on the board of Richard Pieris Finance Company (RPC) as a Non-Executive Director. RPC is owned by a large supermarket chain (Arpico) in Sri Lanka and I'm also involved with another company in that group.
Between 2019 and 2021 I did some legal studies in order to become a lawyer. I still have to complete the final stages.
What motivates you?
I always like to keep updated with new knowledge and new thinking. That's why I now want to do a DBA programme because I want to find out about all the latest management techniques.
It's why I did the MSc in Management programme in UCD as well. I always want to keep on learning and knowing about the latest techniques and management strategies.
How would you describe your leadership style?
I have a very democratic style. I had an open door policy when I was Chief Executive at Singer Finance. The door was open and anyone could come in and talk to me. I devoted Saturdays for the branch managers to reach me without any restriction or prior appointment to discuss their problems and so on.
What has been your biggest achievement?
Singer Finance was the first non-banking financial institution in Sri Lanka to be granted a licence by the Central Bank to issue an internationally accepted credit card back in 2015. That was a big challenge as credit cards are generally issued by banks. I took on the challenge and struggled for two years to make it happen. Local banks declined to share their system with us so I had to go to an Indian service provider to introduce the system.
Another proud moment was being selected as the Outstanding Alumnus of the Year 2013 by UCD. This was the first time that UCD awarded this honour in Sri Lanka.
What's the best piece of advice you've ever got?
Hemaka Amarasuriya, the Singer Chairman, used to always say to me, you do what you believe in and we'll give full support to you. That's the best advice I ever got from a superior.
My advice to other people is, you have to believe in what you intend doing. If you are not fully committed don't do it because you will definitely fail.
What are your plans for the future?
Apart from continuing my studies, I would like to go on sharing my knowledge with the corporate world, especially financial companies, to improve systems in this area in Sri Lanka.
Insight Track
How has your degree benefited your career and/or personal life?
It really helped me to transfer the theoretical knowledge that I learned to day-to-day management practice.
How important is your UCD alumni network to you?
It is useful in many ways including my overseas network. I have attended both Singapore and Hong Kong annual alumni events. Some of them still communicate with me specially sharing Covid-related updates.
What are your main interests outside work?
I'm a Rotarian and engage in various club projects uplifting the lives of the needy.
What pieces of technology can you not live without?
Definitely my laptop and smartphone.
Favourite band or musician?
I really enjoy Santana and Bob Marley's songs but Engelbert Humperdinck's voice is unforgettable.
What is your favourite dish to cook?
Dhal curry with added powders of Sri Lankan spices and coconut milk mixed at different stages of the cooking.
What is your favourite place in the world to visit and why?
Italy. It has such a rich history.
What are your insider tips for visitors to Sri Lanka?
Sri Lanka has a unique climate setting. Within four to five hours you can travel from hot sunny beaches to a cold climate in the central hills.
September 2021