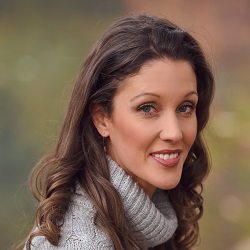 Roisin Branch
BComm '04
After completing her studies, Roisin Branch began her career – and ignited her love for marketing – at Diageo in the Canary Islands. Stints in London, Madrid and Amsterdam followed before she and her husband moved to New York in 2012. Three and a half years ago, she left Diageo to join Anheuser-Busch Inbev, where she is global comms director for Stella Artois.
About Roisin Branch
Tell us a bit about your educational and career background
Although I grew up in Switzerland, I always wanted to spend time in Ireland, which is where my father is from. In 2000, I moved to Dublin to study international business and Spanish at UCD.
After graduating I got onto the Ibec Export Orientation Programme, which sends graduates abroad for international experience. Through that, I got a job with Diageo in the Canary Islands, starting off as assistant brand manager on Smirnoff. It was the perfect job to kick off my career: I loved the company and the category. It ignited my passion for marketing. It was a small and safe environment, which gave me the opportunity to take on a lot of responsibility early on working with cross functional teams.
I stayed at Diageo for 10 years. I moved to Madrid to work on the white spirits portfolio and then to London to become the European brand manager on Smirnoff, followed by a portfolio innovation position.
In 2011, my husband and I decided to move to New York and I became senior brand manager of Johnnie Walker for the US market. It was an unbelievable privilege to work on such an iconic brand and relaunch the Keep Walking campaign across North America.
When I was on maternity leave I was asked to come back to work on Crown Royal, the biggest brand in the portfolio that was in decline. Within the first year, with a mix of rebuilding the brand's quality credentials and innovating to meet changing consumer needs, we managed to
turn the brand back around, making it the fastest growing spirit brand by volume. To this date, that was probably the biggest performance turnaround in my career. It was riveting.
Overall, the experience I had at Diageo shaped who I am today and who I want to be as a marketer.
In 2015, I was approached by Anheuser-Busch Inbev – the largest beer company and the fifth biggest consumer goods company in the world. They
recruited me to lead the 'beyond beer' business – essentially cocktail-inspired drinks. It was an exciting professional challenge. I had the right experience to lead that agenda and was eager to work for a company built on agility and meritocracy. ABI is a incredible place to work for ambitious self-starters with big dreams and it's been an invaluable learning experience for me.
What is your current role?
Since March 2017, I've been the global communications director for Stella Artois, doing what I love most, on another phenomenal global brand. I am responsible for the brand's global strategy and all global advertising. It's a great
combination of strategy, creativity and implementation.
My big markets are the US, Canada, Argentina, Brazil, Korea, Mexico, South Africa and Australia and I travel about once a month to one of these countries.
How would you describe your leadership style?
Trying to inspire teams as much as I can is the most important thing for me as a leader. I feel like people will follow you and give the best of themselves if they believe in you and in the vision. Part of that means ensuring that teams are empowered and feel true ownership of what they're doing. So, my leadership involves a lot of coaching. And I don't shy away from the tough conversations because you need to have people who are ready to deliver and go the extra mile for you. I have found that everyone respects honesty, even if sometimes it's hard to hear.
What motivates you?
Two things motivate me: knowing I'm making a difference and inspiring people.
The reason I love marketing is because I believe in the power of brands and their responsibility to make a difference. It's way beyond just selling product – it's about making a difference in the way people think and live their lives. There is a role for strong purposeful marketing to make a difference in the world. That really motivates me and it's why I love what I do.
The second piece is around inspiring people, both inside and outside work. It can be briefing agencies and teams on new campaigns, inspiring consumers through the campaigns, but also coaching and inspiring teams and helping with career development.
I'm very involved in female coaching for leadership. We're at a moment in time where there's incredible momentum for women around the world and I want to make sure I play my part in inspiring other women to believe in their own potential.
Who or what has inspired or influenced you?
I'm lucky now to have a team that inspires me. ABI recruits incredibly smart people with very diverse backgrounds whom I learn from every day. My manager is wonderful, and I have learned so much from her. She's a pleasure to work for.
I've been really inspired by writers and activists Maya Angelou and Alice Walker who have given me quotes to live by, such as "If you don't like something, change it, if you can't change it, change your attitude", or "The most common way people give up their power is by believing they don't have any". As I progress in my own career, I have more opportunities to apply this and speak up, using my own voice to change what I don't agree with and helping move the world forward.
I try to be an inspiration and support to others, whether it's people I mentor or my kids. I have a four-year old daughter and a six-year old son and it's important for me to set a strong example for them.
My parents have also been a huge influence on how I do things. My father is from Northern Ireland – he's the life and soul of the party and very hardworking. He came from a humble family beginning and went to Switzerland and set up his own dentist practice. He's always taught me the value of money and hard work and equally, the value of having a good time. All of those things have helped me get to where I'm at now.
My mother taught me to be myself and believe in what I could do. She was extremely supportive of all of us, helping us build on our natural strengths, versus trying to please others.
What's your biggest achievement to date?
The biggest result-driven achievement was turning Crown Royal business around, making it the fastest growing spirits brand by volume in the US.
Less tangible perhaps has been my contribution to the diversity conversation within my organisation, which is very male dominated. I'm working proactively with human resources to recruit and retain women to help solve the diversity issue from the ground up.
Are there failures you've learned from?
Mixxtail, the in-home cocktail project I worked on for my first year and a half at ABI. It was very ambitious and we had some successes in markets like Argentina and Korea, however we pushed too hard, too quickly and were operating in a space that was not a priority for the business. We learned a lot and I recommended a significant shift in strategy to refocus on growing the category with beer adjacent offerings, such as lime beer and different beer styles, versus trying to compete head on with spirits. And the company has been much more successful in this space.
What are your tips and advice for success?
My biggest tip is to love what you do. You're never going to be great at your job if you're not passionate about it. And you spend most of your life at work. I've spoken to a lot of people who are doing their job for the money or because it's an easier career path. By luck, I fell into what I loved from a very early stage in my career. That said, I have had jobs along the way that have been hard but you have to push through knowing there is something you will love again.
As important is finding mentors and champions within the organisation you work in, who will coach you and have your back when career conversations happen.
What are your plans for the future?
I want to be on Stella Artois for the next two or three years – which is long for careers at ABI – because I believe in the power of continuity and want to leave a legacy I will be proud of.
Long term, I want to be CMO. I love marketing and want to continue to grow within the discipline until I am the best I could possibly be at this job. Ultimately, I want have a positive impact on millions of people through the brands that I manage and the teams that I lead.
What are your main interests outside work?
My biggest priority when I'm not working is having quality time with the little ones. I get so much energy from them and it's amazing to see them so passionate about everything. I also try to get a workout in every now and again to help keep my endorphins at the right level and my head clear. I used to do a lot of ice skating but I haven't done that in a while. But I do ski when I can and do a lot of outdoorsy stuff with the kids. The time I have out of work is really dedicated to things I can do with them.
Insight Track
How has your degree benefited your career and personal life?
My BComm from UCD taught me the foundations of business and marketing, which have served me well in my career, and the friendships and professional network I built at UCD is invaluable.
What is your fondest memory from your time in UCD Quinn School?
The many nights spent at the student bar. Who knew that would be very useful market research for my big job?!
Tell us something most people don't know about you
I'm an adrenaline junkie.
What piece of technology can you not live without?
My phone. Not very original…
What is your pet hate?
Knuckle cracking. During final exams at the RDS, everyone was nervous and cracking their knuckles and I remember finding it terribly distracting. Everyone does it all the time at ABI too. I'm trying to get used to it.
What's your favourite book?
Shantaram by Gregory David Roberts
What is your favourite dish to cook?
I'm not good in a kitchen.
What is your favourite place in the world to visit and why?
Going back to the Swiss Alps because it's so peaceful and beautiful. And it's home. I don't think I would ever live there again permanently, but it charges my batteries when I go back.
What are your insider tips for anyone going to New York for the weekend?
Stay away from tourist traps and hit the coffee shops in Brooklyn, restaurants in Harlem and speakeasy cocktail bars in Manhattan.
What charities or causes are closest to your heart?
Water.org, providing access to clean water to the developing world. I'm actually on a shoot in LA right now shooting our next ad with Matt Damon. He is a co-founder and the work they do is phenomenal.

December 2018