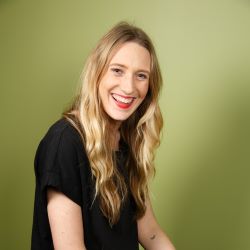 Sinead Connolly
BComm '09
Just four years after arriving in Sydney and starting her career as a recruitment consultant, Sinead Connolly established Lotus People, a boutique agency with the mission of setting a new standard in the industry. The business was one of the fastest growing start-ups in Australia last year.
About Sinead Connolly
Tell us a bit about your education and early career
I grew up in Stillorgan and did a commerce degree in UCD, graduating in 2009. Then, I spent nearly a year working in Dublin in an admin role and got a bit of experience in marketing and support, and an idea of what it was like working within a business.
All my friends and peers were going down the Big Four path and even though I had the grades to do that, it just didn't appeal to me. I had a desire to go travelling so I went on a backpacking jaunt and ended up getting a working holiday visa in Australia and – once I'd got the necessary farm work out of the way – that's really where my career started.
The first week I spent in Sydney really shaped how my career has panned out. I registered with a lot of temp agencies and, on the last day of that first week, met my current best friend and the co-founder of my business, Laura. She saw something in me and hired me for a reception role in a recruitment agency run by an Irishwoman. I progressed in that business and spent the next four and a half years there until opening Lotus People.
Was there a defining moment that led to setting up the business?
There was a change in leadership and in management in the business I was in, which was probably the catalyst to me thinking about setting up. Laura and I saw an opportunity to bring a fresh, dynamic agency to the market as an alternative to the more corporate agencies, with a genuine focus on creating a very strong internal culture.
At the point the idea was in our heads we met my current shareholders. We were introduced through mutual contacts to a couple of English guys who had been successful running their own recruitment agency for seven years. There was a value alignment and we hit it off.
I wanted a business that would be instantly credible and professional so I didn't want to be doing invoices and timesheets myself – I wanted a professional accountancy set-up that was going to match the standards I had and knew I wanted to work to. So, meeting them rather than anyone else was certainly the defining point.
And that relationship has blossomed over the last few years. They're still around. And they feel the model works so well that they've since opened two more businesses with other women who were specialists in their space. Lotus was very much the guinea pig for that model which was very different to most things that were happening in the market.
How has the business developed?
I set Lotus People up in 2015. I had a lot of contacts in the industry at that point and my shareholders were working with a number of companies so I was able to leverage off them.
We were very successful very quickly and almost immediately generated a lot of revenue and managed to build up a good brand from nothing. Since then, we've grown year on year and have developed a good reputation in the industry in Sydney. We've also organically started recruiting in some other states.
Now we employ 12 people. It's a good stable team: I've put a lot of energy into developing a career progression plan that involves internal and external training to get people up to speed so we don't have to rely on what is a notoriously candidate-short market for recruitment talent.
We've won a number of awards over the last three years, including Recruiter of the Year at the Recruitment International Awards in 2018. The year before at the same awards, we were named Best Small Agency to Work For. Also last year, the Australian Financial Review placed us 38th in its Fast Starters 2018 list of Australia's fastest growing start-ups, which was fantastic.
I was the winner of the Young Entrepreneur category in the Irish Australian Chamber of Commerce Awards in 2017 and listed in the Top 30 under 30 in last year's Anthill Awards.
What is your day-to-day role?
It's very varied. I do everything from marketing to managing three or four people. And I'm still involved with the clients. Although I do less recruiting I'm trying to generate and pass down as much work as possible, which obviously comes more easily when you're well networked and have been around the tracks for a bit longer.
What motivates you?
First up is people. Lotus is unlike a lot of agencies in the industry where there can be a high turnover of staff. It's very important not to lose sight of the people. I really value my team and we give them a huge amount of support and focus. That's evident in the tenure and commitment I have from my team. And obviously that extends through to how we treat our candidates and clients. It's a huge people business and that definitely motivates me and keeps me interested.
I am also motivated to always be the best I can be to make sure that at every point I'm doing things as well as possible rather than just settling for mediocrity in any one facet of the business.
How would you describe your leadership style?
I think I have a style that's very democratic in terms of how I am with everyone. It's not a dictatorship and I have a huge amount of buy-in and loyalty from the team. I'm very consultative – we do a lot of brainstorming sessions. And it's not just me creating the strategy for the business – I make sure everyone's involved at a granular level so we're all on the same page.
I definitely lead from the front rather than being caught up in the higher level stuff. I want to be leading by example and doing a good job for everyone to be able to emulate.
What is your standout achievement to date?
Laura and I set the business up together and, after a year of 12- and 14-hour days where we were constantly having to deliver consistently because of the speed of our success, Laura decided she wanted a break from the corporate world and went into yoga teaching for a while. She had always been my senior and the more extroverted one, so when she left I suffered a bit from imposter syndrome and had a fear of stepping into that role on my own. I very quickly overcame that lack of self-belief and stepped into it and owned it and continued to drive the business. And we've been on a continuous growth path since then. Looking back, that's definitely the thing I'm proudest of.
How important is ongoing learning to you?
It's hugely important. I love knowledge and learning. I like hearing other perspectives and am constantly reading books, listening to podcasts and going to hear people speak, as well as working with coaches. It is something I feel passionate about and I can see that my own growth has come as a result of this.
What's the best piece of advice you were ever given?
My first ever manager told me to never stop learning, no matter what I did or where I went in my career. She said, don't stop taking in information, even if it's reading a book or the paper. I naturally think I am that way inclined anyway, but she said that when I was in my late teens and it really resonated and I can see how that has translated through to now – running a business and investing a lot in training and development for my team.
What are your career or business aspirations over the next few years?
I've been getting involved with the industry over here – speaking at events and moderating a lot of women in leadership panels, both through the Irish Australian Chamber of Commerce and recruitment industry associations and bodies. That's definitely a path I want to go down. Being a spokesperson for women in business, especially young women in business, is something I feel passionately about. So, as well as growing my business and facilitating growth for my team, I also want to do what I can to support the industry and women in our sector particularly.
Insight Track
How has your degree benefited you?
It was a fantastic experience: a great way to build confidence, build networks and, obviously, increase business knowledge.
What is your fondest memory from your time in UCD?
I was lucky enough to qualify for a semester abroad and my semester spent in Canada was one of the best experiences of my life!
How important is your UCD alumni network to you?
Living overseas, it is harder to maintain but it has been great to meet fellow alumni in Sydney too.
What are your main interests outside work?
I love yoga and meditation and I love all things related to food! I'm learning to surf too – anything that restores balance!
Tell us something most people don't know about you
I worked in McDonalds at 15 because it was the only company that would hire under 16s!
What piece of technology can you not live without?
My podcast app – I don't know what I did without it!
What is your pet hate?
People who are unnecessarily cold – life is a lot nicer if we are all kinder to each other!
Who's your favourite writer?
This is hard one, I love reading! Malcom Gladwell is one of my favourites, I saw him live before and could listen to him speak forever.
And what is your favourite band or musician?
The Frames or Damien Rice remind me of the happiest gigs and memories.
What's the last gig you went to that you loved?
FKA Twigs played as part of Vivid Festival in Sydney and she was spectacular!
What is your favourite dish to cook?
Lasagne! My team request it often and we do nights where I'll feed them all!
What is your favourite place in the world to visit and why?
I adore New York – it is such a wonderful city and you do feel like anything could happen there.
Where is home and why?
Home will always be Dublin, but with friends all around the world, home is where the people you love are.
What are your insider tips for visitors to Sydney?
Go off the beaten track – there are so many stunning beaches, walks, trails and adventures aside from the main traveller spots.
What charities or causes are closest to your heart?
I support a number of charities and I am lucky enough to be able to use Lotus as a platform to really partner with and support some key charities. We recently developed a career program me or Stepping Stone House where each of our consultants partner with a disadvantaged youth to mentor and coach them and that has been hugely rewarding.
September 2019