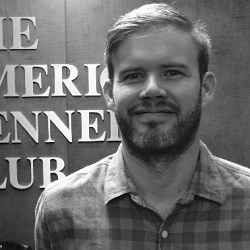 Stephen Smith
MBA '12
Having moved to New York in 2012 to work in digital media and publishing, UCD Alumni's representative in the city Stephen Smith (MBA 12) is director of digital content at the American Kennel Club and Woofipedia.com. The organisation's websites attract more than 4 million unique visitors each month have 4 million fans on social media.
About Stephen Smith
What is your educational background?
My second level education was in Virginia Vocational School in Cavan. I have a BA in journalism from Griffith College Dublin in 2003 and graduated from the Michael Smurfit Graduate School of Business with an MBA in 2012.
Tell us about your decision to go back to college to do an MBA
I spent a number of years working in management positions in construction and television but had not studied management or business formally. I wanted to further develop my management and leadership skills and the MBA was a great way for me to start that learning process. I was very fortunate to win the 'Idea For The Future' scholarship which paid 50pc of the tuition. The programme provided me with a foundational framework of management, strategic thinking, leadership and business skills that have really helped me in my career.
Why did you move to the States?
I moved to New York to work in digital media and publishing. This is a great city for media professionals with so much opportunity and innovation concentrated in one location. I wanted to gain some international experience and felt that I could achieve that by moving.
What is your role at American Kennel Club and Woofipedia?
My title is director of digital content. The American Kennel Club is over 130 years old and has 6,000 member clubs in the US. My job is to run the daily production and distribution of content that is published on www.akc.org and www.woofipedia.com. I lead a team of internal and external content producers. Additionally, I lead digital ad sales and ad operations for the company.
We have 4 million fans on social media and more than 4 million unique visitors to our websites each month. So far this year we have launched a new website, launched an e-commerce platform called Marketplace and we are building a wearable tech collar for dogs that will launch in 2016.
You're also the UCD Alumni representative in New York. Tell us about that
The work I do is very informal – UCD alumni who are moving or thinking of moving to the city will reach out to me or be introduced by the UCD Alumni Office. Some people are looking for advice on job hunting or introductions while others are simply looking to be kept informed about UCD events taking place.
The UCD Alumni Office runs two big events here each year – one in October and one in February – and I help out a little with that. The alumni chapter (www.ucdnyc.com) supplements these events with smaller events – last year with the help of the Irish Consulate and IrishCentral.com we ran an event with Penn State and Central Florida State in advance of their college football game in Croke Park.
How would you describe your leadership style?
I have spent a lot of my career working in small teams delivering creative projects and I think my leadership style has been influenced a lot by that experience. I don't like hierarchical team structures. I don't believe you can build a high performing team in that way. In my experience, most people want to understand clearly what's expected of them and they want to have some autonomy in how they set up their work day.
I have high expectations of myself and those who work with me. I am a big believer in transparency and accountability. I want to work with people who want to come to work every day and push themselves to do a little better than they did the previous day.
It's also really important to listen to people and allow their voices to be heard. That's an ongoing challenge for me because I'm a talker!
What's your philosophy in business and in life?
I try to treat people I meet in my personal and professional life as I would like to be treated. That comes down to being respectful of others and understanding that their contribution is valuable. That's an easy thing to say and hard to do because life can be stressful.
Who or what are your greatest influences?
I have been incredibly fortunate in my career to have had some wonderful mentors that I continue to learn from. Gillian Marsh, whose TV production company I worked for while producing Living The Wildlife for RTÉ One, taught me a lot about storytelling and is an inspirational character who has given many young producers their start in TV. Feargall Kenny, a tech recruiter and founder of New York Digital Irish, has always provided sage counsel. And Trevor Madigan, founder of The Vision Lab, has provided excellent insight on corporate culture as well as sales and marketing tips.
Do you have tips or advice for success?
The only real advice I have is to pick up the phone and call someone rather than sending an email. With email it's hard to communicate properly and, even if it's done correctly, can be an inefficient way of getting stuff done. If you do have to send an email, keep it short.
What are your plans for the future?
I love storytelling and I am very excited about the opportunity and challenge that publishers and brands are facing to capture people's attention on mobile devices. The typical person in the US spends an average of three hours per day on their smartphone consuming content, but spends only eight seconds on each piece. Shorter attention spans will mean having a shorter window to tell your story. That will fundamentally transform how we produce content. Figuring out innovative ways to do this is a major focus of mine for the near future.
What are your interests outside work?
I enjoy cooking, I like to read and exploring New York is always entertaining. A lot of the time here, you end up working long hours. So when it gets to the weekend, it's sometimes good to just catch up on sleep and go out for a long, lazy breakfast.
October 2015