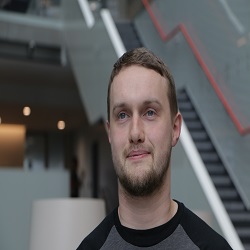 Steven O'Connell
MSc '15
Fascinated by life science entrepreneurship, Steven O'Connell followed up a biotechnology degree with a business master's and is now associate director of start-up accelerator RebelBio, operating in London and Europe.
About Steven O'Connell
Can you tell us about your educational background and career to date?
I initially did a four-year honours degree in biotechnology at Cork Institute of Technology. During that time, I met a number of prospective entrepreneurs. I was always really passionate about what was going on in life science entrepreneurship within Ireland and also globally.
I was quite interested in learning more about the translational and business aspects of science, and not just going the usual route of doing a PhD and going into research and maybe one day finding that passion for building a company myself. So I decided to do the biotechnology and business master's degree in the Smurfit School.
I finished my master's in 2015 and then started aggressively job hunting. I was looking at jobs in more established companies in Ireland but didn't really feel they would be as interesting to me. I'm obviously young but I thought that if you get in the right start-up and it goes really well, you can be in quite a high position in an early stage company. And if it doesn't go well, there's always other work.
Within a few weeks I got a job as business development associate with Glow DX, a molecular diagnostics company that participated in the RebelBio accelerator in 2015. Glow DX is a very early stage company creating easy to use, portable and cheap diagnostic kits for detecting viruses like dengue fever and Zika virus. The target market was Honduras and Central America.
I was there for about six or seven months, but as is the way with most early stage start-ups, there wasn't enough money to keep everybody on. Luckily enough, I got my role in RebelBio, which is part of a programme supported by SOSV - The Accelerator VC (aka Sean O'Sullivan Ventures) – within a week so I was never unemployed.
What does the role involve?
My current role is associate director and programme manager of RebelBio. In that capacity, I'm advising on how to grow the programme and reach more recruits and applications globally, and how to bring new mentors on board as well as prospective investors to invest in early stage companies through our day-to-day and long-term, as the programme expands. I also assist with our investor relations, strategic partnerships andmarketing efforts to source leading start-ups.
When I came into the role in 2016 we took on 13 companies from all over the world and hosted them at University College Cork's department of microbiology. The following year, we scaled up our internal team and added a further 15 companies.
This year, we're looking at London, where we have 10 companies accelerated. We have start-ups from all over the world now, including a number of US-based companies, several in London, and others in Latvia, Costa Rica, Chile and Ecuador. We're a global venture capital fund so we're recruiting start-ups to reflect that.
If feel I'm in a unique position as a bridge between the two areas of business and life sciences. I can explain science and business to nearly anyone who needs to know about our programme, be they investors or the public.
The money behind the programme is SOSV funds with US$330m of assets under management. We're a global venture capital fund so we have a number of different accelerators and different verticals. SOSV is one of the leading early stage investors globally and we are consistently ranked. In China we have hardware accelerator, HAX: in Shanghai there's the cross border internet accelerator, Chinaccelerator and in Taipei we have mobile-only accelerator, MOX.
In Europe, RebelBio is in London. And in the US, we have Food-X in New York and IndieBio, a later stage biotech accelerator, in San Francisco.
We have a global staff of 90 people. Each programme is approximately 90 days long and we invest US$100,000 for 8% equity in each early stage start-up. We have the potential to make additional investments in a number of companies. Essentially, in RebelBio, we're looking for the very best life science start-ups and backing them at the early stage to give them the resources they need to scale.
How would you describe your leadership style?
I'm very team-oriented personally and I enjoy working closely with people. I believe communicating often is key. It's good to be as open as possible with staff, fellow colleagues and clients and to understand and embrace ideas. We're very clear in our tasks and the goals we set among our teams and accountability is a big part of that.
What motivates you?
I'm very passionate about enabling life science entrepreneurs. Nearly 10 years ago, it was nearly impossible to set up a life science company. Historically you needed €10m to €20m-plus in capital to set up a company. Now, we're able to make impactful investments at very early stages, which means we are in the unique position of being able to support entrepreneurs on their journey. One of our earliest investments was Perfect Day Foods, which at the idea stage wanted to use yeast to make cow milk without cows. That company has raised over US$25m to date.
Who or what has influenced or inspired you?
My early lecturers within UCD, specifically Prof Jan Rosier and Dr David O'Connell were very supportive. I've always been very self-directed as an individual and I learnt from an early age that networking is super important. I have a number of family members who are successful entrepreneurs and I've met other entrepreneurs at different events. I'm always interested in hearing more about translating science into a business. I've always been very keen to interact with people who are doing that.
What is your advice for success?
Communication and networking are key. It's always good to be a team player. It's also good to explore new ideas – and don't be afraid to share them. Being aware that you can ask for help is also very important. Many people are afraid of seeking help from a personal or professional standpoint, but you should never worry about looking for support. And set growth targets for yourself so you learn new skills outside of your domain.
What has been your biggest achievement so far?
Definitely being a part of this team and scaling it from two staff members into a team of seven people with an international facing operation. I'm very proud of being able to work with the team. It is often tough at the very early stage with a flat management structure and a small team. But I'm proud of taking this role on and helping to transform the programme into something that's now quite a stable brand for prospective entrepreneurs who need life science investment.
Are there any failures you'd like to share?
I like to think I've turned my failure into a strength. I didn't meet the criteria to apply for a PhD programme. In retrospect, that was a good thing because it set me on the path I'm on now. It's important to remember when you're moving from the undergrad to the postgrad phase that there are many opportunities in the business facing aspect, so you don't have to do a PhD to do continue doing something in a dynamic and exciting science role.
What are your plans for the future?
I want to build on the RebelBio brand further. I'm interested in lots of things, like writing a book and computer coding – I missed out on that when I was younger and am trying to catch up now, because it really is a useful life skill to have. And it's really just about seeing where the road takes us in the next few years. We're open to exploring improving our programme's model in any way possible so we'll just see what the future brings.
What are your interests outside work?
Socialising is a big part of my life. I'm also quite active in terms of sport and keeping fit. I took up judo a few months ago and really like that. It's a very interesting sport and is all about focus, concentration and discipline. I do quite a bit of speaking and mentoring start-ups where I can outside of work. And I do a bit of writing. I'm interested in writing a book in the next few years.
Insight Track
How has your degree benefited your career?
I definitely think the MSc has helped me find a great balance between understanding the business, operations and scientific aspects of life science entrepreneurship, which has helped me to forge quite a unique path for myself.
What is your fondest memory from your time in UCD Smurfit School?
My time with the class was definitely a joy throughout and I found the dynamic and support from each classmate so great. The nights out were always a highlight!
How important is your UCD alumni network to you?
I find the alumni network to be a great asset to any graduate from UCD. I plan to get involved more in some other capacities when I get the time.
Tell us something most people don't know about you
I'm currently writing a non-fiction book but it will be a while until its ready!
What piece of technology can you not live without?
Definitely my phone!
What is your pet hate?
People who chew loudly.
What's your favourite book?
Definitely The Expanse series by James SA Corey. Groundbreaking sci-fi!
And what is your favourite band?
I'm a big fan of the electronic duo Justice, from Paris. They are very similar to Daft Punk combining different styles and influences to make some great music and live shows.
What's the last gig you went to that you loved?
I was at the Printworks in London to attend a gig called Klockworks, an 18-hour electronic music event, this Easter Bank holiday. Amazing experience.
What is your favourite dish to cook?
Chicken tikka masala/
What team do you support?
Man Utd fan since my youth!
What is your favourite place in the world to visit and why?
Definitely Vienna – it's such a beautiful city and the Hofburg Palace is a sight to behold.
Name three things on your bucket list
1. Become a partner in a VC fund
2. Travel to Asia and explore the Philippines
3. Publish my book
What charities or causes are closest to your heart?
CoderDojo is an amazing not-for-profit enabling kids to learn how to code for free in a safe and positive environment. Coding is something I missed out on earlier in life.
Applications are now open for the sixth cohort of RebelBio, where life science start-ups can receive up to £200,000 in funding.
May 2018