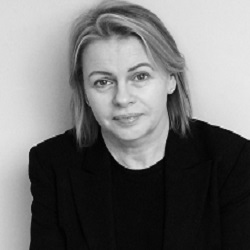 Valerie Phillips
DBS '92
A career in academia beckoned for Valerie Phillips before she switched to business through a DBS at Smurfit. After gaining experience as a consultant and in industry, she discovered the medtech sector and went on to set up a consultancy company that specialises in commercialising innovative medical technology solutions, medical devices and digital health.
About Valerie Phillips
Tell us about your educational background and early career
I started out as a linguistics and languages student and did a BA in French and German at UCC before being awarded a scholarship to do a master's in 20th century Austrian literature at the University of Konstanz in Germany.
After completing my MA I was at a bit of a crossroads. I was thinking of doing a PhD in German literature but didn't want to rush into it after six years of academics. So, I spent a year working as a language teacher in a boarding school in Switzerland. During that time I started to question if I really wanted to pursue a career in academia at such a young age.
On a trip back to Ireland I met one of my UCC professors who mentioned that the Smurfit Business School was running great courses for people like me who have a degree or two and want to move into business. I decided to do the DBS and to specialise in international marketing, which I thought would go very well with my languages.
By the time I finished I was in my early 20s and had three degrees but hadn't really worked, other than as a teacher. It was recessionary times in Ireland and really hard to get a job but I was very lucky in that I was headhunted by a management consultancy firm in London called Omega Partners. When I arrived in London to take the job, I found out that they really valued UCD business degrees – quite a few other UCD graduates were working there too.
I spent six years there doing strategy consulting, specialising in technology with large IT and communications tech firms. I travelled very extensively, using my languages and I really enjoyed that.
Then I decided to go off to get some industry experience so went to work for Nortel Networks as corporate development director working for the CEO's team on strategic projects. That gave me an insight into how big corporate business works and how a listed company works. They sponsored me to do further training at well-known institutions such as INSEAD and Ashridge Management School, where I completed strategy courses.
I stayed at Nortel for four years and also had my first two children during this time. I wanted to redress my work-life balance, so I left Nortel. I continued to work in a variety of consulting roles for another eight years, always in high tech environments and helping firms to bring hi-tech inventions and innovations to market. During this time, I had my third child.
I was introduced to a medtech company and subsequently became very interested in that sector and in medical technology and innovation. I worked directly for a couple of medtech companies in the sector. I was head of the health business at Randox Laboratories, a Northern Irish company, and launched its healthcare subsidiary in London. I then moved to an American medtech company, ReShape Medical Inc, for four years, when I managed their European business
Last year, I founded Medtech Market Access Ltd, a consulting firm that offers commercialisation services to early stage and developing medtech companies looking to grow outside of their home market into Europe. Many start-up companies have good innovations and receive a lot of help in their home markets but find it difficult to grow beyond that. So we specialise in commercialising their technology into new territories.
Not surprisingly, many of our clients are from Ireland. There's a lot of development and innovation coming out of the Irish medtech sector at the moment and it's very well supported by the government through Enterprise Ireland.
What does your day-to-day role involve?
We are a small network of experienced people and we work with a variety of clients at different phases of development: from the single clinician who has university funding to investigate an idea, to larger teams who have already secured external private funding, mainly VC backing. The profiles of our clients are diverse. We work on a project basis so we always have half a dozen projects on the go at any one time. The work itself is highly varied – from helping people who are seeking funding, to opening doors to customers, devising commercialisation plans, competitive positioning, pricing strategies and helping to set up clinical trials to gain market validation. What our clients have in common is their need to commercialise their innovation.
What motivates you?
I like to bring commercial and practical advice to technical experts in their field. I work with R&D engineers, clinicians and software engineers who have great innovations but often little or no commercial experience. We are enabling people to turn their ideas into a commercial reality. And because it's medtech, these innovations really make an impact on people's lives in terms of health outcomes.
What is your leadership style?
I'm incredibly positive and determined, and always look to find a way to find solutions. I'm very consultative – I like to seek a lot of expert advice. It's particularly important to seek advice in a sector like this where I am not the technical expert. I like to communicate frequently with people, so it's always a very open dialogue. I enjoy working in diverse teams and often need to work alongside a variety of technical experts including healthcare professionals, clinicians, lawyers, R&D professionals, engineers and finance. Well developed communication skills are key.
Who or what has influenced or inspired you?
The people who have influenced me most are my parents. I always remember my mum saying, if you can read, you can teach yourself to do anything.
I've changed direction quite a bit throughout my career. I started off as a languages student, then went on to do a master's in literature, into academia, then consulting and strategy advisory. The power of education, the ambition and willingness to work hard, to be open to ideas, to engage with people and to take challenges on board come from my parents.
What is your biggest achievement to date?
From a medtech perspective, working with ReShape we obtained FDA approval for the first non-surgical medical device in the obesity sector in the world, which was quite groundbreaking. When I worked at Nortel, it was the largest company in the world at the time in terms of market cap. It was the Apple of its day, so that was an unique experience it itself.
However, I believe we actually learn more from failures. There is a lot of learning around the great inventions that didn't make it, maybe because of not having commercial knowhow or because of the failure to change people's behaviour – if you have a great idea but it involves a behaviour change that can be difficult to implement. This is not to be underestimated. I encounter this regularly with my medtech clients.
What are your tips and advice for success?
I think the greatest piece of advice I can give people is to be nice to everyone you meet. You never know when you will meet them again – it's unbelievable how you cross people's paths in different ways and different environments.
It's so important to be approachable and to do things without looking for immediate payback. So if someone asks for advice, give it to them freely. Be open, be nice, be polite and when you can help somebody, do it. Don't look for anything specific in return – be long term in your view.
The other thing is to not to be afraid to ask for help when you need it.
What are your plans for the future?
I want my consulting business to grow. I would also like to continue to support Irish medtech companies trying to grow in markets outside of Ireland. Ireland is the second largest employer of medtech professionals in Europe and exports to over 100 countries worldwide. I'm quite passionate about supporting Ireland's position in medtech – there are some great Irish-based companies with exciting innovations and I'd really like to support them, from a personal point of view.
What do you do to relax outside work?
Well I have three children so I don't get to relax too much, although they are now heading off to university so I have more time to focus on building my business. In terms of hobbies, I enjoy yoga and walking my dog. I do a lot of hiking and walking and try to do some kind of challenge every year. Last year I climbed Pen y Fan, the tallest mountain in Wales. The year before it was the night-time marathon in London for breast cancer. I try to do something every year as a challenge. I find it's a very good way of destressing from work.
Insight Track
How has your degree benefited your career and personal life?
My time at the Smurfit Business School was an amazing turning point for me. Up until that time, I was destined to be an academic in German literature.
What is your fondest memory from your time in UCD Smurfit School?
Our team assignment which we ran like a military operation and completely overdid!
How important is your UCD alumni network to you?
Incredibly important – I am still amazed to come across UCD Alumni in all walks of life, in many countries across the world.
Tell us something most people don't know about you
I adore rap music. I think it harks back to the literary student in me. I love the lyrics and can often be found at a rap gig in London.
Who is your favourite musician?
Kanye West.
What's the last gig you went to that you loved?
Kendrick Lamar at Wembley Arena. Pulitzer Prize winner. Genius!
What is your favourite dish to cook?
Moroccan lamb.
What is your favourite place in the world to visit and why?
Rome – feels like home. I love the people, the food, the churches and the architecture. I try to visit every year. I think my children have had enough!
What charities or causes are closest to your heart?
The Sick Poor Society in Cork. My father, Finbarr, (now deceased) was a major supporter and I grew up helping him with his work there.
November 2018