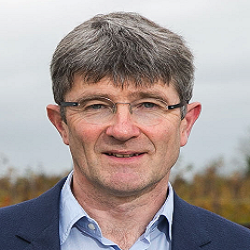 William Keeling
William Keeling – BComm '87, DPA '88
After qualifying as a chartered accountant, William Keeling worked with Chiquita in Holland before joining his family business – Keelings Group – to manage operations in the UK and Europe. He now leads the development of Keelings' Food Central park and oversees the group's property assets.
About William Keeling
Tell us about your education and early career
I went to school in Belvedere – I'm still in touch with quite a few classmates and we have regular reunions – and then moved on to do a BComm in UCD, where I have particularly strong memories of John Teeling's lectures.
I also did a DPA in UCD followed by chartered accountancy with KPMG in Dublin. One of the things I enjoyed most about that time was having the opportunity to visit so many different companies and seeing how they operated.
After I qualified, I moved to Holland to work for Chiquita and that provided some valuable insights into how a global food company operates. I was working in the marketing business in Europe – they invested a lot in advertising so I learnt quite a bit around the branding of fresh produce. Also, I hadn't seen much of Europe at that stage and it was a great base for visiting cities like Paris, Brussels and Amsterdam.
After about 18 months, I moved to the UK to run a banana business Keelings had just acquired. We had about a 3% share of the UK market at the beginning and we grew that to 15% over the next six or seven years. That growth was all based on working hard and providing the best quality and service possible, 365 days a year. It was a great learning experience around how to manage teams and a business through growth and deal with the multiples in the UK.
I also went on many interesting visits to banana plantations including in Colombia, Costa Rica and the Caribbean, which was a chance to see a different world of agriculture in tropical conditions with huge plantations.
We sold that venture in 2003 but we were also developing other businesses in the UK and Europe and I was responsible for growth in those markets until 2010. At various stages during those years we had six different businesses and I was involved in everything from acquisition and rapid growth to two mergers and cost reduction programmes. I also learnt how to deal with the wins and losses of retail consolidation.
What is your current role?
In 2010 I came back to Ireland to take the role of managing director of Food Central, a 280-acre food and drink business park we've developed near Dublin Airport. Right now, we have five companies based in the park: Keelings; fresh produce company Donnelly; Dixon Transport; HPP Tolling, a food technology company; and food supply chain specialist, Oakland International.
It's a long term venture focused on attracting successful and growing food companies to an excellent location. We still have 120 acres to develop in the coming years so, while we have 1,200 people working there now, the full masterplan would see that number growing to around 5,000.
There's a range of food-related activities going on at the park, including growing, processing and packing, foodservice and logistics. We think it makes a lot of sense for food companies to be able to bring their customers and suppliers to a food environment rather than a typical industrial estate where anything might be going on.
I'm also a director of the Keeling Group and am involved in property, strategy, finance and governance through that.
How would you describe your leadership style?
I think it's coaching and supportive. I like to involve the team, agree what we're trying to do and what our targets are, keep following up and measure results accurately. That's a constant process.
I like to think about the company values and have them in mind as we're developing and growing. Passion for achievement is one of those values – you have to be hungry for high performance. People matter, teamwork and integrity are our other values.
I tend to try to look for winning solutions that are hard to find. That often involves turning over many stones to identify the best, rather than the first, solution.
Planning ahead is important to me. So, for example, we did a full masterplan for the Food Central programme at the very beginning so that, as we made decisions along the way, they could be informed by that plan and aligned with long-term, sustainable development.
What motivates you?
I like to question things and look for success that many others won't find by being persistent and searching for the next target.
I'm lucky that we're in a family company so we can think about long-term sustainability in the decisions we make. That's a great advantage because I think I'm more of a marathon runner than a sprinter.
I like to see talented and motivated teams working together and sparking off one another and I think that's when we perform to our best. I enjoy seeing others grow in their roles.
Another motivator is continuing to develop the family business so it's growing stronger generation by generation.
Who or what has influenced or inspired you?
Continuous learning definitely inspires me. Recently I've been trying to learn something from one area in my life and applying it to another. So, for example, working with bananas – a very short shelf-life product – was great training for fast decision making. You must sell the product within two days or they have no value.
I did an iron man a couple of years ago and that required a lot of planning, training and effort and that's probably similar to a business plan.
I try to listen to successful people and look at their habits. For a while, I wasn't finding time for reading but recently I've been listening to a lot of audio books so that's a way of generating new ideas and approaches.
Inspiration comes from sport as well, particularly when you see someone who's been beaten or appears to be and they come back again to win. A good example of that was the Irish rugby team getting the drop kick in the final seconds to win against France in the Six Nations last year.
Companies that manage to earn a lot of customer connection and loyalty are also very inspirational. It's not easy to achieve and those that do certainly inspire us to keep improving our product.
In our business, my dad is the chairman and has been heavily involved in growing it over many years. He has unconditional optimism and that's certainly inspirational to me and to others.
And there are plenty of examples of people at all levels in our business who inspire people all around them by responding strongly to adversity and challenges.
What are your biggest achievements?
The first would have been the banana business in the UK. I'm proud of the fact that we grew market share from 3% to 15% and built it up to a turnover of around €60m when I was in my late 20s. That involved a fast learning curve.
Turning the Food Central idea and masterplan into a reality is also something I'm proud of.
We also recently got planning permission for an aparthotel in the city centre after a three-year process, which was another satisfying achievement.
What about failures?
There are always plenty of failures that we learn from. We had a failed acquisition some years ago and the learning from that was not to rush important decisions without having full financial information and not to go against your gut feeling. We've done better when we've got involved with companies that were already successful with a winning culture rather than cheaper turnaround acquisitions.
What are your tips and advice for success?
Work in an area you're drawn to and where you can make best use of your strengths and energy rather than focusing too much on improving on your weaknesses.
Learn from your successes and failures. There's so much information available on everything online but experience is something you can only gain by doing.
In negotiations I've learnt over the years how important it is to understand the other side in order to achieve a better outcome. By having that insight you may be able to achieve things that don't cost them or vice versa.
It's good to try to put yourself in your customer's shoes sometimes and see and think from their perspective.
Look at successful people and their habits.
For family businesses, I would say be consistent and long-term in your decision-making approach. Blend different generations for the benefit of the company. We started young in the wholesale market, which gave us a deep understanding of the business and a respect for all the jobs people do.
When you work with siblings it's important to have very clear roles and, ideally, different responsibilities. Involve capable and trusted non-family members in critical business decisions and discussions so there's a wide perspective. And finally, keep working on family issues as well as business priorities or you'll have a problem at some stage.
What are your plans for the future?
The long term plan is to continue developing Food Central step-by-step and working with Keelings to hand it over in a better, stronger position so it's moving forward as a business.
Insight Track
How has your degree benefited your career and personal life?
My degree gave me a strong foundation for understanding business and friendships that are still going.
What are your main interests outside work?
Horse racing, running and my children's sports.
Tell us something most people don't know about you
I rode one point-to-point winner.
What piece of technology can you not live without?
I rely on the Garmin Forerunner for run and cycle training.
Who's your favourite writer and what's your favourite book?
I think that changes over time. I don't read fiction anymore. I recently enjoyed Matthew Syed's Bounce and Black Box Thinking.
What teams do you support?
Sunderland, I followed them as giant killers in the FA Cup 1973 and as far as I know you are not allowed change. Irish rugby team.
What is your favourite place in the world to visit and why?
A horseback safari in the Okavango Delta, Botswana was truly extraordinary.
Name three things on your bucket list
Family trip to Australia. Train the winner of a horse race. Spend more time in some of the interesting places I've visited in the world and get to know them better.
What charities or causes are closest to your heart?
ISPCA, Peter McVerry Trust and Goal.
February 2019