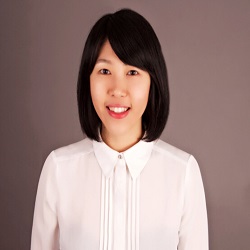 Zhen Dong
BComm '11, MSc IntMgmt (CEMS) '12
Zhen Dong received an early lesson in the value of hard work when she sat the Leaving Cert six months after arriving in Dublin from China and achieved the grades for her top university choice – the BComm at UCD. Since then, she's notched up three first class honours degrees, a UCD Undergraduate Scholarship for Outstanding Academic Achievement and a six-month stint with the OECD in Paris. She is currently an investment analyst at the Ireland Strategic Investment Fund, NTMA.
About Zhen Dong
Can you tell us about your educational background and career to date?
I'm originally from Xi'an, China but I grew up in a couple of other countries because my dad is a diplomat. I went to primary school in China and after that moved to the Netherlands where I spent most of my secondary school life in The Hague. I then returned to China for a couple of years before moving to Ireland in 2008, when I was in my sixth year equivalent.
I was very fortunate to be accepted into a local secondary school, Muckross Park in Donnybrook, where I completed my Leaving Cert and got into UCD. It was very tough, but the best thing that ever happened to me – I saw that if you put 100% into something, you'll see results.
I achieved my top choice to study the BComm degree at UCD. Funnily enough, I started around the time when Lehman Brothers collapsed so it was a very unique time on Belfield Campus. Far from the carnage of Wall Street, I lived relatively oblivious to anything outside of campus life.
On the back of the three wonderful years in Belfield, I was then accepted into Smurfit School for its prestigious CEMS degree. The 18-month programme offered me an eye-opening learning and networking experience, beginning in Dublin and then in HEC Paris, my host university, where I also spent an additional half year working at the OECD. My role there involved government policy and advising central east Asia governments on financial services best practice.
After saying au revoir to Paris and returning to Dublin, through my old network I stumbled upon a position in Carne Group, a fund management company. This was my first real stab at the investment and asset management world. Carne is a medium-sized company, so I got an early exposure to many aspects of its very entrepreneurial business model. I learned to be a jack of all trades, while mastering a few along the way!
A couple of years working for the dynamic, ever evolving business opened up more doors for me and I was eager to try new challenges and to meet new people. When an opportunity from ISIF, the sovereign wealth fund for Ireland, knocked on my door, I knew it was time to step up! I am almost two years in ISIF now, but every single day I am struck by how incredible a place it is to work for.
What does the role involve?
I joined NTMA as a risk analyst within the ISIF unit, where my day-to-day has a very good mix of analytical work and engagement with people across various functions. More recently, my role has evolved into an investment analyst role, where I am gaining an immense amount of knowledge working on transactions and support deals on top of my primary risk role. It's a very unique job proposition – I don't think there is any other asset manager in Ireland that looks after such a diverse pool of assets, while getting to collaborate with world class co-investors.
It's a fantastic place and the team is quite small, so I get delegated all types of ad hoc work, from answering parliamentary questions to writing investment reports for the CEO or investment committees. There is no typical day here in ISIF.
We are very aware that we're managing taxpayers' money – you have to be accountable for the return of every euro invested. It's a very big responsibility. I'm very proud of what we do and try to give it 100% focus every day.
What style of leadership do you admire?
I have a lot of respect for great leaders who are intelligent but also down to earth. Leaders who have a strategic vision, but know the detail of every day impress me. I also admire people who are very calm and can think clearly under stressful situations.
I also think good leadership is about being personal. I admire people who can give you time for even the most basic questions and are always very patient in guiding and taking you through the nitty-gritty.
Good leaders should also be great mentors – giving constructive feedback when team members complete a piece of work and also continuously supporting their growth and success. I am surrounded by some of those amazing individuals in my organisation.
What motivates you?
If I know I'm being trusted and respected, it's massive motivation for me to achieve goals and to travel the extra mile to do the work. Sometimes the unknown motivates me to discover. I'm always curious about things, and the uncertainty gives me a rush of adrenalin! I want to solve problems or find solutions for things.
Who or what has influenced or inspired you?
My parents are definitely at the top of my list. Both of them are academics, but have very different personalities and backgrounds. I believe that I've learnt a lot from that balanced mix. What they share in common is their strong principles that have guided me in good times and bad times. From a value perspective they were always strong and unified in their belief, which has led me to have high conviction in things. They influenced me in building my view of the world from a very young age, about people and the world.
In a professional sense, I've been strongly inspired by a few extraordinary people in the NTMA. They all have played a very active and supportive role in my life. I have a mentor who's in a senior executive from NTMA, but doesn't work day-to-day with me. He gives me high level and independent views of my issues and questions. I also think my manager is an amazing individual as well. I have massive respect for them and aspire to be like them someday.
What achievement are you most proud of?
I like to celebrate small successes along the way, but if I were to pick the biggest achievement, I would say I'm pretty proud that I completed the Leaving Cert in six months. The icing on the cake for me was attaining the UCD Undergraduate Scholarship for Outstanding Academic Achievement.
Are there particular failures you've learnt from?
I don't like to dwell on failures but I think it's very important to have your learnings from them. I've made many mistakes, but the important takeaway is that you have to move on, and pick yourself up. The harder you fall, the stronger you have to lift yourself. To quote my mentor, "I've learnt so much from my mistakes, I'm thinking of making a few more".
What is your advice for success?
Think slow and thorough, act fast and smart.
What are your plans for the future?
One of my personal goals for this year is to spend more time with people who are a meaningful part of my life. It's so easy to focus on your day-to-day and you forget to spend enough time with friends and family who are so important in your life. There's a quote from one my favourite shows – South Park: "Sometimes you forget relationships are not 50/50, they're 100/100".
What are your interests outside work?
Anything outdoorsy… and I'm a foodie too.
Insight Track
How has your degree benefited your career?
The network of people and connection has to be the most beneficial aspect, besides the obvious academic foundation.
What is your fondest memory from your time in UCD Smurfit/Quinn School?
Dirt cheap music gigs in the student bar.
How important is your UCD alumni network to you?
Never have I been to a place like Dublin where the six degrees of separation rule becomes more like three degrees, and having the UCD connection is just invaluable.
What piece of technology can you not live without?
AirPods, which I received as a birthday present recently, they bring music-on-the-go experience to another level.
What's your favourite book?
The Kite Runner by Khaled Hosseini and anything by the late Seamus Heaney.
Do you have a favourite band or musician?
The list is long but I enjoy alternative indie music the most, namely The XX, Tourist and Alt J.
What's the last gig you went to that you loved?
Rodrigo y Gabriela, the Mexican music duo who started off busking on Grafton Street.
What is your favourite dish to cook?
Wontons and dumplings, with my most recent addition – dry fried chili green beans with minced pork.
What is your favourite place in the world to visit and why?
Xi'an, because it is where home is.
Name three things on your bucket list
Skydiving, Northern Lights and picking up playing the keyboard…
April 2018