Honorary Conferring Ceremony of HPV Vaccine Advocate Laura Brennan
Laura Brennan the HPV vaccine campaigner, has received an honorary degree from University College Dublin in recognition of her tireless efforts to advocate the HPV vaccine and how valuable it is in protecting young girls from developing cervical cancer.
26 year old Laura, from Ennis in County Clare, was diagnosed with stage 2B cervical cancer two years ago. When her cancer was diagnosed as terminal, Laura decided to become involved with the HSE'S campaign to restore public trust in the vaccine and to highlight it's importance. Laura used facebook as a means of broadcasting her personal story in the hopes of encouraging parents to having their children vaccinated.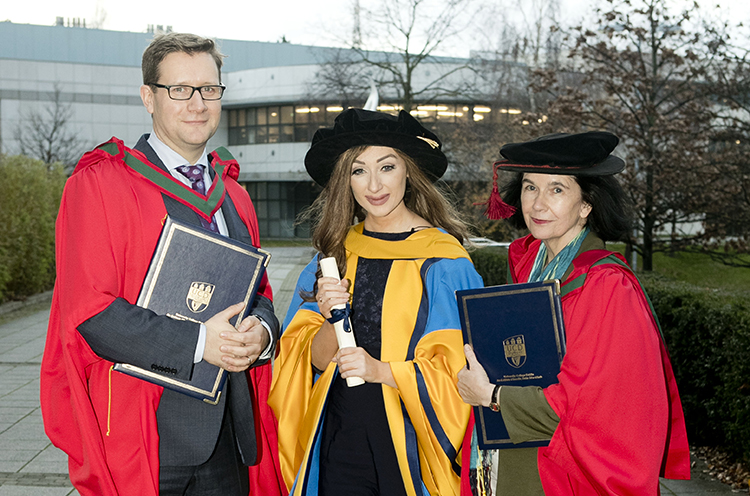 This vaccination was not available to Laura herself when she was attending secondary school, as the scheme was only introduced in 2010. Now the HPV vaccine is offered freely to all girls in first year of secondary school.
When Laura began campaigning for the vaccine, public confidence in it was at crisis point. However, her efforts have been instrumental in changing this and encouraging parents to have their children vaccinated. The of vaccination is now at 70% and rising as over 250'000 girls in Ireland have now recieved the jab. Laura has travelled globally as well as nationally to promote this vaccine and now it will also be made available to boys aswell very soon.
Laura was introduced at the honorary conferring ceremony by Professor Donal Brennan, a Consultant Gynaecological Oncologist at the Mater Hospital. Brennan heartily praised Laura for being instrumental in overcoming the 'communication challenge' that was faced with the vaccine.
Brennan also remarked that Laura "raised the bar for all of us who work in the field and we are absolutely privilaged to consider her a colleague and a true partner in the on-going effort to eradicate HPV-related cancers for future generation"
The UCD College of Health and Agricultural Sciences were truly honoured to recognise the tireless efforts of Laura Brennan with this degree and her determination and preserverance showcases the impact one voice can have on the public.