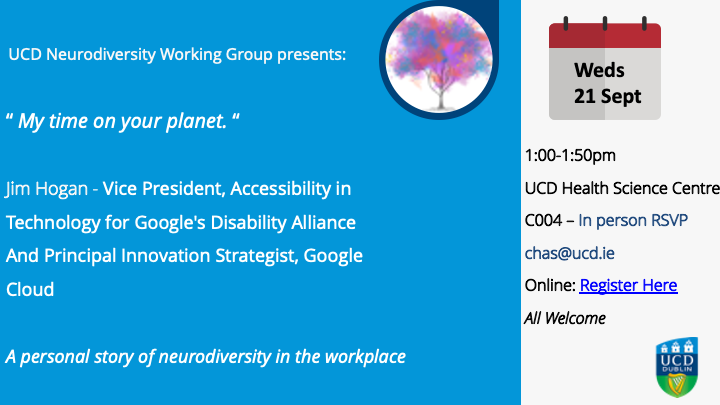 The CHAS Neurodiversity Project is delighted to welcome Jim Hogan, Vice President, Accessibility in Technology for Google's Disability Alliance And Principal Innovation Strategist, Google Cloud. to UCD on Wednesday 21st September.
Jim will deliver a keynote speech on his experience as a neurodiverse individual at work and in the world titled, "My time on your planet."
The event will take place in person in room C004 in the Health Science Building on Wednesday 21st September from 1300-1400.
To attend in person , or for enquiries, please email chas@ucd.ie
To attend online via zoom please register here.
Jim Hogan is an innovator, a human rights activist and a strong representative of what is possible for autistic individuals. Jim found his passion for computer science and innovation at a young age and has since worked in leadership positions for over 30 years. Throughout his career, Jim has advocated for neurodistinct employees by helping human resources departments better understand their needs. With his powerful voice and advocacy for acceptance, he has led the way for hundreds of autistic individuals who entered the workforce behind him.
All are welcome!
UCD College of Health and Agricultural Sciences
University College Dublin, Belfield, Dublin 4, Ireland. T:
+353 1 716 7777
| E:
chas@ucd.ie