UCD College of Health and Agricultural Sciences (CHAS) Postdoctoral Forum organised a day of
events on the 20th of September 2022 to celebrate Postdoc Appreciation Week. The aim of the day
was to celebrate Postdocs, Research Scientists and Research Fellows and their contributions to
research and our community. Dr Jessamyn Fairfield, a Lecturer in the School of Natural Sciences,
University of Galway, and an award-winning science communicator gave a talk about being "Open to
surprising things". The day also included a communication skills workshop, flash talk competition
and photo competition.
Winners on the day were:
Photo competition - 'A postdoc's life' - Dr Glaucia Bragança, School of Medicine.
Take 5 Flash Talk competition - 'Immune cells in the nervous system: friend or foe?' - Dr James
Reynolds, School of Medicine.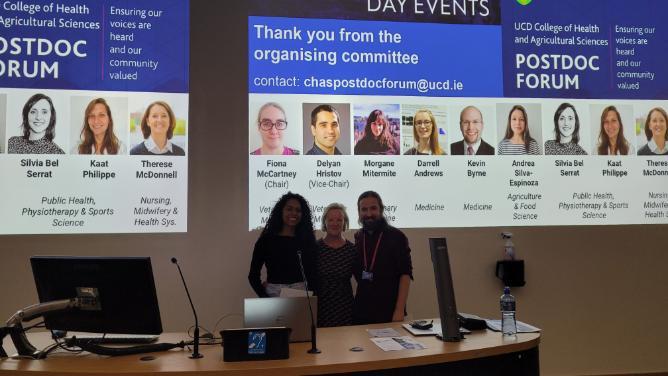 Professor Torres Sweeney with the winners of the photo and flash talk competitions, Dr Glaucia Bragança and Dr James Reynolds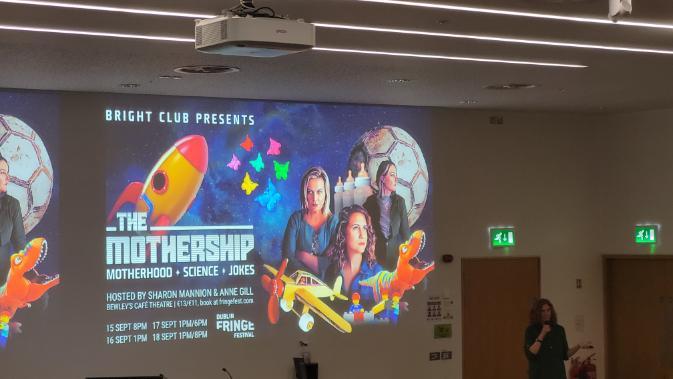 Dr Jessamyn Fairfield, guest speaker.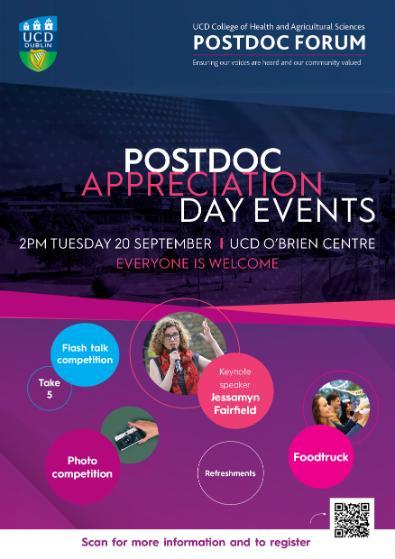 UCD College of Health and Agricultural Sciences
University College Dublin, Belfield, Dublin 4, Ireland. T:
+353 1 716 7777
| E:
chas@ucd.ie