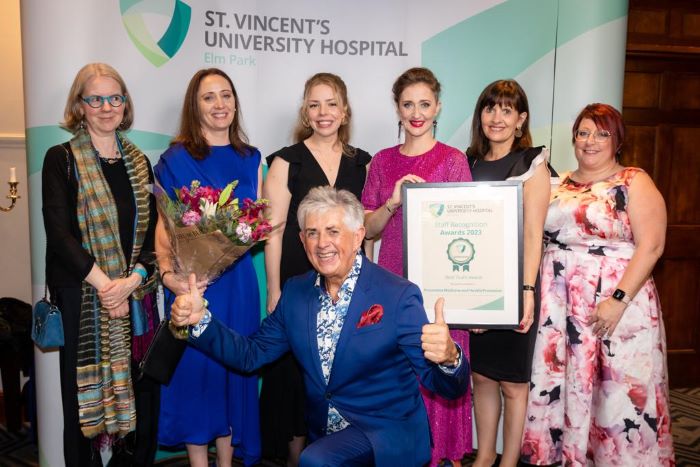 St. Vincent's University Hospital hosted their inaugural Staff Awards on October 6th, 2023, at the Talbot Hotel, Stillorgan, Dublin.
The awards offer a unique opportunity to acknowledge the contributions of all staff, both clinical and non-clinical, through various award categories. The event celebrated innovative practices across the hospital, enabling the hospital to share these breakthroughs with the wider community and enhance healthcare delivery for improved patient outcomes.
Pictured below, College Principal, Professor Cecily Kelleher, and Professor Patricia Fitzpatrick (UCD SPHPSS) are members of the successful 'Best Team' Award for the Department of Preventive Medicine and Health Promotion which was presented by Professor Michael Keane (CEO SVUH, and Dean of Medicine, UCD)
For further information on the awards please follow the link to the St Vincent's University Hospital webpage.
UCD College of Health and Agricultural Sciences
University College Dublin, Belfield, Dublin 4, Ireland. T:
+353 1 716 7777
| E:
chas@ucd.ie