The School of Public Health, Physiotherapy and Sports Science mark the end of Professor Guiseppe De Vito's 5-year term as Head of School
In October 2019, colleagues from the School of Public Health, Physiotherapy and Sports Science gathered in the University club to mark the end of Professor Giuseppe De Vito's term as Head of School.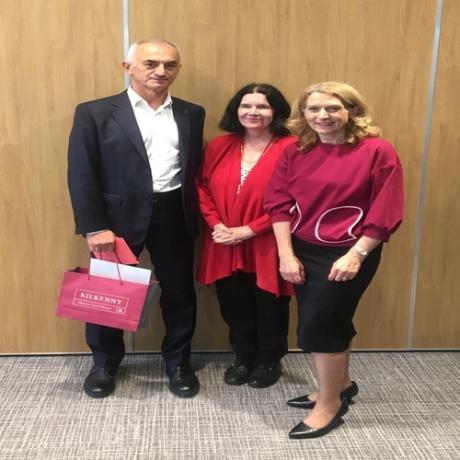 Pictured here are Professor Guiseppe De Vito, The CHAS College Principal, Cecily Kelleher and Catherine Blake, the newly appointed Head of School.
Professor De Vito took up the Head of School role in 2014. The role brought with it the new demands of the budgetary model, but also changes that include the rolling promotions process, P4G and SASR reforms and significant curriculum reviews. Giuseppe and his team navigated it all. Key metrics during his Deanship include the IEHG-associated Professorship of Health Informatics, the new strategic Professorial appointment in Sports and the recent Ad Astra successes. He also supported the Professorships in Occupational Health and in Epidemiology & Biomedical Statistics, the new MSc programme in Nutrition and Dietetics and the many positive developments of colleagues on the MPH and Physiotherapy programmes.
Giuseppe embraced the reforms that created the new CHAS College of Health and Agricultural Sciences. As one of the five Deans he contributed creatively to our One Health vision and built high regard across the university. His commitment to Internationalisation has been tireless, including his many visits to Fudan University, Shanghai China where he is regarded as the major expert in Sports and Exercise Physiology. International MOUs during his term include those with University of Minnesota, China, Beijing Sports University and in Italy Padova- Co-tutelle.
Professor De Vito's excellence as a Scientist was clear from his appointment when he came to UCD and he has fostered these developments with colleagues across the School, and particularly in the Centre for Sports Studies and the Institute for Sport and Health. Giuseppe is regarded as a world-class expert in the field of muscle strength and ageing including Sarcopenia and his work very highly cited. As a clinician scientist he has built a clinical and diagnostic facility with biopsy expertise at ISH that is very highly regarded. His innovations have been cross-cutting with collaborations at Conway, SBI and GMI. The Genofit project is the largest Irish study on genomics in health and fitness. The Institute for Sport and Health has partnered with Irish life-sciences company, Genomics Medicine Ireland Ltd (GMI) to launch Ireland's first large-scale study into the role of genetics in fitness and health.
Professor De Vito has been appointed to Padua University as Professor of Physiology, and will be continuing his commitment to UCD also on a part-time basis at the Institute of Sport and Health to see through the research programme he has built so successfully.