Global Changer Alumni

Yana Bersunukayeva 2017/18
" Having completed my undergraduate degree in environmental science I have gained an invaluable practical approach to the subject however, I wanted to gain knowledge in the policy aspect of environment. This Masters program was an ideal solution to fill in my knowledge gap in environmental policy and law while also providing me with an opportunity to study abroad in Giessen, Germany. Additionally, as part of the Master's, I have chosen to undertake my 2-month internship as an environmental scientist with RPS, an engineering consultancy firm. The internship provided me with a working knowledge of carrying out Environmental Impact Assessment Reports (EIARs) and introduced me to an environmental consulting environment. The internship position with RPS has enabled me to secure a position with Roughan and O'Donovan consulting engineers for a position of Graduate Environmental Scientist upon completion of the Masters degree."

Sean Schmitz, 2016/17
"Since the beginning of 2018, I have been working at the Institute for Advanced Sustainability Studies e.V. (IASS) in Potsdam, Germany as a research associate. The story of how I got here, though, is perhaps as uniquely intertwined with the Global Change program as it can get. It began with the internship portion of the program, which I completed at the IASS in the first few months of 2017. It was through another Global Change alumni, Rebecca Kutzner, that I even heard about the institute in the first place, as she had been working there for a few years by then. A polite email and a skype call later and I had myself an internship. Luckily it went well enough that I was able to come back to the IASS later that year to write my thesis within the same project, Climate Change and Air Pollution (ClimPol). By the end of the thesis, it became clear to me that what is often lacking in science is not resources to conduct the research, but rather the researchers to do it. For that exact reason, I began my current position in the project to continue what I had started with my thesis. To put it bluntly, I wouldn't be where I am without the Global Change program. It provided me with both the opportunities and the connections to allow me to succeed, for which I will always be grateful."

Claire McVeigh 2015/16
"I am currently in the second year of my PhD in the School of Natural and Built Environment at Queen's University, Belfast, where I am researching weathering of bedrock in blanket bogs and the potential influence of this on atmospheric carbon levels. The multidisciplinary nature of the MSc in Global Change: Ecosystem Science and Policy allowed me to gain an understanding of a wider range of topics than a straightforward environmental science course, including environmental law, economics, and communication of scientific information. In addition, the placement portion of the course allowed me to see what a job in research was really like, which encouraged me to undertake PhD research. The programme not only gave me a solid knowledge base in environmental and ecosystem science from which to begin my own research, but also an understanding of the political and economic factors that can influence environmental policy and the importance of effectively communicating scientific information."
Nidia Loureiro, Angola, MSc Global Change graduate 2016, is helping Angola's many challenges not least climatic data thanks to the SASSCAL network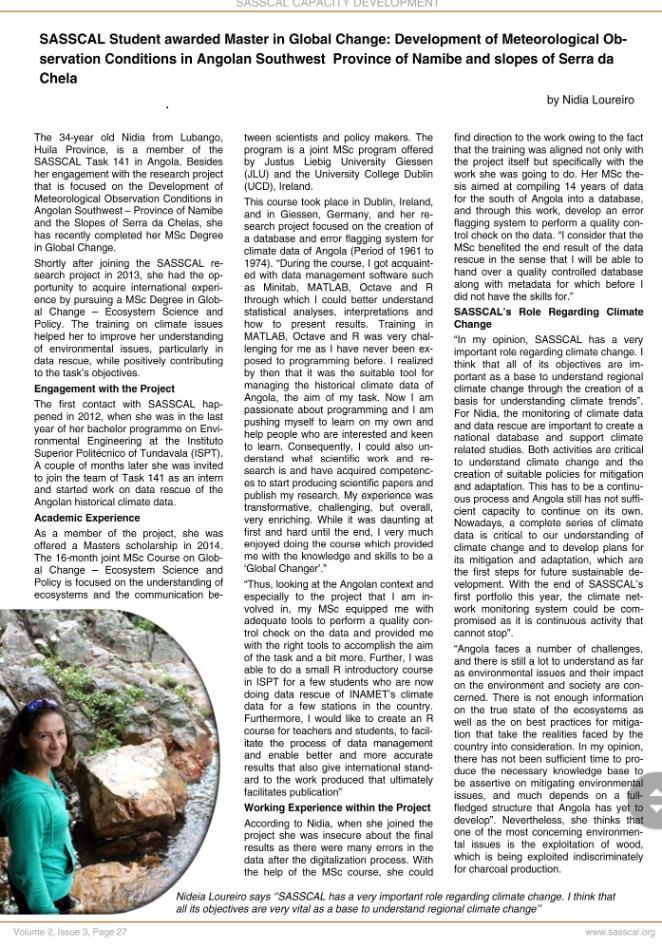 Martin Sunnus, 2013/14
"I work at the "Regierungspräsidium Tübingen", which is a government authority in the German state of Baden-Württemberg. My job is to reduce air pollution. I deal mostly with emissions from road traffic in urban areas. During the MSc Global Change programme I acquired the scientific skills needed to evaluate data pertaining to air quality and develop practical solutions according to the level of pollution. Additionally, I gained a deep understanding of the political and administrative frameworks that are both the basis and the boundaries for my work."

Elena Barth 2014/15
uring my undergraduate studies in Environmental Management I learned a lot about ecosystem science and project management. However, I felt that my education lacked an important part on policy processes if I wanted to make my plans of working in international cooperation come true. This is why I chose the master´s course Global Change: Ecosystem Science and Policy. It gave me the possibility to deepen my understanding of international environmental policy and science communication. For my thesis I went to Colombia and investigated on a coral reef restoration project in the Caribbean. The knowledge I had gained during the master´s course enabled me to do research not only on the ecological dimension of coral reef loss, but to also highlight social-economic and political aspects of the issue.
Currently, I am working as an intern for Gesellschaft für Internationale Zusammenarbeit (GIZ), the German federal agency for international cooperation. I support the team of Blue Solutions, a project that is dedicated to the protection and conservation of the world´s marine and coastal biodiversity.




Rebecca Kutzner, Germany, 2013/2014.
"After graduating with a bachelor degree in Geoscience 2012, where I learned about past climates and inter-connections within the earth system, I wanted to gain more insight into current ecosystems and their regulation. In 2014 I graduated from the MSc program "Global Change: Ecosystem Science and Policy" which taught me a variety of skills regarding ecosystems and their interaction with the ground and atmosphere. I gained knowledge of political as well as economical mechanisms, dominating decision making processes, also concerning various ecosystems. That knowledge as well as those skills were and are very useful in my different work environments since then. During my time (2014-2018) at the Institute for Advanced Sustainability Studies e. V. in Potsdam, Germany, I was able to extend the gained skills of my MSc degree, like the statistical program 'R', while working in the science-policy-interface with cities and German ministries regarding air quality issues. Continuing my research at the Université Paris-Est à Créteil in France, the learned skills of different programs during my master courses like MATLAB as well as statistical analysis are never to be underestimated."
Aggrey Ntakimanye, Uganda, MSc Global Change graduate 2014. Currently advising the Uganda Government and working as a forestry consultant, Uganda
The MS in Global Change had the best "packaging" that suited my career aspirations and interests. The most stimulating and valuable aspect of the course was the work placement, where I learned work-related skills through excellent professional mentoring. Also, living in both Ireland and Germany was enriching both on a professional and a personal level.