Level 2 project
James Joyce Library Building Project

A major capital development project is underway in the James Joyce Library. The first phase of the project includes enhanced and expanded student space on Level 3, which will open for the next academic year in September 2023.
The James Joyce Library will remain open through the project. There will be noise and disruption at various times, and we appreciate your patience and cooperation as we work towards a transformed experience for all our users. We will keep this page updated with the most recent information.
What's happening from May - August 2023?
The final work on Level 3 is ongoing. There is no access to this floor until it reopens in September.
Demolition of existing rooms, and the creation of new Zoom rooms and group study rooms, will be taking place on Level 2 of the James Joyce Library from Monday, 22nd May onwards.
This means that Level 2 will effectively be split in half as the works are being completed (see below), with temporary access routes for each section. Please follow the signs on Level 2, or a member of staff will be happy to assist.
The UCD Archives Reading Room is now closed till 30th June. A new temporary reading room on Level 2 of the James Joyce Library will open on 3rd July 2023, where it will remain until a new Cultural Heritage Reading Room opens in due course. Access is by appointment.
Will there be noise?
Because of the building work, noise may be audible wherever in the JJL you are working at different times. Noise cancelling headphones can be borrowed from the desk. All our other libraries will be unaffected by this work and are available for quiet study. Details and opening hours are here.
Are all areas of Level 2 still accessible?
During the week of 29 May, the green area of Level 2 on the image below is accessible only by escalator. If the escalator is not suitable for you, we have alternative arrangements in place. Please email client.services@ucd.ie ahead of time, or ask a member of staff at the desk and they will assist you.
From Tuesday, 6th June, access between the two parts of the Level 2 floor will be possible. Occasionally however this corridor space will be unavailable if the builder has to bring large quantities of equipment or materials in and out of the space.
Are books and journals being moved?
In the week of 29 May, you will see books and journals are being moved around temporarily on Level 4. If you need assistance finding anything, please contact client.services@ucd.ie who will be able to help.
The Official Publications collection has been moved offsite temporarily. Access to the content of this collection is available either online, or via InterLibrary Loan on request. Any queries should go to client.services@ucd.ie.
Get in touch!
If you have any queries please contact us by email at library@ucd.ie.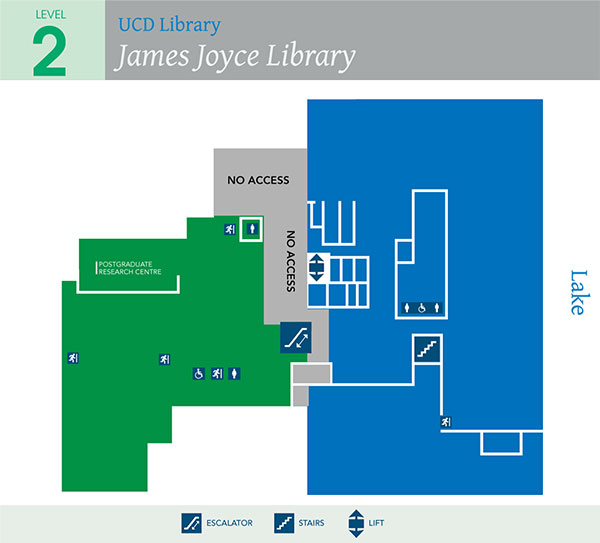 Green (rear of Level 2): access is by escalator only
Blue (front of Level 2 Lakeside): access is by stairs or lift only