Vet Library project
UCD Veterinary Medicine Library Refurbishment Project
NOTICE:
New furniture is being put in place and power is being added to study desks during the week of January 9th, 2023.

The Library will remain open as the works are taking place. We apologise for any disruption and noise that may occur during this project.
In partnership with the UCD School of Veterinary Medicine and UCD Estates, the Library has been upgraded and has now reopened as of 1st November. This is the first upgrade of this space since it was opened in 2000.
This refurbishment project now provides:
two additional group study rooms
17% increase in study desks
Plugs on all desks
New sit/stand desks
New printing space
Painting
New carpeting
Timeline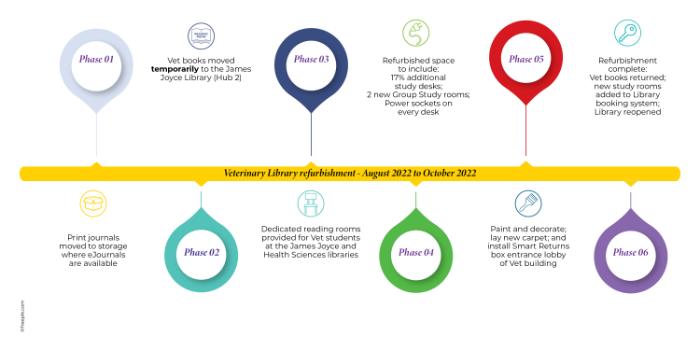 Thanks for your patience throughout the project. We hope you enjoy the revamped library!