Posted 10 May 2011
UCD Governing Authority appoints Professor Mark Rogers as Acting Registrar/Deputy President
UCD Governing Authority appoints Professor Gerald Byrne and Dr Maeve Conrick as College Principals
The Governing Authority of UCD today announced the appointment of Professor Mark Rogers as Acting Registrar and Deputy President.
Currently Dean of Science, Professor Rogers has spearheaded significant changes over the past five years including revising and enhancing the structure of the science curriculum and its delivery to students as well as introducing new assessment practices. Consequently, the improved profile of the degree has resulted in a substantial increase in student interest with undergraduate first preferences rising by 44% since 2007.
Speaking after his appointment, Professor Rogers stressed the need to focus on the foundations of science in Irish universities. "I am committed to teaching across all years of the undergraduate programme. UCD Science has been instrumental in encouraging active learning and engagement with their subjects from the start of their university life by introducing new approaches to teaching first year students.
Encouraging the development of critical and reflective thinking in all our students is essential to ensure that they can get the best from the expert lecturers and researchers in the University."
In addition to his teaching role, Professor Rogers has a reputation for innovation in research. Following his BSc in Genetics at Trinity College Dublin, he completed a PhD in genetics at the University of Glasgow. He was awarded an EMBO (European Molecular Biology Organisation) Fellowship in the University of California at San Francisco and subsequently the John Douglas French Foundation, he undertook research in the Laboratory of Nobel Laureate Professor Stanley Prusiner in prion diseases before returning to Ireland in 1991 to take up a lectureship at University College Dublin.
Professor Rogers primary research is in the field of scrapie in sheep and BSE in cattle. He has published many research papers that are highly cited in prestigious journals. He has led several large EU research consortiums in prion research and successfully developed immunodiagnostic technologies used by Enfer Scientific Ltd that have been commercially developed for BSE diagnosis and resulted in over €2 million in royalties accruing to the University.
College Principals appointed
Maeve Conrick has been appointed Professor and College Principal to the UCD College of Arts and Celtic Studies.
She currently holds the posts of Dean of Arts, Vice-Head of the College of Arts, Celtic Studies and Social Sciences, Head of the School of Languages, Literatures and Cultures at University College Cork and is a member of the Higher Education Authority.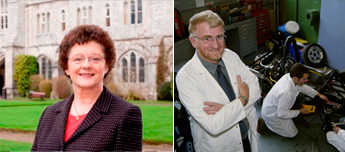 Pictured (l-r): Dr Maeve Conrick and Prof Gerald Byrne
Gerald Byrne has been appointed College Principal to the UCD College of Engineering and Architecture. Currently Professor of Mechanical Engineering, Professor Byrne is also director of the Manufacturing Research Centre at UCD and has held senior posts in the College including Dean of Engineering.
(Produced by UCD University Relations)