Posted: 07 Nov 2012
UCD Foundation Day Medal for Dr George Moore, one of the founding fathers of the data analytics industry
Each year, to mark the foundation of the University's charter in 1854, UCD presents the UCD Foundation Day Medal to a graduate of the University who has made a significant contribution to Irish life.
"This year's honouree is an extraordinary individual; a truly global citizen; an innovator and a serial entrepreneur with a commitment to excellence," said UCD President, Dr Hugh Brady who presented the 2012 UCD Foundation Day Medal to Dr George Moore the co-founder of TargusInfo at an evening event in O'Reilly Hall.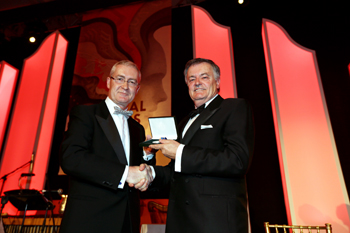 Dr George Moore awarded the Foundation Day Medal by Dr Hugh Brady, President of UCD
Dr Moore is considered one of the founding fathers of the data analytics industry; an industry crucial to the digital revolution.
TargusInfo's analytics technologies is used by many Fortune 500 companies including Facebook to ensure firms can analyze customer behaviour and anticipate their needs. This year, the company was sold to Neustar for an estimated US$700m.
"George is one of UCD's most successful, distinguished and generous alumni. And he has never lost touch with his homeland, maintaining a strong connection with Ireland throughout the years," added Dr Brady.
"He takes an interest in Irish start-ups as an angel investor with the Irish Technology Leaders Group."
"George inherited that very Irish sense of pragmatism and speaks proudly of his country's commitment to getting back on track. George believes, as do I, that universities play a crucial role in developing a new rejuvenated and sustainable economic model for Ireland."
"Now more than ever, higher education must embrace innovation, help create jobs and foster economic growth."
"The university is at the epicentre of the knowledge-led society – a society in which future entrepreneurs like Dr George Moore will thrive."
"The awarding of the 2012 Foundation Day Medal to George Moore is a worthy recognition for a global business leader," continued Dr Brady.
"George's ongoing support for the UCD School of Business and UCD's new science centre will provide a legacy that will greatly enhance the experience of UCD students for generations. Its impact will be measured not only in the impact it makes for UCD but for Irish society."
The UCD Foundation Day Medal was inaugurated in 2004 to coincide with the 150th anniversary of the opening of UCD's antecedent institution, the Catholic University of Ireland. Previous recipients of the award include: Peter Sutherland, author, Maeve Binchy; rugby international, Brian O'Driscoll; and Grammy Award winning composer and arranger, Bill Whelan.
(Produced by UCD University Relations)