Posted 11 January 2013
UCD Professor appointed editor-in-chief of Quarterly Journal of Medicine (QJM)
Seamas Donnelly from the UCD School of Medicine and Medical Science, University College Dublin, and St Vincent's University Hospital is the first Irish based academic to be appointed as editor-in-chief of the Quarterly Journal of Medicine (QJM).
Founded in 1907 by Sir William Osler, QJM is the official publication of the Association of Physicians of Great Britain and Ireland. Both the Journal and the Association were founded with the overriding principle to develop and expand our knowledge of medical science and in so doing, inform and enhance our understanding of clinical disease.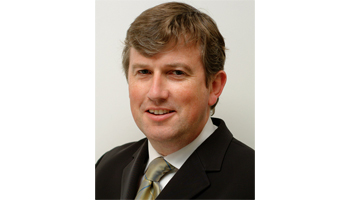 Prof Seamas Donnelly, UCD School of Medicine and Medical Science and editor-in-chief of Quarterly Journal of Medicine (QJM)

QJM has a long standing historical reputation for publishing original medical research that impacts on how medicine is practised. In a recent scientific review of the impact of medical journals on medical practice over the last 50 years, it was ranked second worldwide with regards to significant citations in medicine.
"I'm honoured to be appointed editor-in-chief of the Quarterly Journal of Medicine. I will build on the historical reputation of the journal in the Translational Medicine space with the mission of the journal to stimulate, educate and challenge our readers and significantly contributes to their pursuit of lifelong medical learning," said Professor Donnelly.
About the Quarterly Journal of Medicine:
QJM is a long-established, leading general medical journal published by Oxford Journals. It focuses on internal medicine and publishes peer-reviewed articles which promote medical science and practice. Published monthly, QJM includes original papers, editorials, reviews, commentary papers to air controversial issues, and a correspondence column.
About Professor Seamas Donnelly:
Professor Seamas Donnelly is an international leader in Translational Medicine and his research epitomizes classical bench to bedside on an international stage. The work of his research group is leading to novel therapies in respiratory disease, particularly in Asthma, COPD and Sarcoidosis.
A medical graduate of University College Galway (UCG), he successfully competed previously for prestigious Wellcome Trust Fellowships at the University of Edinburgh and the Picower Institute in New York, an Institute affiliated to Rockefeller University. Returning to Ireland, he was one of the first clinicians to be awarded a Science Foundation Ireland (SFI) Principal Investigator Programme grant award which was recently renewed for a further 5 years. This work has focused on the development of novel small molecular-weight anti-inflammatory agents targeting chronic inflammatory diseases particularly pertaining to the lung. He is a co-applicant on the recently awarded Wellcome Trust/HRB Dublin Clinical Research Facility.
In 2010 he was awarded an Honorary Professorship by the University of Edinburgh, The University of Edinburgh is currently ranked among the top 20 universities in the world and following the recent UK Research Assessment Exercise, has been ranked number 1 with regards to medical research. The citation from Edinburgh University recognizes Professor Donnelly's as an international leader in medical research and how his research epitomizes classical bench to bedside on an international stage.
(Produced by UCD University Relations)