Posted 04 March 2013
Minister for Education presents UCD International Student of the Year Award
The inaugural UCD International Student of the Year Award was presented to three students who 'best represent' the spirit of internationalisation at University College Dublin.
The awards were presented by the Minister for Education, Ruairi Quinn TD at a special event hosted in the UCD Global Lounge.
The UCD Global Lounge is the first dedicated space for international students on an Irish campus. There are 15 such Global Lounges in universities around the world and the hope is that this model will be rolled out across other Irish university campuses.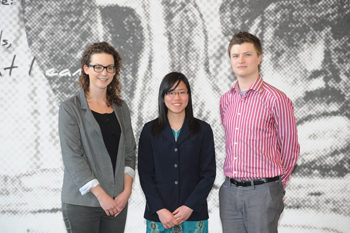 Winners of International Student of the Year Award: Lyndsay Baker (Ireland) studying Commerce and Chinese Studies at UCD; Ying Ying Thum (Malaysia) studying Medicine at UCD; and Benedikt Minke (Germany) completing a PhD in Systems Biology at UCD
It is used as a social and culture orientation space for international students and to host events such as national days of celebration, national elections, national and international sporting competitions and global news.
"Through this award we celebrate the equalisation and respect of different cultures and traditions," said Minister Quinn.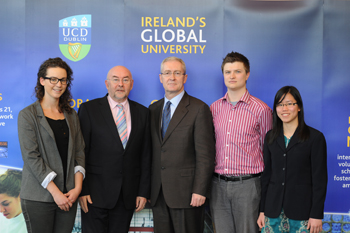 Pictured at the Award Ceremony: Lyndsay Baker (Ireland); Ruairi Quinn TD, Minister for Education; Dr Hugh Brady, President of UCD; Ying Ying Thum (Malaysia) studying Medicine at UCD; and Benedikt Minke (Germany) completing a PhD in Systems Biology at UCD
The three winning students are among over 5,000 non-Irish students from over 120 countries studying at University College Dublin, and 25,000 non-Irish studying at universities across Ireland.
Candidates for the UCD International Student of the Year Award were nominated by students and staff and were assessed by a panel on the basis of academic, student engagement and societal impact.
The panel included: Professor Bairbre Redmond (Chair), Deputy Registrar for Teaching and Learning; Professor Alan Baird, UCD School of Veterinary Medicine; Ms Shauna Hughes, International Student Activities Coordinator; Ms Rachel Breslin, President UCD Students' Union, and Mr Dominic Martella, External Communication and Media Relations.
Full shortlist for the UCD International Student of the Year Award
Ying Ying Thum (2nd year Medicine)
Ying Ying who was born in Malaysia won the James B Coakley Award for Dissection in 2012. An active member of the Malaysian Society, Ying Ying has been directly involved in society events including the 2012 Malaysian Night in UCD, a high-profile event that showcases Malaysian culture to the wider UCD community. She organised and participated in the 2012 UCD-RCSI Penang Medical College Games were she won both gold and silver medals for badminton. She also holds a UCD Blue for trampolining. She is an active volunteer in Ireland working with both the St Vincent de Paul Society and also with the Little Sisters of the Poor. This coming summer she will be working as a camp counsellor in Connecticut, USA.
Benedikt Minke (final year PhD in Systems Biology)
Born in Germany, Ben has lived in five countries in the last ten years including Italy, France and Japan. Through his participation in the UCD-TCD Innovation Academy he published an article in Ireland's Science Spin magazine which led to his volunteering at the BT Young Scientists Exhibition and the Euro Science Open Forum 2012. In his first year in UCD he joined the International Students Society, becoming its Auditor in 2011-12. Since he has taken up this position the membership of the society has grown from 750 to a vibrant 1,800 in 2013, including both Irish and international students.
Lyndsay Baker (4th year Commerce and Chinese Studies)
Born in Ireland, Lyndsay has spent time in Renmin University Beijing and Fudan University Shanghai. During her time in Shanghai she volunteered on a weekly basis in a hospital as part of the Heart–to-Heart programme. She gained the Confucius Institute Scholarship in her second year studies, gaining straight A's in all her Chinese subjects. She is also one of the founding members of Connect2, a UCD project that facilities inter-cultural learning between Chinese and Irish students.
Brian Fox (final year History, Politics and International Relations)
Born in Ireland, Brian has worked with UCD Volunteers Overseas and has participated in the UCDVO project in Haiti. He had a year's internship in Brussels and also spent an academic year in Sciences Po Paris, gaining an Undergraduate Exchange Certificate for excellence in academic performance in both French and English. He was the winner of the Brian Farrell medal in Politics in second year. He works as a UCD Student Ambassador and he has also been one of the 2011 scholarship winners to the Universitas21 International Undergraduate Summer School on 'Conflict Resolution' in UCD.
Justin Mathew (3rd year Bachelor of Commerce)
Justin, who is Indian, was born and raised in Riyadh in Saudi Arabia. He is the founder of ENACTUS UCD, a social entrepreneurship initiative which strives to encourage innovative community projects and to leverage global connections with companies such as KPMG, Arthur Cox and Unilever. In 2013 he has been a Global Fellows of the Kairos Society, an international society of young entrepreneurial leaders and he was the only international student on the UCD delegation at the Harvard Model United Nations and the only Irish representative on the Harvard Project for Asian and International Relations.
Patrick Rogers (3rd year English and History)
Born in South Africa, Patrick has lived in Australia and New Zealand and gained Irish citizenship through his ancestry. His application showed a great appreciation of both sides of internationalization saying "as a person of partial Irish ancestry, and a proud Irish citizen, I understand how migration is a two-way street". He not only has become involved in many Irish events such as Tradsoc and has learned to play the fiddle; he is a strong advocate of the Erasmus exchange programme in UCD. He is currently on an Erasmus Exchange in the University of Amsterdam and he has taken up a post on the Humanities Exchange Student Council, working with International students in Amsterdam.
Satnam Surae (3rd year PhD students in Bioinformatics and Systems Biology)
Satnam, who is British by birth, has lived in the UK, Germany, India, the USA and Ireland. He is the Treasurer of the International Student Society. He is involved in an ongoing collaboration for researchers at MIT and Harvard through his PhD work and more recently was involved in the organization of a PhD symposium in Computational Biology at the Conway Institute. The student who nominated him noted that when he first met Satnam he presumed he was Indian, was confused to hear that he had a British accent and then wonder why he was living in Ireland, However this student added "He went beyond borders, he turned out to be a mixture of the world, willing to share and make experiences for others."
(Produced by UCD University Relations)