Posted 19 March 2013
Government investment in CeADAR to target data analytics sector
The Minister for Jobs, Enterprise and Innovation, Richard Bruton TD has announced details of a €1 million initial investment in a research programme in data analytics, a key sector growing at 40% per annum worldwide.
Top-tier multinational and Irish ICT companies will lead the research agenda at the technology centre called CeADAR (The Centre for Applied Data Analytics Research).
CeADAR's industry partners include; eBay, Accenture, Dell, Fidelity Investments, Adaptive Mobile, Climote, Cylon, GBR, HP, Moving Media, Nathean Technologies, Nucleus Venture Partners, and Qumas.
Spearheaded by University College Dublin, the research consortium which includes University College Cork, and Dublin Institute of Technology, will use the funding to work with a group of companies to accelerate the development, deployment and adoption of Data Analytics technology. This initial research programme is a significant step towards a government funded 5-year investment in a Technology Centre for Data Analytics.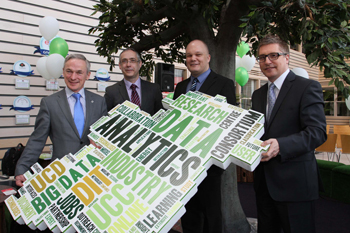 Pictured at the announcement (l-R): Minister for Jobs, Enterprise and Innovation, Richard Bruton TD; Gearoid Mooney, Director ICT Commercialisation, Enterprise Ireland; Professor Peter Clinch, UCD Vice-President for Innovation; and Gary Hagel, Senior Director Customer Experience, Europe, eBay
Data Analytics is about the conversion of large amounts of raw data into valuable information through the use of statistical techniques and advanced software. An Enterprise Ireland and IDA Ireland initiative, the initial research phase of this Technology Centre in Data Analytics, will aim to make Ireland a world leader in this area.
Data Analytics is a key target sector identified as a Disruptive Reform in the Government's Action Plan for Jobs 2013, growing at 40% per annum worldwide and offering major potential to Ireland due to established advantages in this area.
Establishing an industry-led Data Analytics Technology Centre to work on developing viable business tools in this emerging area is one of the major actions contained in the plan aimed at realising this potential.
CeADAR's lead team will be based at NexusUCD, the Industry Partnership Centre at University College Dublin.
"A key part of this Government's plan for growth and jobs is identifying areas where we believe Ireland has distinct advantages compared to other countries, and taking steps necessary to ensure that we realise our potential for employment in those areas," said Minister Bruton.
"Data Analytics is one such sector, and the Government believes that between our climate, skills base and existing strengths in ICT, we have the potential to reap substantial benefits in terms of jobs and growth from the global expansion of this sector."
Professor Peter Clinch, UCD Vice-President for Innovation said: "CeADAR brings together innovative companies and world-class Irish researchers from UCD, UCC and DIT into a powerful innovation partnership to perform leading-edge research in the area of big data. We are confident that CeADAR will help to position Ireland as a 'go-to' country for future big data solutions."
According to Gearoid Mooney, Director, ICT Commercialisation, Enterprise Ireland, data is only as valuable as the information and insights we can extract from it.
"Industries across the world are looking for ways to extract information and insights that will help them make better decisions and create competitive edge. The focus of the researchers in UCD, UCC and DIT will be to create new technologies, usage models and commercial applications to address the short to medium term technology needs of the Irish based industry," he said.
Professor Padraig Cunningham, UCD School of Computer Science and Informatics and Principal Investigator at CeADAR said: "It is important to recognise that the opportunities associated with Big Data don't just relate to the analysis of large volumes of data. The excitement is as much about integrating new sources of data - data that comes from new technology such as smart phones or social media. The opportunity may relate to integrating data from different sources or from analysing streams of data in real-time."
Deirdre Lambe, GCO EU Project & Programme Management, eBay, one of the participating companies, said: "We got involved in CeADAR because we have a network of analysts across eBay Inc who are dealing with big data challenges on a daily basis and we recognise the need for a joined-up approach to strong data analytics solutions across the board in all types of industry for all user levels."
The CeADAR project leverages the research clusters and technologies created by prior investments by Science Foundation Ireland.
NexusUCD
CeADAR's lead team will be based at NexusUCD, the Industry Partnership Centre at University College Dublin. NexusUCD is an exciting new development in the ongoing evolution of UCD's innovation ecosystem. NexusUCD is located in Belfield Office Park, Clonskeagh, adjoining the main UCD campus.
NexusUCD offers high-quality modern office space, with short, medium or long term occupancy arrangements, and associated services to established innovation-led companies who are collaborating, or wish to collaborate, with UCD's world-class research base.
By locating at NexusUCD companies will benefit from close proximity to and interaction with UCD academics and researchers. www.ucd.ie/nexusucd
(Produced by UCD University Relations)