Posted 30 October 2013
10 years of successful innovation at NovaUCD, the Centre for New Ventures and Entrepreneurs at University College Dublin
The Minister for Jobs, Enterprise and Innovation, Richard Bruton TD has officially launched a report highlighting the economic impact of NovaUCD, the Centre for New Ventures and Entrepreneurs at University College Dublin, to mark the 10th anniversary of the Centre.
According to the report entitled: NovaUCD - Celebrating 10 Years of Entrepreneurial Success 2003-2013, by 2016 entrepreneurial and commercialisation activities at NovaUCD will support a total of 2,527 jobs (direct and indirect), of which 1,934 will be in Ireland, and it will contribute an annual economic impact of €87.7 million Gross Value Added (GVA) worldwide, of which €66.1 million GVA will be contributed to the Irish economy.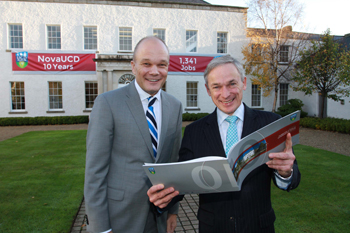 Pictured at the launch of NovaUCD - Celebrating 10 Years of Entrepreneurial Success 2003-2013: Prof Peter Clinch, Vice-President for Innovation and Richard Bruton TD, Minister for Jobs, Enterprise and Innovation
"A key part of the Government's plan for jobs and growth is ensuring that we derive more benefit, in terms of commercial outcomes and jobs, from the State's investment in science and technology – turning good ideas into good jobs," said Minister Bruton.
"To deliver this we are making a series of changes, including the research prioritisation exercise and the establishment of a central technology transfer office to act as a "one stop shop" for the commercialisation of research."
"[Today's] report showing that over 1300 jobs have been created as a result of NovaUCD's activities, illustrates clearly what can be achieved in this area. I commend them on all their work and wish them every success for the future" added the Minister.
Since 2003, UCD has supported 126 companies through its incubation services at NovaUCD and 30 new UCD spin-out companies have been incorporated during the last 10 years.
In 2013 the combined annual turnover of the companies supported at NovaUCD, which have raised €91 million in equity funding to date, amounted to €71.2 million and they collectively employ 599 people directly, 489 of whom are based in Ireland. These companies expect to create 851 new jobs over the next 3-years, 630 of whom will be based in Ireland.
At NovaUCD new high-tech and knowledge-intensive start-up companies are nurtured and supported to enable them to develop, grow and create jobs. UCD's technology transfer team, which is responsible for the commercialisation of the intellectual property emerging from UCD's world-class research programmes, is also based at NovaUCD.
The report highlights that NovaUCD's start-up and commercialisation activities, over the past decade, currently support a total of 1,341 jobs (direct and indirect) worldwide, of which 1,056 are based in Ireland. In addition, NovaUCD's activities support an annual contribution of €47.7 million Gross Value Added (GVA) to the worldwide economy, of which €36.6 million GVA is contributed to the Irish economy.
"They say a journey of a thousand miles starts with a small step; at NovaUCD we support and develop high-tech and knowledge-intensive companies at the start-up phase of development in a world-class incubation facility," said Professor Peter Clinch, UCD Vice-President for Innovation, speaking at the launch of the report.
"At NovaUCD we provide comprehensive support programmes and a peer-support system that has nurtured an enthusiastic and dynamic community of talented entrepreneurs and companies which have gone on to achieve considerable success on the global stage."
"The impact of NovaUCD has been far greater than could have been imagined 10 years ago when it officially opened and I have no doubt that an exciting future lies ahead for NovaUCD."
During the last 10-years the income generated from UCD's commercialisation activities at NovaUCD amounted to €5.2 million. Since 2003 445 inventions have been disclosed by UCD researchers to UCD's technology transfer team and 318 patent applications have been filed by UCD.
In addition 81 licensing deals have been concluded with a range of indigenous and international businesses. As a direct result of entering into licensing agreements with UCD, businesses have been able to increase their turnover in Ireland by an average of €3.6 million annually and internationally by €5.8 million.
"It takes time to create an embedded infrastructure to support an entrepreneurial culture. I believe that NovaUCD has successfully done this and is now moving to the next level under its current leadership," said Kevin Cooney, Managing Director, Xilinx EMEA and Corporate CIO
"NovaUCD is a very enabling environment and if you look at the number of patents filed, for example, it is hugely encouraging as it reflects the level of innovation taking place at UCD and the potential for great business opportunities."
"UCD has shown both vision in establishing NovaUCD and a very strong commitment to making it work. The centre is going to go from strength to strength and I think it is going be even more successful in its next decade. Ultimately, the more successful NovaUCD is, the better it will be for Ireland Inc."
Over 45 innovative new ventures are currently based at NovaUCD. Many of these are spin-out companies, such as Equinome, HeyStaks and Oncomark, which are commercialising research specifically undertaken at UCD. The remaining are spin-in companies, such as Biosensia, Enbio and Tethras, which located to NovaUCD in order to interact more closely with the University.
"The results of the NovaUCD economic impact survey are very positive and demonstrate that NovaUCD is a key component of Ireland's technology transfer system and is an example of what we excel at here in Ireland," said Frank Ryan, CEO, Enterprise Ireland.
"From Enterprise Ireland's point of view our objective is jobs and increased exports and we welcome being involved in leading-edge applied science that can be commercialised. This is key for Enterprise Ireland and we believe an ecosystem that includes NovaUCD is very attractive and advantageous for the country."
(Produced by UCD University Relations)