Posted 22 April 2015
EU Commissioners, Carlos Moedas and Phil Hogan visit UCD
The EU Commissioner for Research, Science and Innovation, Mr Carlos Moedas, and the EU Commissioner for Agriculture and Rural Development, Mr Phil Hogan, have visited UCD to hear about the impact of UCD researchers in the areas of agrifood and information communication technologies. During their visit, the Commissioners also participated in a roundtable discussion with executives from companies working in the agrifood, energy and ICT sectors.
"I'm very excited to visit UCD, one of the most attractive locations in Ireland for conducting excellent research and bringing to market new technologies and services. Alongside the other excellent universities and higher education institutes in Ireland, this is making a major contribution to boost growth and improve people's lives. I am particularly looking forward to meeting some of the many young researchers here that are being supported by EU funding, and to learn more about UCD's cutting edge research on agrifood and ICT," Commissioner Moedas said.
Commissioner Hogan said, "The European Commission is delivering a considerable boost to agriculture and food research through Horizon 2020 under European Innovation Partnership for Agriculture. Support to research and innovation is coupled together to develop cross-thematic activities and avoid traditional research in 'silos'. UCD is at the forefront of this drive, particularly in relation to areas such as Precision Farming, where there is huge potential for synergies between the ICT and agrifood sectors from laboratory to farm."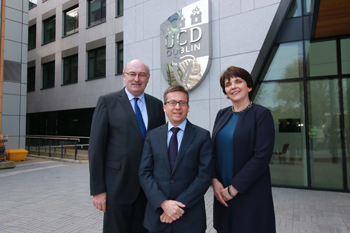 Pictured at the visit (l-r): Mr Phil Hogan, EU Commissioner for Agriculture and Rural Development; Mr Carlos Moedas, EU Commissioner for Research, Science and Innovation; Professor Orla Feely, UCD Vice-President for Research, Innovation and Impact
The EU Commissioners heard presentations from Professor Alex Evans, Head of the UCD School of Agriculture and Food Science; Professor Dolores O'Riordan, Director of the UCD Institute of Food and Health; and Professor Kevin O'Connor from the UCD School of Biomolecular and Biomedical Research and Chair of the EU Bio-Based Industries Joint Undertaking Scientific Committee, on how scientific methods can support increased food production, quality, quantity and maintain the integrity of the food chain; how enhanced food and nutritional value can be achieved through scientific endeavour; and the merits of the next-generation of 'precision' and 'smart' agriculture.
Professor Barry Smyth from the UCD School of Computer Science and Informatics, who is also a Director at the Insight Centre for Data Analytics, outlined to the Commissioners the opportunities for European leadership in data analytics, and how UCD researchers are working to realise this. Professor Robert Shorten from the UCD School of Electrical, Electronic and Communications Engineering, highlighted how the Internet-of-Things is changing our societies and economies.
Professor Orla Feely, UCD Vice-President for Research, Innovation and Impact said, "UCD is Ireland's global university. Our portfolio of activities in research and innovation addresses issues of global concern, in partnership with international organisations and industry. Our engagement in the European Union's research activities has been, and will continue to be, a key pillar of our success. The visit of Commissioners Moedas and Hogan is an honour for the university and provides the perfect occasion to showcase how UCD and Ireland can lead in addressing global challenges."
Research Focus at University College Dublin
Over the last decade UCD researchers have doubled their annual output of publications in the international literature. They have co-authored publications with over 7,000 researchers from more than 130 countries. These papers are cited by other researchers at a rate that is 59% above the world average.

In 2013/14 UCD secured €114 million in research grants from national and international funding agencies, making UCD first in Ireland for research funding. Since 2004 UCD researchers have secured over €1 billion in via such grants. UCD's researchers are the national leaders for many of the most prestigious European research awards, including the European Research Council (ERC) and Marie Skłodowska-Curie schemes.
UCD researchers constitute a pool of expertise that is a vital resource not just nationally but also internationally. They deliver impact through the advances they realise in their research domains, their interactions with enterprise and with social and cultural organisations, their national and international outreach and the generations of graduates they inspire. For further information on UCD's strategic priority areas, including Agrifood and ICT visit www.ucd.ie/researchandinnovation
(Produced by UCD University Relations)