UCD catalogues de Valera archive
"History is made with documents. Documents are the imprints left of the thoughts and the deeds of the men of former times. For nothing can take the place of documents. No documents, no history."
- Charles Seignobos, Histoire de la civilisation contemporaine (1920). Translated by Eamon de Valera in a letter from prison to Kathleen O'Connell, his personal secretary, 2nd February 1924, enjoining her to safeguard his papers.
30 years after his death, archivists and historians, led by principal archivist, Seamus Helferty, at UCD have completed a full catalogue of Eamon de Valera's private and public papers, which were left in the safe keeping of the university.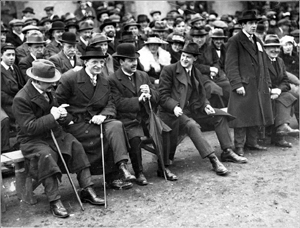 All Ireland Hurling Final, Croke Park, April 1919
At a ceremony on 30 November in Newman House, UCD presented Mr Micheal Martin, TD and Minister for Enterprise, Trade and Employment with a copy of the completed catalogue.
"Ba mhaith liom mo bhuiochas a ghabhail le hOrd na bPrionnsiasaigh, a chaomhnaigh na paipeiri seo thar na blianta, agus leis an bhfoireann anseo I gCartlann na hOllscoile, a dhein an mion-scrudu, agus a chuir crot orthu, ar son scolairi agus lucht taighde," a déir Michéal Martin.

Pictured at the presentation (from L-R): Seamus Helferty, Principal Archivist, UCD; Dr Hugh Brady, President UCD; Michael Martin TD, Minister for Enterprise, Trade and Employment; and Dr Michael Laffan, Head of UCD School of History and Archives.
"De Valera's military and political career spans half a century of Irish history - as a rebel commander in 1916, an elected representative from 1917 onwards, president of Sinn Féin and of the Dáil, a fugitive in the Civil War, an opposition leader for the next ten years, then (with two brief intervals), the democratically elected head of government for 21 years, and finally president of Ireland for the last 14 years of his public life. Few politicans anywhere can match such a long and varied record," Dr Hugh Brady, President, UCD, said.
"This extraordinary career is reflected in his papers, although the volume of material differs from one period to another or one subject to another. The catalogue - which was compiled over a period of three years by Helen Hewson - runs to 1178 pages and is divided into no less than 52 sections. The papers cover personal aspects of his life, his family and his early career, his involvement in the Irish Volunteers and the Easter Rising, his presidency of the Second and the Third Sinn Féin parties from 1917 to 1926, his leadership of Fianna Fáill for more than thirty years, his three periods as head of government, and his presidency," he continued.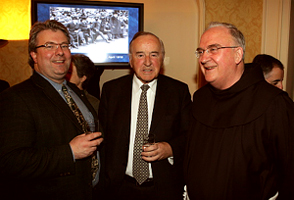 Pictured at the presentation (from L-R): Dr Padraic Conway, Vice- President for University Relations, UCD; Albert Reynolds, Former Taoiseach; and Fr Ulic Troy, Order of Friars Minor.
Among the items de Valera originally gave to the Franciscans at Killiney and now in the UCD collection, were 133 intelligence reports and despatches between successive Commanders-in-Chief of British Forces in Ireland–Major-General L.B. Friend, (Lieutenant)-General Sir John Maxwell and (Lieutenant)-General Sir Bryan Mahon] or their various officers; the Commander-in-Chief, Home Forces and his staff; the War Office; M.I.5.G. and the Royal Irish Constabulary dated between 1916-1917.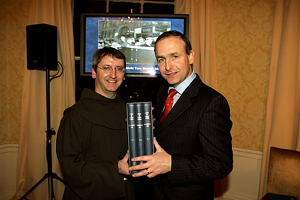 Holding the de Valera archive catalogue: Fr Caoimhin O'Laoide, OFM and Michael Martin TD, Minister for Enterprise, Trade and Employment.
Among these is a secret communication between General Maxwell, Major General Friend, the War Office and General Headquarters, Home Forces, concerning Major General Friend's presence in England on leave of absence and the attendance by certain Officers of the Irish Command at a race meeting in Baldoyle, on the day on which 'disturbances in Dublin commenced'. It includes communication from General Maxwell defending Major General Friend and Major General Friend's report explaining the circumstances of his absence and that of his officers (28–30 April 1916). It was, of course, no accident that the Rising was planned for Easter Monday when the rebels knew the British would be "otherwise occupied."
Speaking of the collection, Dr Brady said "Some items in the collection might seem unexpected. They include various items of correspondence between British commanders in the aftermath of the Easter Rising - such as a letter from Field Marshal Lord French, Commander-in-Chief of the British Home Forces, to General Maxwell, the military ruler of Ireland. This letter informed Maxwell that the prime minister had been surprised by the rapidity of the executions, and warned him against giving the impression that all the captured 'Sinn Feiners' would be executed."
"Eamon de Valera was indisputably one of the defining figures in the creation and building of independent Ireland. He was not just a national figure - but perhaps also the one Irish leader of the last century who was widely known outside of this country. His prominence amongst his contemporaries has been followed by a major part in the historical works dealing with his times," Minister Martin said.
He continued "It has long been commented that the Irish have an unusually high interest in debating their politics and history. Unfortunately one down-side of this can be a tendency to seek to overly-personalise debates - often leading to crude stereotyping and the reduction of complex figures to empty caricatures. Where history is popularised without being build on a foundation of diverse and rigorous scholarship, as it often is, what we end with is not an understanding of our past, but distorted tale."
"It has to be said that in recent decades Eamon de Valera has suffered at the hands of those seeking an easy way of representing the real or imagined problems of his time. He has been an all-purpose vehicle for people wanting to present a bleak narrative of cynical, clerically-dominated and inward-looking politics. To reduce a substantial figure such as de Valera in this way is both absurd and a-historical."
"The only real answer to this is, of course, scholarship - and in this full opening of this archive represents a major step forward."
The de Valera collection adds to the historic archive of Frank Aiken and Sean McEntee held by UCD and is an extraordinarily comprehensive record of Government party and personal papers from that period.

Archival history:
Eamon de Valera bequeathed all of his personal non-family papers to the Order of Friars Minor five years before his death. The collection was housed in the Franciscan Library Killiney, County Dublin before its transfer to UCDAD in July 1997 under the terms of the OFM-UCD Partnership. Access is available by appointment to holders of a UCDA reader's ticket.

Scope and content of archive:
Collection of 2,500 photographs.
Material relating to all aspects of Mr de Valera's life and career including his birth, early childhood and schooldays in Bruree (1882–89), his association with Charleville Christian Brothers School, Blackrock and Rockwell Colleges (1889–1972); with the Royal University of Ireland (1901–04) and with the National University of Ireland in his role as Chancellor (1921–71).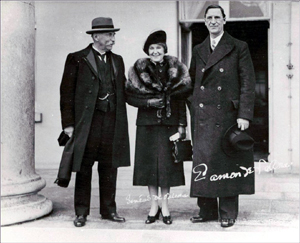 Eamon and Sinead de Valera with Douglas Hyde, first president of Ireland
Family papers concerning his de Valera, Coll and Carroll ancestry, his marriage to Sinéad Flanagan and their children and grandchildren. Biographical material (1916–82) including the commissioning and writing of the official biography (1953–71).
Material concerning all phases of Mr de Valera's national career including his membership of the Irish Volunteers and Sinn Féin, his participation in the Easter Rising, his imprisonment, the 1917 and 1918 elections, his mission to the United States (1919–20) including papers relating to Harry Boland's activities in the U.S. (1919–22) and developments there after de Valera's return to Ireland.
Decrees, Cabinet minutes, ministerial communications and departmental reports from the First and Second Dáil Éireann. Material relating to the negotiation and signing of the Anglo-Irish Treaty, the debates on the Treaty and the Civil War (1920-23); the functioning of the Republican Government (1922–25); the reorganisation of Sinn Féin and the end of the Civil War (1922–23); de Valera's arrest and imprisonment (1923–24).

Eamon de Valera with Jacqueline Kennedy, Washington May 1964
The foundation of Fianna Fáil and its entry into Dáil Éireann (1926–27); Ard Fheiseanna (1926–59) and the history of the Party (1936–57). Elections (1918–69).
Mr de Valera's positions as President of the Executive Council (1932–37) and Taoiseach (1938–48, 1951–54 and 1957–59) including negotiations with the UK, the question of the land annuities (1928–38), the drafting and enactment of the 1937 Constitution and Ireland's neutrality during the Emergency (1939–73)
Ireland's contribution to international organisations, the League of Nations (1924–40), the United Nations Organisation (1945–68) and the Council of Europe (1949–51). Material relating to Church-State relations (1916–74). Mr de Valera's two terms as President (1959–73). Commemorative and reference material.
© reproduced with kind permission of the Franciscan Order, owners of the collection and UCD, curators of the de Valera collection. These photographs may not be downloaded, copied or reproduced without prior permission from UCD Archives.
>> UCD Archives
>> UCD School of History and Archives

>> More News and Events
<< Back to Home