Posted: 31 July 2006
EPA awards UCD Urban Institute Ireland €1m to develop urban environment management model
Science is increasingly taking centre stage when it comes to effective management of the environment. Today, state-of-the-art computer models called Spatial Decision Support Systems are used to process, store, analyse and visualise a wide range of data pertaining to the world around us.
In Ireland, the rapid growth of the Irish economy over the past decade has resulted in increased urban pressures on the environment. And although the Irish environment is cleaner than the European average, policy makers must be able to adequately assess the environmental impacts of development if they are to make informed choices and decisions on urban development. They must understand the relationship between development, land-use changes, infrastructure development (especially transport) and environmental performance in urban regions.
The Environmental Protection Agency (EPA) has awarded UCD Urban Institute Ireland €1m to spearhead a collaborative research project to produce a new urban environment management model. The project called the Urban Environment Project will apply MOLAND, a model developed by the EU Joint Research Centre (Ispra, Italy), to the Irish context to allow for in-depth analysis and visualisation of changing land use patterns in urban regions. It will produce a model which integrates environmental dimensions into existing and new land-use data for the *Greater Dublin Area. When the project is complete, Ireland will, for the first time, have the analytical capacity to link development, space and the environment.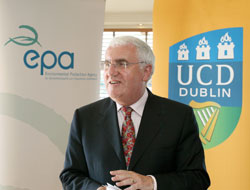 Pictured at the launch of the Urban Environment Project, Minister for the Environment, Heritage and Local Government, Dick Roche
'This project will overcome the current lack of analytical capacity for linking development and environmental performance' said Professor Frank Convery, Director of the Urban Environment Project.
'There is endless debate about what's happening around Dublin as regards roads and other infrastructure, land use change and environmental impacts. The Urban Environment Project will give us decision tools that allow us to mobilise information, and explore alternatives and their implications, informed by evidence' he continued.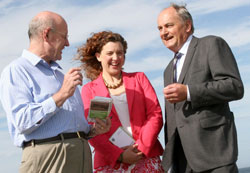 Professor Frank Convery, UCD Urban Institute and Director of Urban Environment Project; Sheila Convery, Urban Environment Project Manager; and Larry Stapleton, Director EPA
Speaking at the launch of the Urban Environment Project at UCD Urban Institute Ireland on 25 July 2006, the Minister for the Environment, Heritage and Local Government, Dick Roche TD said: 'With the increasing urbanisation of Irish society the need for timely and accurate data to plan for the future has never been more important. This project presents the opportunity for researchers to not only develop a system that will be of great benefit to policy makers here at home, but also to break new ground internationally and demonstrate that Ireland can be a world leader on these issues.'
Mr Larry Stapleton, Director, EPA, also noted the need for a capacity to analyse and predict the spread of environmental impacts resulting from demographic change. 'The patterns of population change indicated by the recent preliminary census returns are complex and some would give rise to environmental concerns' he said. 'This project can help ensure that advanced assessment tools are available and can provide the best possible support to future planning and decision making.'
During the three-year research project, researchers will collect and analyse data on air quality, urban transport, biodiversity, climate change, and urban sprawl. This data will be integrated into a computer modelling system which will allow for environmental dimensions to be incorporated into traditional land-use scenario evaluation. The model will also provide an opportunity to test the environmental and other impacts of new major infrastructure projects.
* Greater Dublin Area - defined as comprising counties Louth, Meath, Kildare, Wicklow, and the four Dublin local authorities. Between 2002 and 2006, the region's population rose by 135 thousand, to total 1.8 million.
The Urban Environment Project is funded through the EPA's Environmental Research, Technological Development and Innovation (ERTDI) programme financed through the National Development Plan.
Partners on the Urban Environment Project include: UCD Urban Institute Ireland; UCD School of Electrical, Electronic and Mechanical Engineering; UCD School of Architecture, Landscape and Civil Engineering; UCD School of Biology and Environmental Science; UCD School of Geography, Planning and Environmental Policy; NUI Maynooth Department of Geography; NUI Maynooth National Centre for Geocomputation; TCD Department of Geography; and ERA-Maptec Ltd
Collaborators on the Urban Environment Project include: OSNI Mosaic Project; Dublin Zoo; Dublin Transportation Office; Fingal County Council; Dublin City Council; South Dublin County Council; Dun Laoghaire Rathdown County Council; EU Joint Research Centre; Kildare County Council; Wicklow County Council; Meath County Council; and Louth County Council.