Posted: 08 May 2007
12 new high-tech ventures participate in Campus Company Development Programme
NovaUCD has launched its 2007 Campus Company Development Programme (CCDP) offering 12 new high-tech and knowledge-intensive business enterprises the opportunity to bring their innovative ideas from intellectual concepts to fully developed, sound commercial business enterprises.
The aim of the NovaUCD CCDP, which is sponsored and supported by Enterprise Ireland, is to assist entrepreneurs in the establishment and development of new business ventures to commercialise the output of their research. Ventures participating in this year's programme include commercialising research undertaken in the UCD School of Chemical and Bioprocess Engineering, UCD School of Medicine and Medical Science and UCD School of Agriculture, Food Science and Veterinary Medicine.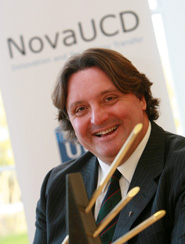 Dr Conor O'Brien, FitFone overall winner of the NovaUCD 2006 Campus Company Development Programme
The establishment of new high-tech ventures is an essential element in realising the full commercial potential of the significant investment in research and development being made by the Irish Government. Many innovative new ventures originate in a university environment and university-based entrepreneurs require assistance in defining and developing their innovative ideas - this NovaUCD programme addresses these and other important facets of new venture formation.
"NovaUCD encourages and supports entrepreneurship and the establishment and development of new high-tech ventures", said Dr Pat Frain, Director, NovaUCD. "The new and innovative enterprises which are participating on this year's programme are critical to sustain the development and growth of Ireland's knowledge-based economy."
Now in its 12th year, the NovaUCD CCDP has assisted over 125 companies to develop their business. Previous winners of the CCDP include high-tech ventures such as BiancaMed, ChangingWorlds and Lightwave Technologies. FitFone, founded by Dr Conor O'Brien, was the overall winner of the 2006 CCDP.
The CCDP is a nine-month, part-time programme that offers a mix of monthly workshops, mentoring and one-to-one consultancy. Participants on the programme have the opportunity to access NovaUCD's desk space and incubation facilities and associated services and the Programme culminates with a high profile Awards Evening held in November.