Posted: 03 November 2006
UCD Images of Research Awards and Exhibition
More than 420 images captured by UCD researchers during the course of their research were submitted to the Inaugural UCD Images of Research Competition 2006. These images spectacularly showcase the depth and diversity of the research which is taking place across the university.
"The images submitted to this competition are unique and compelling and the scope of research interests in UCD is clearly visible. From both a research and a visual perspective, the competition succeeded in capturing the extent and diversity of the research underway at UCD," said Professor Desmond Fitzgerald, Vice-President for Research, UCD.
All images submitted to the competition will be exhibited in an online gallery and twelve images have been selected to create the first UCD Research Calendar.
The winners of the 2006 images of research competition entitled 'Picture This' were selected by an independent panel of experts from the world of the arts and digital media. Images were judged on originality, composition (aesthetic and technical) and overall impact.
COMPETITION WINNERS:
Overall Winner:
Noreen Barron,
UCD School of Irish, Celtic Studies, Irish Folklore & Linguistics
Image Title:
St John's Eve, Sruwaddacon Bay, Rossport, Co. Mayo

On the evening of June 23rd, St John's Eve (or Bonfire Night) is celebrated in many parts of Ireland with the lighting of bonfires. One custom associated with this day was to take burning embers from the bonfire and spread them on a potato crop for a good yield that year.
2nd Place:
Elizabeth Shotton
UCD School of Architecture, Landscape & Civil Engineering
Image Title:
Foreign Bodies, Grand Canal Locks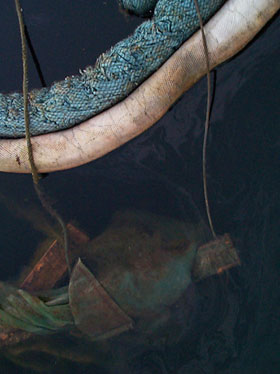 Part of a comprehensive photographic survey of the constructed edge of the River Liffey through its tidal region from Islandbridge Weir to Poolbeg Lighthouse. The images form the documentary background to a representation of the river as part of an ongoing study into the relationship of memory, perception and representation to the design process.
3rd Place:
Yolanda Alvarez
UCD School of Biomolecular & Biomedical Science
UCD Conway Institute
Image Title:
Eye Veins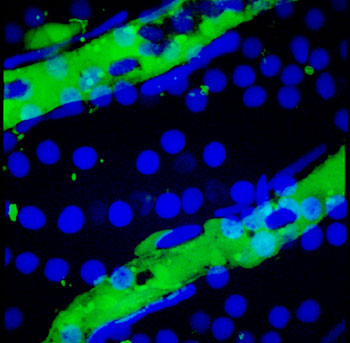 This picture shows two blood vessels overlying the inner layers of the retina in adult zebrafish. The endothelial cells forming the walls of the vessels are green (EGFP) and the nuclei of all cells are blue (DAPI staining).
For more information visit UCD Research