Ulysses Centre gets planning approval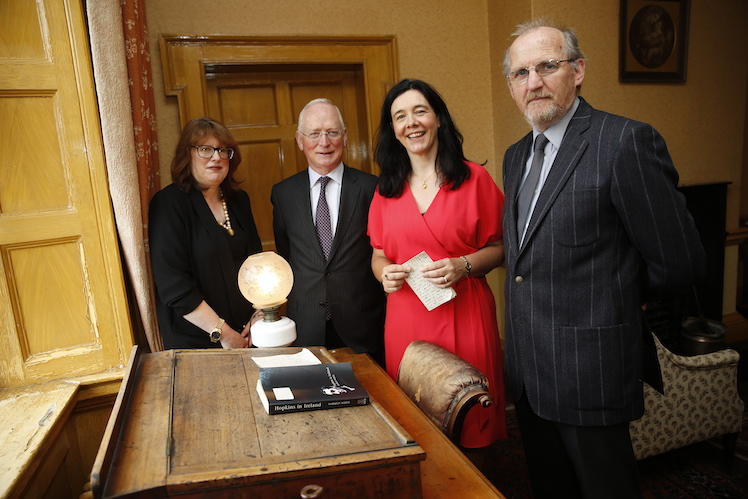 Posted August 18, 2016
Centre will celebrate Ireland's renowned literary heritage of writers
The building will include the university's original Aula Maxima (great hall)
The new public space will open to the public in summer 2018
University College Dublin has been granted planning permission for the development of the Ulysses Centre at Newman House in the heart of Dublin at St Stephen's Green.
The Ulysses Centre, a partnership between UCD and the National Library of Ireland, will celebrate Ireland's renowned literary heritage of writers, inspiring the next generations with the urge to create, read and write.
The landmark destination for public and scholarly engagement at numbers 85 and 86 St Stephen's green will be a major tourist attraction in the heart of the nation's capital. Dublin City Council granted planning permission for the centre.
"We have an extraordinary literary past, present and future," said Professor of Anglo?Irish Literature at the UCD School of English Drama and Film, Margaret Kelleher, outlining the university's motivation for creating the new centre.
"From James Joyce to Frank McGuinness, from Mary Lavin to Emma Donoghue, from Flann O'Brien to Colm Tóibín, we have produced a stream of wonderful writers whose work reaches audiences throughout the world.
"The Ulysses Centre brings together the cultural resources of Ireland's largest university and Ireland's national library, in a unique location that has shaped the writings of Joyce, Newman, Hopkins and generations of UCD students."
Pictured top: At the announcement that the new Ulysses Centre has been granted planning permission are (l-r) Ruth Ferguson, Curator, UCD Newman House, Paul Shovlin, Chairman National Library, Sandra Collins, Director, National Library and Eamonn Ceannt, Director of the Ulysses Centre
Philanthropists Carmel and Martin Naughton, Fáilte Ireland and UCD are providing significant funding for the €10 million centre.
The public space will include the university's original Aula Maxima (great hall). It will also house some of the original rooms where James Joyce attended classes and college society debates in the late 19th and early 20th centuries.
"The Aula has remained disused for many years, but the space here is a gem in terms of its potential as a dynamic visitor centre for students of literature and tourists alike," Director of the Ulysses Centre project, Eamonn Ceannt explained.
The National Library of Ireland holds the very first copy of Ulysses, as part of its remarkable literary archives. The institution has partnered with UCD in order to provide greater public access to these collections.
"The National Library is delighted to partner with UCD on this new venture, which builds on a rich shared history between our two institutions," said Dr Sandra Collins, Director of the NLI.
"James Joyce's footsteps crossed between our beautiful reading room on Kildare Street and Newman House, and now we are delighted a new generation of visitors will enjoy our literary treasures in the Ulysses Centre."
With planning permission now granted, building work is expected to advance later this year, and the centre will open to the public in summer 2018.
By: Jamie Deasy, digital journalist, UCD University Relations