UCD opens 354 new campus residences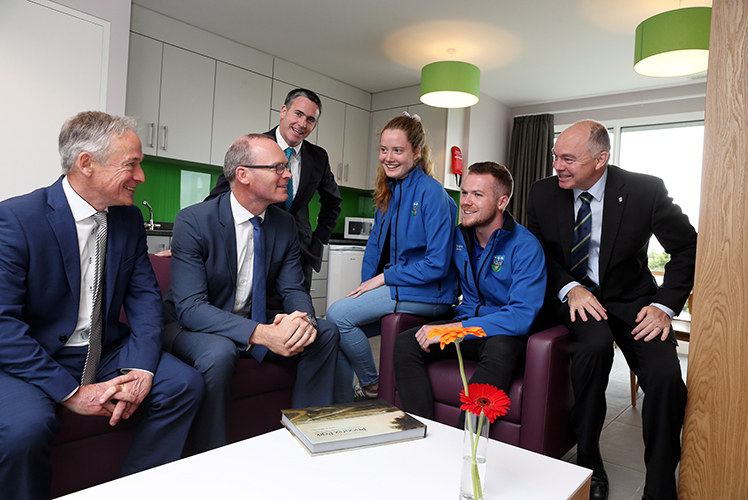 Posted August 23, 2016
New accommodation will bring student on-campus population to 3,164
University College Dublin launches its new Campus Develoment Plan
Some 3,000 further on-campus student accommodation units planned
Three government ministers visited University College Dublin's Belfield campus for the official opening of an additional 354 residences at its newly built Ashfield student accommodation.
The Minister for Education and Skills, Mr Richard Bruton TD, the Minister for Housing, Planning, Community and Local Government, Mr Simon Coveney TD, and the Minister of State for Housing and Urban Renewal, Mr Damien English TD attended the event.
The new accommodation brings the total number of residences at the University to 3,164.
UCD, Ireland's largest university, also unveiled its ambitious Campus Development Plan. Among the planned developments are an additional 3,000 student residences, bringing the on-campus population to over 6,000 – or over 24% of the total UCD student population.
There is a critical undersupply of student accommodation in Dublin. For over 80,000 third-level students, there are less than 10,000 purpose-built student bed spaces, on and off university campuses.
Pictured top: Minister Richard Bruton, Minister Simon Coveney, Minister Damien English, UCD residential assistant students, Jessica McHugh and Dylan Quinn McMahon, and UCD President Professor Andrew Deeks; and right, one of the bedrooms in the new Ashfield student residences
The 2015 'Report on Student Accommodation: Demand & Supply' by the Higher Education Authority (HEA) estimates an existing level of unmet demand for about 25,000 student bed spaces nationally.
Speaking at the announcement, Minister Bruton said his department is working with stakeholders to prioritise and progress viable projects to provide additional student accommodation in key urban areas.
"This will be done with a view to bringing on stream proposals capable of delivering an additional 7,000 student accommodation places by end 2019, on or off campus, in addition to projects already committed to," he said.
"Housing for students is a specific and important segment of the overall housing sector as outlined in the Government's Action Plan for Housing. My department has worked closely with Minister Coveney's department in the development of this Action Plan, with a specific focus on student accommodation.
"Under the Action Plan for Housing, my department will prepare and publish a national student accommodation strategy, which will set out a broad framework for delivery of an enhanced level of student accommodation in the country," he added.
Minister for Housing, Planning and Local Government, Simon Coveney TD said: "If we can get students out of private rental accommodation into purpose-built student residences, we will free up considerable space for people competing for limited rental properties.
Minister Coveney outlined legislation he is bringing to the Oireachtas to facilitate projects, such as the Ashfield residences, that will speed up the planning processes by fast-tracking planning directly to An Bord Pleanála.
"This is a no-brainer as far as I am concerned. The government's Action Plan contains specific commitments that will be critical enablers of delivery of purpose-built accommodation, such as the additional 3,000 here at Belfield," he added.
Funding is another fundamental issue for universities that wish to construct campus residences, as they are subject to constraints on the amount of funds they can borrow.
"Access to finance at low cost is key," Minister Coveney added "and my department is already working with higher education institutions and the Housing Finance Agency to ensure that higher education institutions can also access this funding in the very short term."
Professor Andrew Deeks, UCD President, said that demand for student accommodation in Dublin continues to outstrip supply.
"As part of our overall university strategic plan, we want to develop world-class facilities to ensure we continue to attract the highest calibre of both students and staff," he said. "I am delighted that UCD can assuage the concerns of parents of first-year and overseas students by offering purpose-built student residences.
"We now allocate over 1,000 of our residences to first years. So, one in four of our first-year students will live on campus," he added.
Minister of State for Housing and Planning, Damien English, TD, welcomed the opening of the new residences for students.
"By prioritising first years, UCD has recognised that many students leaving home for the first time do not have a social network and providing on-campus residence lets them settle in to university, as well as removing anxiety for worried parents," he said.
"It's perhaps easy to overlook just how important UCD is in economic terms to the wider Dublin area. Every day some 31,000 students, staff and visitors attend UCD's Belfield campus. With the on-campus residences now expanded to over 3,000, this means that 28,000 people commute to campus every day.
"So, Belfield has the same day-time population as Bray, Navan, Ennis or Kilkenny. This size of population, living and working in such a defined area, really needs to have very clear and very good urban planning," he added.
The first residences on the Belfield campus, Belgrove, were built in the 1980s and have been recently refurbished and upgraded. Ashfield residences were designed by Michael Collins Associates and built by Collen Construction.
Each apartment has six en-suite bedrooms with a shared kitchen and living room. There are 15 apartments in each of the four buildings at Ashfield, with a large multi-purpose lounge area for students.