UCD student is individual debating prize winner at The Irish Times debate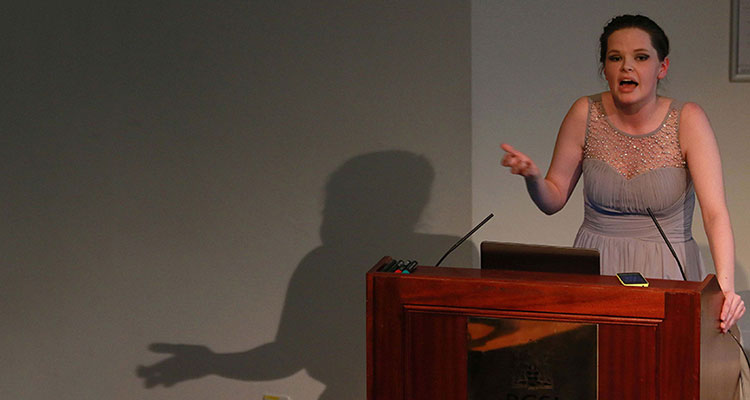 Posted February 23, 2016
300 students entered the competition and just 12 made the final
Winner set for three-week debating tour of US
UCD final year Law and Philosophy student, Clíodhna Ní Chéileachair has won the "individual award" at the grand final of The Irish Times debate, an annual student debating competition.
Clíodhna, who represented the UCD Literary and Historical Society, opposed the motion - This house believes that 2016 should be the last year in which Ireland commemorates the Easter Rising.
The motion held special significance for her as her great-grandfather took part in the Rising in Enniscorthy and was interned at Stafford and Frongoch. He was awarded a 1916 medal.
The 22-year-old UCD student told the audience the commemoration was important so we could "attach ourselves to a story that is greater than ourselves".
300 students entered the competition and just 12 competed in the final. The winners will take part in a three week debating tour of the United States hosted by Professor Brent Northup, Chair of Communications at Carroll College and founder of Pax Rhetorica, School for Global Dialogue.
"The 1916 Rising was a seminal event in Irish modern history and our partnership with Ireland 2016 has led hundreds of young people to not only learn about it but also to re-examine it from many different angles. We hope that they have found the debates as enriching an experience as the audiences have," said Kevin O'Sullivan, editor of The Irish Times and chairman of the adjudicating panel.
UCD student, Cian Leahy, who is also a member of the UCD Literary and Historical Society and who spoke in favour of the motion was runner up to Clíodhna.
The Irish Times Debate is the oldest intervarsity debating competition in Ireland. It was established in 1960.
This year's debate was run in partnership with Ireland 2016, the state body charged with commemorating the centenary of the Rising. It was chaired by UCD Professor Diarmaid Ferriter from the UCD School of History, University College Dublin.
The Demosthenes Trophy, for the team competition, was awarded to Ross O'Mahony (27), a first year Law Society student from Malahide, Co Dublin, and Aaron Vickery (25) from Rosscarbery, Co Cork, representing the Solicitors' Apprentice Debating Society of Ireland (Sadsi).
Previous winners of the debate include: broadcaster, Derek Davis; Broadcaster, Henry Kelly; Broadcaster, Marian Finucane; Comedian, Dara O'Briain; Playwright, Gerry Stembridge; Supreme Court Judge, Adrian Haridman; and former Attorney General, Dermot Gleeson. Previous finalists include: President of Ireland Michael D Higgins, former President of Ireland, Mary Robinson and former Tanaiste, Mary Harney TD.
By: Dominic Martella, UCD University Relations