UCD awarded highest Erasmus+ international credit mobility funding
Posted 20 January, 2016
74 UCD students and staff will travel to universities across the world
€1m investment supports 12 Irish HEIs to build partners in 26 countries outside of EU/EEA
University College Dublin has been awarded the highest amount of funding of any Irish institution in the first year of Erasmus+. Under the programme, 74 UCD students and staff will travel to universities across the world over the next 16 months.
Erasmus+ is the new EU programme for education, training, youth and sport. It replaced the Lifelong Learning Programme, Erasmus Mundus and other actions in 2014.
"I congratulate the institutions which have been successful and have demonstrated their intention to spread Ireland's global educational reach," said Tom Boland, chief executive of the Higher Education Authority.
"But equally in a world where interdependence is a growing necessity – there is much we can learn from partners in all parts of the globe. This initiative supported by the Erasmus+ programme is a most positive step in that direction."
The Erasmus+ awards were presented by the Minister for Skills, Research and Innovation, Damien English TD at a special ceremony in Dublin.
UCD Deputy Registrar, Teaching & Learning, Professor Bairbre Redmond accepted the award on behalf of University College Dublin.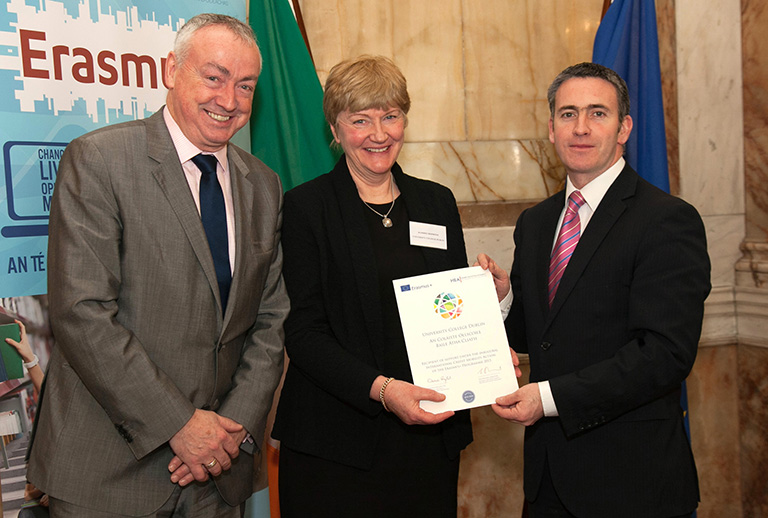 Pictured above (l-r): Tom Boland, Enterprise Ireland; Professor Bairbre Redmond, UCD Deputy Registrar
and Damien English TD, Minister for Skills, Research and Innovation.
The funding provided under the International Credit Mobility action of Erasmus+ supports student and staff mobility to and from over 70 universities across 28 countries including: Algeria, Argentina, Armenia, Australia, Azerbaijan, Belarus, Bosnia and Herzegovina, Brazil, Canada, Chile, China, Egypt, Georgia, Hong Kong, Israel, Kosovo, Lebanon, Malaysia, Morocco, New Zealand, Palestine, Russian Federation, Serbia, South Africa, Thailand, Ukraine and the USA.
---
Erasmus+ international credit mobility funding awards (from a total of €1,057,639):
University College Dublin €366,170
University of Limerick €264,460


Royal College of Surgeons in Ireland €148,492
Limerick Institute of Technology €100,040
Trinity College Dublin €76,420
Mary Immaculate College €39,771
Dublin City University €21,068
St Nicholas Montessori College Ireland €12,270
Cork Institute of Technology €9,360
Dún Laoghaire Institute of Art, Commerce and Technology €9,150
Dublin Institute of Technology €6,178
Institute of Technology Tallaght Dublin €4,260

By: Jonny Baxter, digital journalist, UCD University Relations