UCD spin-out OxyMem features in 2015 Global Cleantech 100 list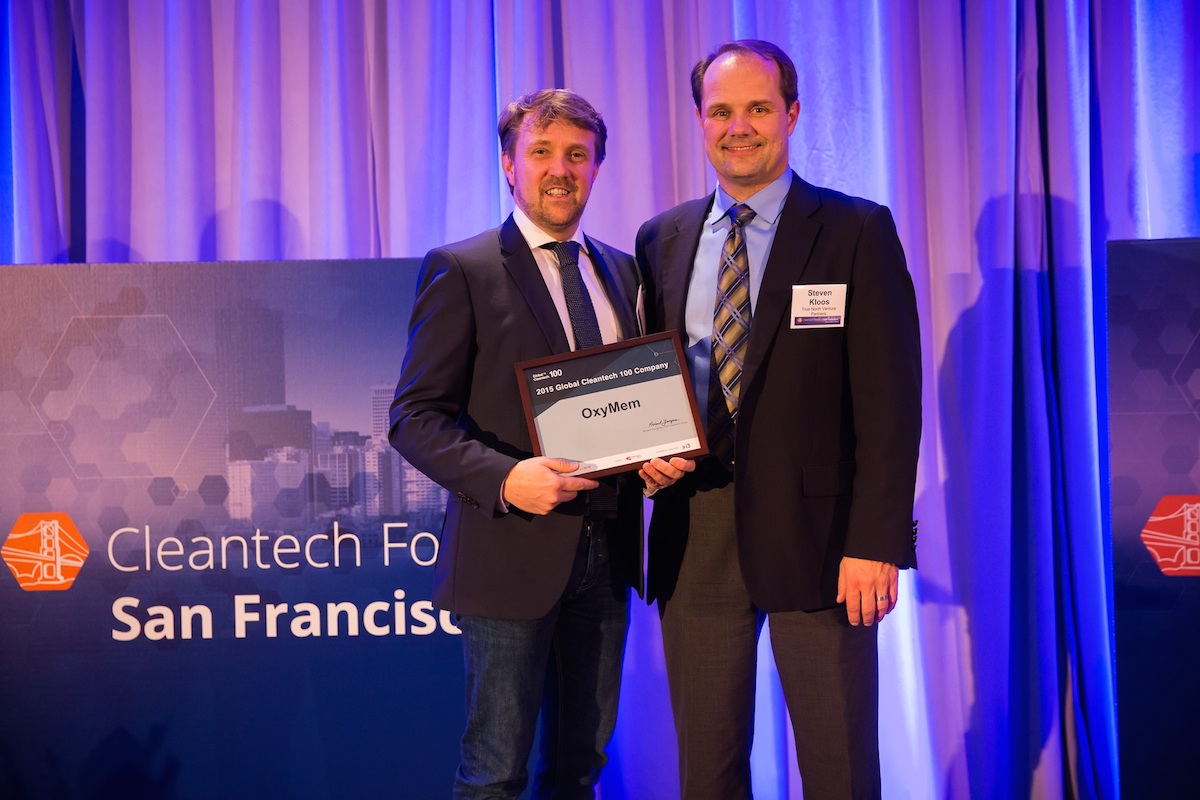 Posted January 27, 2016
List recognises the top private companies in clean technology
OxyMem chosen as one of top-100 firms from a total of 6,900 nominated companies
OxyMem, a UCD spin-out company producing technology that treats pollutants in wastewater efficiently, has been named in the 2015 Global Cleantech 100 list. OxyMem is the only Irish company to make the list of innovative clean technology companies.
OxyMem is commercialising the Membrane Aerated Biofilm Reactor (MABR) technology – an innovative solution to reduce costs for wastewater treatment.
The Global Cleantech 100 is a list of firms with the potential to make the most significant market impact in the clean technology sector over the next five to ten years. The list is produced annually by the Cleantech Group.
This year a record number of nominations – 6,900 companies from 60 countries – were received. These nominations were weighted and scored to create a shortlist of 323 companies.
Shortlisted nominees were reviewed by Cleantech Group's 100-member expert panel, which broadly represents the global cleantech community, from pioneers to leaders and veterans, as well as financial investors in the sector globally.
The comprehensive review process resulted in a finalised list of 100 companies from 17 countries.
"To be recognised as a Global Cleantech 100 company is a tremendous validation for OxyMem's value proposition in the global water market," Wayne Byrne, CEO of OxyMem, said.
"This is not a list you can make an application for; it is prepared by the world's venture capital community, so to learn that we are on their radar is a real kick-start to our year."
Pictured top: Wayne Byrne, CEO, OxyMem with Dr Steven Kloos, True North Venture Partners, one of the Cleantech 100 expert judges. (Image by Martin Backhauss)
OxyMem was co-founded by Professor Eoin Casey, Dr Eoin Syron and Wayne Byrne in 2013 as a spin-out from the UCD School of Chemical and Bioprocess Engineering.
Wastewater aeration is the process of adding air into wastewater to allow aerobic bio-degradation – the breakdown of organic contaminants by microorganisms when oxygen is present – of the pollutant components.
OxyMem's Membrane Aerated Biofilm Reactor (MABR) technology dramatically reduces the operating costs for wastewater aeration and results in a four-fold saving on energy costs when compared to forced aeration – the current industry standard.
The company's technology does not rely on the traditional method of wastewater aeration of using bubbles to transfer oxygen to the bacteria in wastewater.
Instead, it uses gas permeable membranes, which allows oxygen to be transferred directly to the bacteria treating the wastewater, resulting in up to 99% transfer efficiency, as no oxygen is lost in the atmosphere.
"OxyMem was established to commercialise world-class UCD research outputs and the company's inclusion in this list also highlights the quality of the companies now emerging from the university," said Brendan Cremen, UCD Director of Enterprise and Commercialisation.
The UCD spin-out employs over 40 people and has already raised €2.5 million from investors and Enterprise Ireland. It has also secured clients in Ireland, the UK, Spain, Sweden and in North America, the Middle East and the Far East.
Cleantech Group's (CTG) mission is to accelerate sustainable innovation. Core to this mission is i3, an online platform that connects corporates with innovation, at scale, by allowing them to find, vet, and connect with start-ups – efficiently building an innovation pipeline.
The 2015 Global Cleantech 100 list is accompanied by a full report with commentary and insight on the 2015 Global Cleantech 100, and is available via ?http://www.cleantech.com/indexes/global-cleantech-100/2015-global-cleantech-100/
By: Jamie Deasy, digital journalist, UCD University Relations