Mageean bags bronze with power surge at European Athletics Championships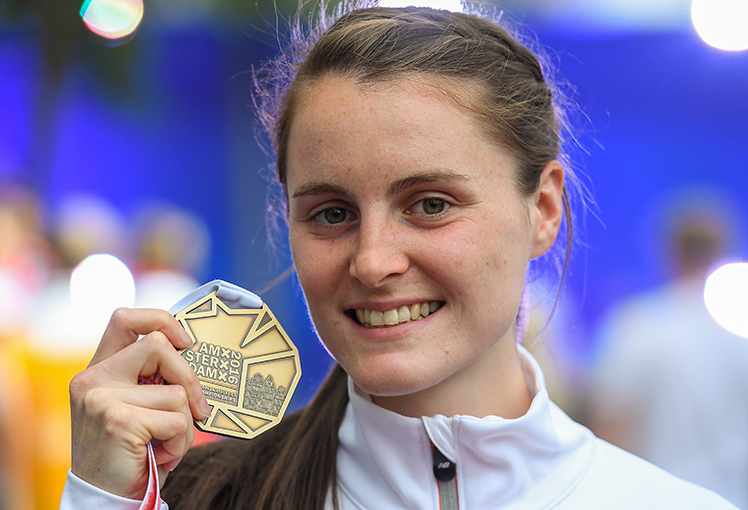 Posted July 11, 2016
Mageean is just one of three female Irish athletes to win a medal at European Athletics Championships
Bronze is the UCD athlete's first success at senior international level
UCD Ad Astra and Ireland athlete Ciara Mageean, who will compete at the Olympic Games next month, has won the bronze medal in the final of the women's 1,500 metres at the European Championships in Amsterdam.
The 24-year-old Co Down woman crossed the line in a time of 4:33.78, just missing out on silver, with Dutch runner Sifan Hassan narrowly beating her by just two hundreths of a second with 4:33.76. Poland's Angelika Cichocka claimed gold in a time of 4.33.00.
Pictured top: Fourth year Physiotherapy student and Ad Astra Elite Athlete at UCD Ciara Mageean with her bronze medal after she finished in third place in the women's 1,500 metres at the European Athletics Championships in Amsterdam
After a slow first three laps, the pace of the contest suddenly accelerated in the final 400 metres.
Ciara, who appeared to be boxed in on the inside lane, moved to the outside on the home stretch. With an impressive injection of pace over the last 100 metres, she powered home, beating Norway's Ingvill Makestad Bovim into fourth place, and almost snatching silver at the death.
Hinting at the true extent of her ambitions ahead of her participation at the Olympic Games in Rio next month, the UCD student also expressed disappointment that she hadn't won silver or gold.
"I was a little bit disappointed with the bronze medal, but I am taking that as a big positive for me," she told the Irish Sports Network. "It is my first championship back in five years and I am disappointed to win bronze because I know I have plenty left in my legs and if I had a clear home straight, the colour of the medal could have been different."
The UCD student's bronze medal win is just the 14th time that an Irish athlete has won a medal at the European Athletics Championships, and only eight other Irish athletes have achieved the feat.
Ciara now also joins an elite club of three Irish female athletes, along with Sonia O'Sullivan and former UCD sports scholar Derval O'Rourke, to win a medal at the championships.
The bronze represents the first medal the UCD student has won at senior international level. Ciara showed serious promise in her early running career winning silver medals in the 1,500 metres at the world and junior championships in 2009 and 2010. Between 2012 and 2014 her career was plagued by injury.
The fourth-year Physiotherapy student and Ad Astra Elite Athlete will compete in the women's 1,500m at the Olympics after she ran a time of 4:06.49 at Rieti, Italy, in September 2015.
The European Championships success will undoubtedly boost the UCD student's confidence and hopes of winning a medal at the Olympic Games in Brazil.
By Jamie Deasy, digital journalist, UCD University Relations