UCD swimmer selected for Rio Olympics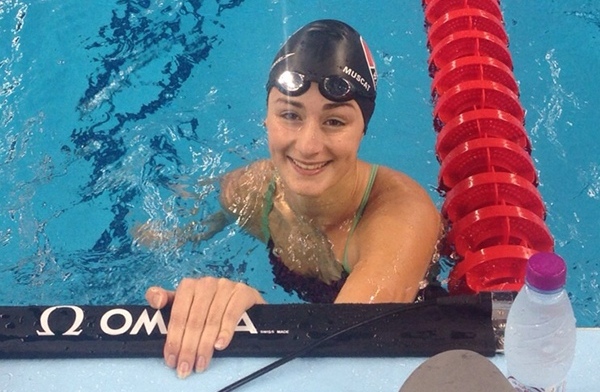 ‌
Posted July 25, 2016
UCD's Nicola Muscat to represent Malta at Rio Olympics
Two new Irish swimming records for UCD teams
UCD's Nicola Muscat has been selected to compete for Malta in the 50m freestyle at the Rio Olympics in August. Muscat holds seventeen Maltese national records and raced at the London Olympics.
She joins eight other UCD elite athletes at the Rio Olympics. They will compete in track, rowing, hockey, pentathlon and swimming events. The games start on August 5, 2016.
Pictured top: Nicola Muscat at the Doha World Swimming Championships. Credit: Neptunes WPSC.
Muscat's success was followed by the achievement of two UCD men's teams who set new Irish records at the Portugal Open national swimming championships.
UCD's David Prendergast, Dean Power, Alex Melennec and Kevin McGlade beat the previous 4x50 freestyle relay record by more than three seconds to win in a time of 1:34.41.
Prendergast and McGlade then joined Darragh Greene and Alex Murphy to compete in the 4x50 medley relay. The four UCD men won in a time of 1:41.94, beating Bangor's previous Irish record of 1:45.79.
Full list of UCD Olympians
Mark English | Track - 800m
Ciara Mageean | Track - Women's 1,500m
Paul O'Donovan | Rowing - Double Sculls
Shane O'Donoghue | Hockey
Ciara Everard | Track - Women's 800m
Arthur Lanigan-O'Keeffe | Modern Pentathlon
Claire Lambe | Rowing - Double Sculls
Kirk Shimmins | Hockey
Nicola Muscat | Swimming - 50m Freestyle