Financial Times ranks UCD Smurfit finance master's in global top 50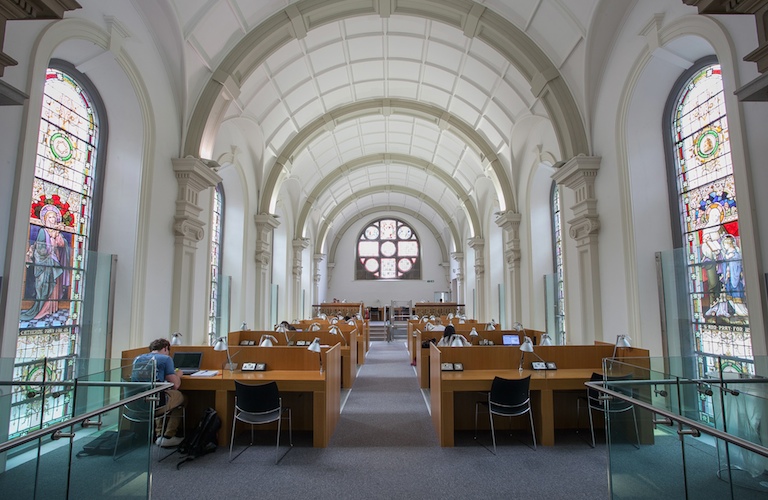 ‌
Posted June 20, 2016
UCD Smurfit School only Irish business school in FT ranking
UCD Smurfit School is the only Irish business school to be included in the ranking.
The international dimension of UCD Smurfit School was reflected in the ranking criteria with 67% of students coming from abroad to study in Ireland. It was ranked 18th for international mobility. Half of its faculty come from an international background.
Pictured top: Library at UCD Smurfit School
"Financial services are a key differentiator for Dublin and for us and we continue to work with the leading international financial services firms to further strengthen our international reputation and reach for our students and graduates," said Dean of UCD Smurfit School, Ciarán Ó hÓgartaigh
"Rankings such as these help us to attract the very best faculty and students and, as a consequence, help create the excellent learning environment which our students demand and deserve."
The FT Masters in Finance Ranking is based on an assessment of the world's top pre-experience degrees in finance, using data provided by business schools and their Finance alumni.
The ranking analyses courses based on a number of weighted criteria including: current salary, careers post-graduation, international faculty and international students as well as international mobility of graduates.
This Financial Times ranking is the latest in a series of independent validations of UCD Smurfit School's status as Ireland's top graduate business school and Executive Education provider.
The Smurfit Executive Development was ranked 69th in the world and 34th in Europe in May, according to the 2016 Financial Times Executive Education Rankings.
In January, UCD Michael Smurfit Graduate Business School's Full-time MBA programme was ranked 79th in the world and 24th in Europe, by the 2016 Financial Times Top 100 Global Full-time MBA Rankings.