Last-minute winner secures UCD's 43rd Collingwood Cup title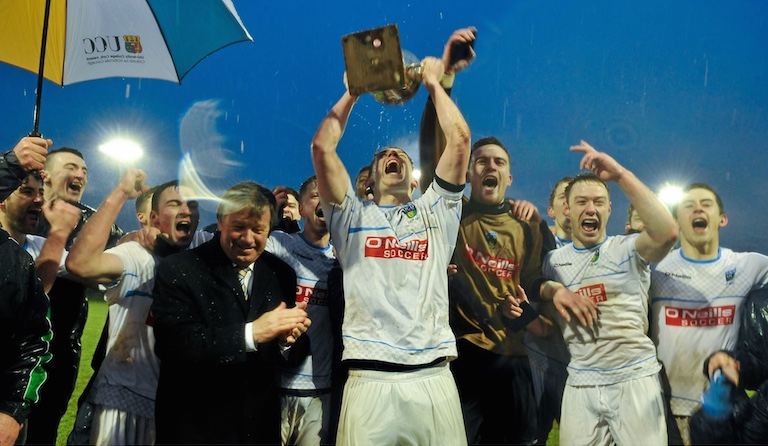 ‌
Posted March 1, 2016
Mark Boland's 89th minute goal wins Collingwood Cup
UCD claim sixth inter-varsity football competition in ten years
Victory completes double after Harding Cup win
UCD won Ireland's biggest inter-varsity competition for the sixth time in ten years with an 89th minute goal from Mark Boland sealing a 2-1 victory against University of Limerick.
The title marks a successful month for UCD football after the Freshers team defeated Dublin City University to win the Harding Cup.
The match opened with University of Limerick, who were seeking their first Collingwood Cup title, creating the better chances in the first half.
They deservedly took the lead after 19 minutes from a spectacular Garbhan Coughlan volley. The striker, who plays his club football with Athlone Town, showed keen awareness to fire a first-time shot beyond the onrushing UCD goalkeeper.
Niall Corbet dealt with further challenges to his goal, and Limerick went in at half time as the better side but only one goal in front.
UCD's Gary O'Neill and Tom O'Halloran had opportunities to level early in the second half but it was George Kelly who eventually scored with a 54th-minute header to make it 1-1.
Boland was introduced by UCD manager Diarmuid McNally with 20 minutes to go. At that stage in the game heavy rain made it difficult for either team to control the ball for long periods.
Pictured top: the UCD team after they received the Collingwood Cup at the Mardyke, Cork, where they beat the University of Limerick in the final. Picture credit: Eóin Noonan/Sportsfile
It was the poor weather that favoured UCD in the end. The conditions forced a long ball from UCD's defence and a mistake from the University of Limerick defender on the end of it.
The ball fell invitingly to Boland who seized on the opportunity and hit a first time shot across the keeper into the far corner.
In his post-match interview with the Irish Examiner, UCD manager McNally acknowledged UL's superiority in the first half but praised the character shown by his side in the second period.
"I thought UL were very good in the first half, they looked very dangerous on the break. We were probably a little bit blessed to be only 1-0 down," said UCD manager McNally.
"In the second half, straight from the kick off we increased the tempo of the game. We created two or three very good chances in the second half and luckily today it went in."
The Collingwood Cup is an annual tournament held between university soccer teams from both the Republic of Ireland and Northern Ireland.
By: Jonny Baxter, digital journalist, UCD University Relations