Intel and University College Dublin sign first ever partnership to boost innovation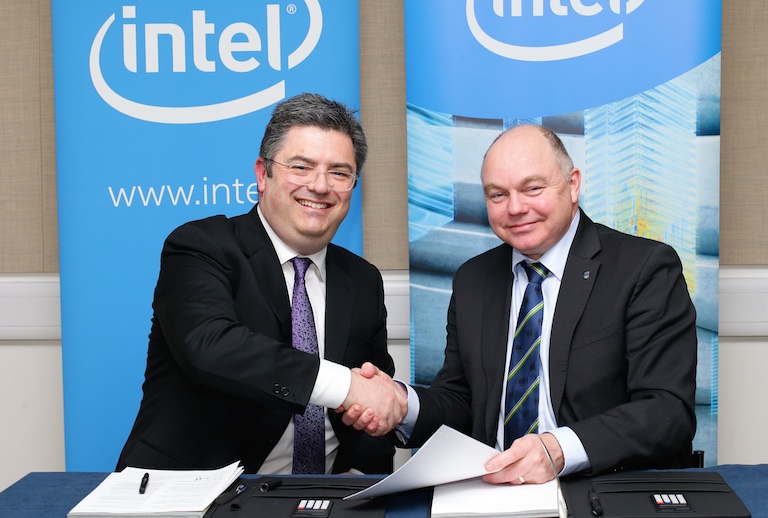 Posted March 10th, 2016
A new strategic partnership by Intel and University College Dublin has been launched to further connect researchers and students and help fuel the innovation economy in Ireland. The Head of Intel's Irish Operations and General Manager of Intel Ireland, Eamonn Sinnott, and UCD President, Professor Andrew Deeks signed the memorandum of understanding at the Intel campus in Leixlip, County Kildare.
The new partnership will focus on three areas: talent, research, and national policy associated with research and education. It includes the support by Intel of a structured Masters programme to ensure students receive education and training which is aligned to the needs of industry.
Pictured top (l-r): Intel Ireland General Manager, Eamonn Sinnott and
University College Dublin President, Professor Andrew Deeks at Intel's Leixlip campus.
In research the partnership will explore broad areas for collaboration with a view to attracting new investment, informing key research questions and achieving breakthrough results for both parties.
The new partnership is the culmination of a longstanding relationship between UCD and Intel which has included the provision of high quality graduates who have worked in Intel Ireland along with the collaboration between the two on a number of research activities.
Commenting on the significance of the new partnership Eamonn Sinnott Intel Ireland, General Manager and Vice President of Intel's Technology Manufacturing Group said: "At Intel we have been proactively developing our advanced manufacturing capability, together with a design, research and innovation footprint in Ireland over the last 26 years. This development has been supported by the strong relationships we have built with academic institutions and the innovation community across Ireland."
"Our partnership with UCD is one which is well established and multi-faceted and has contributed towards many of our recent successes. The signing of this memorandum today signals a new strategic approach to our engagement with UCD which will consolidate and build on this important relationship."
UCD President, Professor Andrew Deeks added: "I am particularly pleased that our partnership with Intel will contribute directly to the national economy. As well as reinforcing value-added research, the creation of a tailored graduate scholarship programme provides excellent opportunities for the next generation of scientists."
By: Jonny Baxter, digital journalist, UCD University Relations