Human rights activist Giri honoured by UCD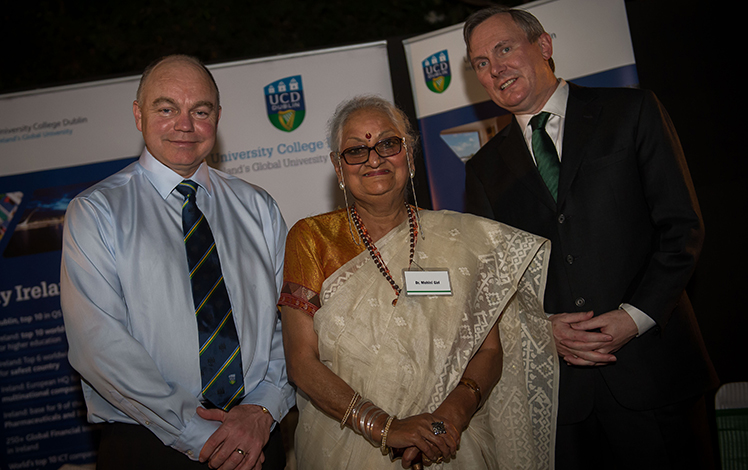 Posted May 12, 2016
Dr Giri has dedicated her life to understanding and enhancing conditions for women in India
She was a founding trustee of the Women's Initiative for Peace in South Asia
University College Dublin has awarded an Honorary Degree of Doctor of Science to Indian academic, social activist and rights campaigner Dr V. Mohini Giri.
Dr Giri has "dedicated her life to understanding and enhancing the conditions for women in India," said Professor Colin Scott, Principal, UCD College of Social Sciences and Law, in his citation.
Her career has "embraced academia, public service and social activism, with a strong unifying concern with the rights and opportunities of women and children."
In 2007, Dr Giri was awarded the Padma Bhushan, the third highest civilian honour in India.
Dr Giri was born in Lucknow, India. She graduated from Lucknow University, the University of Delhi and G.B. Pant University.
Her father-in-law was V.V. Giri, the fourth President of the Republic of India. V.V. He studied law at University College Dublin from 1913 to 1916.
Dr Giri began her career as an academic, founding the women's studies department at Lucknow University. Her research explored the different dimensions of inequality faced by women in India.
She later began her involvement in campaigning and advocacy, founding the War Widows Association in response to the 1971 Indo-Pakistani war.
Pictured above: UCD President, Professor Andrew Deeks, Dr V. Mohini Giri and the Irish ambassador to India, Brian McElduff
The organisation provides emotional and economic support to women who have lost their husbands in war.
Hindu widows are expected to live a spiritual and bare life in constant mourning for their husbands, according to tradition.
In a country of 1.25 billion, with 80% of these being Hindu, there are an estimated 40 million widows in India. Giri lost her husband when she was 50.
"Generally all widows are ostracised," Dr Giri told CNN in 2007. "An educated woman may have money and independence, but even that is snatched away when she becomes a widow."
"We live in a patriarchal society. Men say that culturally as a widow you cannot do anything: You cannot grow your hair, you should not look beautiful."
Dr Giri established the North Indian Branch of the Guild of Service in 1979. The Guild of Service is one of the oldest social service organisations in India working in education, disability, social welfare and health.
She chaired the Delhi State Social Welfare Advisory Board from 1987 – 1990, the National Commission for Women from 1995 – 1998 and led the development of a National Policy for Senior Citizens in 2011.
Dr Giri was a founding trustee of the Women's Initiative for Peace in South Asia. She is also a board member of The Hunger Project.
"Dr Giri has emphasised in her social activism that all who engage are agents of social change. Empowerment is found wherever people act and are supported to act to enhance their society," said Professor Scott.
By: Jonny Baxter, digital journalist, UCD University Relations