UCD athletes take gold at European Rowing Championships and Pentathlon World Cup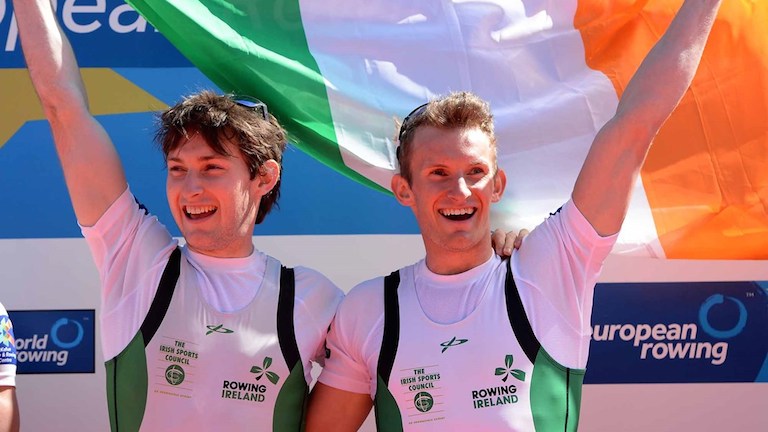 Posted May 10, 2016
Rower O'Donovan wins gold at European Rowing Championships
Pentathlete Lanigan-O'Keeffe takes first place at Modern Pentathlon World Cup
Both will represent Ireland at 2016 Olympic Games in Rio de Janeiro in August
Two UCD Ad Astra Athletes who will represent Ireland at the Rio Olympics have continued their preparation with success at European and international level. Rower Paul O'Donovan and pentathlete Arthur Lanigan-O'Keeffe won gold at the European Rowing Championships and Modern Pentathlon World Cup respectively.
Rowing - Paul O'Donovan
Rio Olympian and UCD Ad Astra Elite Athlete Paul O'Donovan finished in first place at the European Rowing Championships.
The Irish team of O'Donovan and brother Gary recorded a time of 6:57.760 in the A final of the men's lightweight double sculls.
Irish brothers Paul and Gary O'Donovan claim gold at European Rowing Championships https://t.co/btGtfuoMuh pic.twitter.com/VGAgO5S8Gx

— RTÉ Sport (@RTEsport) May 8, 2016

They finished 1.78 seconds ahead of Germany in second and 2.76 seconds ahead of Norway in third.
The O'Donovan brothers will represent Ireland in the double sculls at the Olympic Games in Rio. They qualified for the games during the 2015 World Rowing Championships.
Pentathlon - Arthur Lanigan-O'Keeffe

Fellow Rio Olympian and UCD Ad Astra Elite Athlete Arthur Lanigan-O'Keeffe took gold in the Mixed Relay at the Modern Pentathlon World Cup in Florida.
Lanigan-O'Keeffe and teammate Natalye Coyle finished first ahead of Belarus and Ukraine.
Gold medalists!! We did it!! ??????@ArthurLOK1 we finally got our hands on it! ??? #DreamTeam pic.twitter.com/vw4c2umker

— Natalya Coyle (@Natalyacoyle) May 8, 2016

The modern pentathlon is made up of five disciplines. These include equestrian show-jumping, fencing, swimming, running and pistol shooting.
Lanigan-O'Keeffe will join O'Donovan in representing Ireland at the 2016 Olympic Games. He qualified for the Olympics after taking gold at the 2015 European Modern Pentathlon Championships.
He previously represented Ireland at the 2012 Olympics in London.
By: Jonny Baxter, digital journalist, UCD University Relations