UCD Professor set to be first outside United States to receive Takeda Distinguished Research Award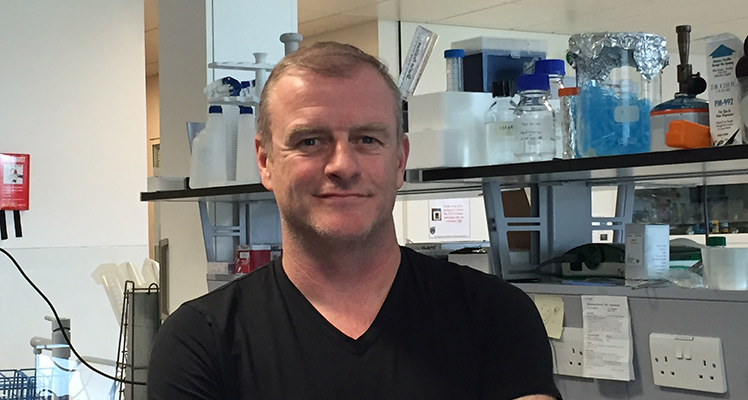 Posted May 25, 2016
Award recognises Prof Cormac Taylor's research into treatment of inflammatory bowel disease
Professor of Cellular Biology at University College Dublin, Cormac Taylor, will become the first academic outside the United States to receive the American Physiological Society's 2016 Takeda Distinguished Research Award.
The society's Gastrointestinal and Liver Physiology section awards the prize annually to an outstanding investigator who is internationally recognised for his/her contribution to research in the area.
This is the first time since the award was established in 2007 that it will be presented to a scientist located outside the US.
"Professor Taylor is very highly regarded within the gastrointestinal research community for his work on the roles of hypoxia in intestinal inflammation," said Dr Declan F McCole, Chair, American Physiological Society Gastrointestinal and Liver Section.
"He has generated very important insights in this field and thus is an extremely worthy winner of the 2017 Takeda Distinguished Research Award."
"This honour is a testament to the hard work of all of the PhD students and postdocs who have trained over the years in my lab at University College Dublin. I believe that the award underscores the importance of investigator-led basic research in medicine," Professor Taylor said.
"This Award to Professor Taylor demonstrates the quality and impact of his research carried at University College Dublin in one of our key strategic research areas, health," said Professor Orla Feely, UCD Vice-President for Research, Innovation and Impact.
Pictured top: Professor Cormac Taylor who will be the first academic outside US to receive American Physiological Society's Takeda Distinguished Research Award; and above, Professor Taylor discusses the nature of the research he has carried out on treating inflammatory bowel disease.
Professor Taylor leads a research group at the UCD Conway Institute investigating the mechanisms by which epithelial cells – cells on the surface of the skin – respond to low oxygen levels in the body (hypoxia).
His research into the cellular response to hypoxia has revealed novel mechanisms whereby certain processes can be used to treat conditions such as inflammatory bowel disease.
Professor Taylor has received numerous awards in recognition of his academic achievements. In 2014, he was recognised for outstanding scientific mentorship with the Nature Award for Mentoring in Science.
After completing his PhD in pharmacology from the UCD Department of Pharmacology in 1996, he began a research fellowship in Harvard Medical School at the Brigham & Women's Hospital.
In 2001, he was appointed College Lecturer in the UCD School of Medicine, and he also established an independent research group at the UCD Conway Institute. He became a Professor at UCD in 2010.
Professor Taylor has successfully supervised 16 PhD students, and published over 100 articles, accumulating in excess of 8,000 citations and achieving a h-factor of 44.
He has maintained continuous funding through the Science Foundation Ireland investigator award programme since 2002. He has also held career development awards from the Wellcome Trust and the National Institutes of Health (USA).
Prof Taylor is Managing Editor of Frontiers in Biosciences and an Editorial Board Member of the American Journal of Physiology.
Established in 1887, the American Physiological Society was the first US society in the biomedical sciences field. The society currently represents more than 11,000 members and publishes 14 peer-reviewed journals with a global readership.
By: Jamie Deasy, digital journalist, UCD University Relations