UCD honours distinguished graduates with Alumni Awards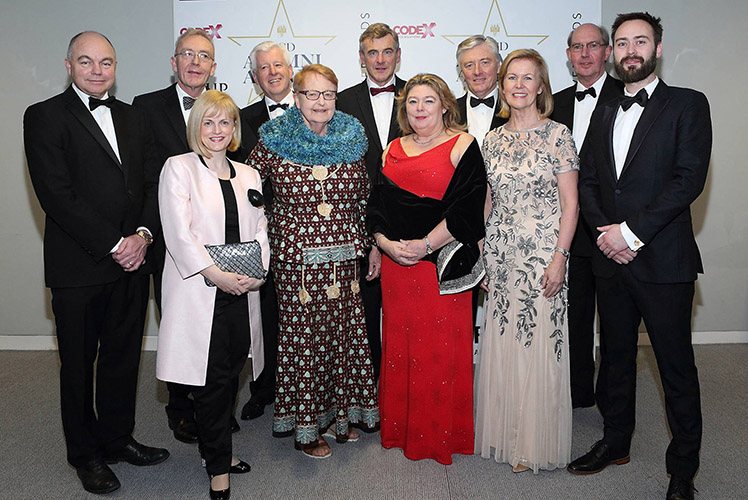 ‌‌‌
Posted November 15, 2016
University College Dublin President Professor Andrew J Deeks has presented Alumni Awards to ten of the University's notable graduates who have achieved excellence in their fields of expertise.
Each November, the UCD Foundation Day Alumni Awards celebrate the foundation of the University and the accomplishments of some of its best and brightest graduates.
This year's awardees have excelled in the arts, health, business, agriculture, sport, engineering, academic research and impact, social science and law.

At the special alumni event, UCD President, Professor Deeks, presented awards to the following alumni:
John Horgan Agriculture and Veterinary Medicine
Mr Horgan is Managing Director of the Kepak Group. He has been responsible for the driving the diversification and growth of the Kepak group from a traditional meat processing business into a consumer-focused food processor. Kepak is an acknowledged leader in meat excellence and a pioneer in the development of meat traceability systems, delivering product and process integrity.
H.E. Ms Anne Anderson Arts
H.E. Anderson is currently the 17th Ambassador of Ireland to the United States. She has also served as Ambassador of Ireland to the UN, the European Union, France and Monaco. She is the first woman to hold each of these positions . She previously acted as Chair of the United Nations Commission on Human Rights from 1999 to 2000 – the fourth woman to earn the honour.
Martin Fraser Business
Martin Fraser is the current Secretary General to the Irish Government and Secretary General of the Department of the Taoiseach. He previously served as an Assistant Secretary in the department since 2007. As Secretary General to the government, he is an ex-officio member (Commissioner) of the Commission for Public Service Appointments.
Pictured: Back row, left to right: UCD President, Professor Andrew J Deeks, Ian Quinn, John Horgan, Colm O'Rourke, broadcaster Pat Kenny, Dr Dennis Jennings; front row, Professor Eleanor Maguire, Dr Anne Merriman, Dr Aideen Hayden, H.E. Anne Anderson and Benjamin Cleary
Ian Quinn Engineering
Mr Quinn is co-founder and Managing Director of Creganna Medical Devices and has also served as the company's CEO for the last 25 years. The firm now employs 2,000 people across four continents and is ranked among the top three providers of minimally invasive medical device outsourcing solutions in the world.
Dr Anne Merriman Health Sciences
Dr Merriman is one of the leading hospice movement pioneers in the world and the undisputed leader of the hospice movement in Africa. In 2014, she was nominated for a Nobel Peace Prize. She received an MBE in 2002 for her contribution to health services in Uganda. In 2013, she was presented with the Irish Presidential Distinguished Service Award in recognition of her charitable works.
Benjamin Cleary Law
Mr Cleary is a writer and director. In 2015 he wrote, directed and edited his first short film 'Stutterer'. The film won an Academy Award in Spring 2016 in the short film category. The film has won many other including best Live Action Short 2015, a London Critic's Circle Award, an Irish Film and Television Award, an Irish Young Director Award and Best Foreign Film at LA Shorts Fest.
Professor Eleanor Maguire Research Innovation and Impact
Professor Maguire is a neuroscientist and academic. She is Professor of Cognitive Neuroscience at University College London. Her focus is primarily on memory. She was named as one of the 'Twenty Europeans who have changed our lives'. She has also won a number of prizes for outstanding contributions to science, including the Cognitive Neuroscience Society Young Investigator Award and the Royal Society Rosalind Franklin Award.
Dr Dennis Jennings Science
Dr Jennings was UCD's first full-time Director of Computing Service from 1977 to 1999. Since then has fulfilled roles in national and international networking and scientific organisations and in business. He was instrumental in selecting the underlying technology and defining the architectural principles that established the foundation of today's global internet.
Dr Aideen Hayden Social Sciences
Dr Hayden has been the chairperson of the housing charity, Threshold, since 1999. She has made a significant contribution to enhancing legal protections and securing funding for housing matters over the last 30 years. She was appointed a Labour Senator in 2011. Her work has focused on policy solutions to mitigating the difficulties experienced by vulnerable groups in the housing market.
Colm O'Rourke Sport
Colm O'Rourke is an Irish retired sportsperson, columnist and analyst. He previously played Gaelic football for the Meath senior inter-county team with which he won two All-Ireland Senior Football Championship medals, in 1987 and 1988. He was also awarded three GAA All Star Awards. Now he is a columnist with the Sunday Independent and a panellist on The Sunday Game on RTÉ Television.