We have a "moral obligation" to help achieve UN sustainable development goals
Professor Jeffrey Sachs has been awarded the UCD Ulysses Medal for his global contribution. He is widely considered to be one of the world's leading experts on economic development, global macroeconomics, and the fight against poverty.
His work on ending poverty, overcoming macroeconomic instability, promoting economic growth, fighting hunger and disease, and promoting sustainable environmental practices, has taken him to more than 125 countries with more than 90 percent of the world's population.
For over thirty years, Professor Sachs has advised dozens of heads of state and governments on economic strategy, in the Americas, Europe, Asia, Africa, and the Middle East.
He is Special Advisor to United Nations Secretary-General Ban Ki-moon on the Sustainable Development Goals, and previously advised both UN Secretary-General Ban Ki-moon and UN Secretary-General Kofi Annan on the Millennium Development Goals.
Professor Sachs is also one of the 17 SDG Advocates appointed by Secretary-General Ban to promote the sustainable development agenda and foster the engagement of new stakeholders in the implementation of the SDGs.
Time Magazine has twice named Professor Sachs among its 100 most influential world leaders. The New York Times has said he is "probably the most important economist in the world." The Economist Magazine has ranked Professor Sachs among the world's three most influential living economists of the past decade.
After receiving the UCD Ulysses Medal, Professor Sachs addressed the 1,000-strong audience who turned out to hear him speak.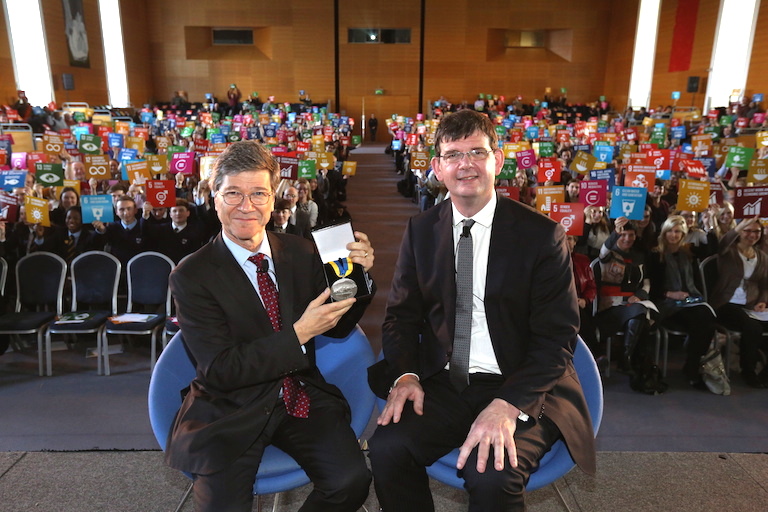 Pictured: Professor Jeffrey Sachs is presented with the UCD Ulysses Medal
by Professor Mark Rogers, UCD Deputy President and Registrar.
"We are not spectators in an unfolding drama, we are the participants and the protagonists who are needed to help shape the kind of future that we want," he said.
"There is nothing automatic about the success of these goals or automatic about their failure."
"… I am a firm believer that these goals are realistic, that they are achievable, and that they are important, and that our job is to do whatever we can to make them be achieved," he declared.
"This is something for human well-being, and because it's within reach, it is our moral obligation to help it to be reached."
The 17 UN sustainable development goals are:
no poverty
zero hunger
good health and well-being
quality education
gender equality
clean water and sanitation
affordable and clean energy
decent work and economic growth
industry, innovation and infrastructure
reduced inequalities
sustainable cities and communities
responsible production and consumption
climate action
life below water
life on land
peace, justice and strong institutions
partnerships for the goals
Professor Sachs served as the Director of the Earth Institute at Columbia University from 2002 to 2016. Appointed University Professor at Columbia University in 2016, he also serves as Quetelet Professor of Sustainable Development, and Professor of Health Policy and Management at Columbia University.
Prior to joining Columbia, Sachs spent over twenty years as a professor at Harvard University, most recently as the Galen L. Stone Professor of International Trade. A native of Detroit, Michigan, Sachs received his B.A., M.A., and Ph.D. degrees at Harvard.
Professor Patrick Paul Walsh from the UCD School of Politics and International Relations, College of Social Sciences and Law, University College Dublin, delivered the official citation at the award ceremony.
The UCD Ulysses Medal is the highest honour that University College Dublin can bestow. It was inaugurated in 2005, as part of the University's sesquicentennial celebrations, to highlight the 'creative brilliance' of UCD alumnus James Joyce. It is awarded to individuals whose work has made an outstanding global contribution. Previous recipients include: former US President, Bill Clinton; world-leading intellectual and linguist, MIT Professor Noam Chomsky; and world's most influential philosopher, Professor Jürgen Habermas.