Ireland to host International Geographical Congress for first time
Posted September 13, 2016
Associate Professor Niamh Moore-Cherry leads bid to host congress in Ireland

Conference represents the largest gathering of international geographers
Ireland will host the International Geographical Congress (IGC) in 2024 for the very first time.
Niamh Moore-Cherry, the President of the Geographical Society of Ireland (GSI) and Associate Professor, UCD School of Geography, led the successful proposal to host the congress in Dublin.
Held every four years, the IGC is the conference of the International Geographical Union (IGU). The conference represents the largest gathering of international geographers. The IGU was established in 1922.
It holds a number of academic paper sessions and includes keynote plenaries on topics of major international importance.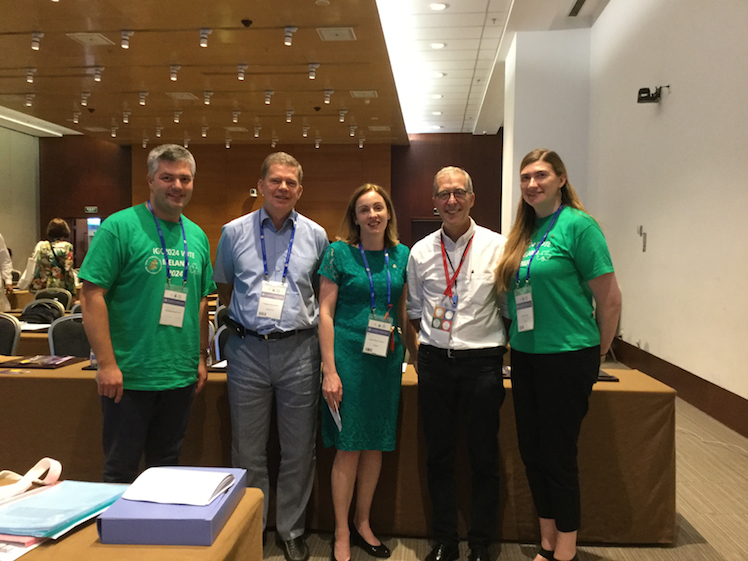 Pictured l-r: Dr Jonathan Cherry (DCU), Prof Vladimir Kolossov (IGU President), Associate Professor Niamh Moore-Cherry (UCD, President Geographical Society of Ireland and Chair of Bid Committee), Prof Mike Meadows (IGU Secretary-General), Dr Frances Fahy (NUIG, Vice-Chair of Bid Committee)
Professor Cherry-Moore said the conference would be an "excellent opportunity for all of the higher education institutions and geography schools on the island to work together and showcase the power of a collaborative approach to academic and public engagement".
Dr Frances Fahy, NUI Galway, and Gerald Mills, Associate Professor, UCD School of Geography, who are Vice-Chairs of the GSI, worked closely with Professor Cherry-Moore on the bid.
"The success is a reflection of the intense period of preparatory work and of the on-the-ground networking that Niamh co-ordinated," said Associate Professor Mills.
Professor Anna Davies, Trinity College Dublin, Professor Rob Kitchin, NUI Maynooth and Dr Jonathan Cherry, Dublin City University, were also centrally involved in the bid.
Professor Moore-Cherry and her colleagues began preparing for the bid after open calls for applications to host the conference were made in December 2015.
She presented the GSI bid for the conference to the General Assembly meeting held in Beijing during the IGC 2016 in August. The Irish bid won the majority of votes cast by national representatives.
Following a vote by the General Assembly, made up of national delegates from member countries, Dublin emerged the decisive winner.
The bid competed with proposals from Copenhagen/Malmo, Melbourne and Prague.
The proposed venue for the conference is Dublin City University.
By Jamie Deasy, digital journalist, UCD University Relations