UCD team wins Great Agri-Food Debate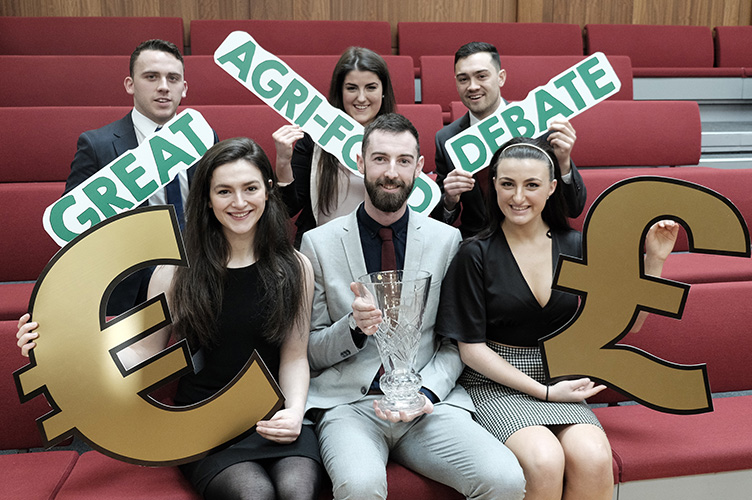 Posted February 23, 2017
Food and agricultural science students from University College Dublin have won the 2017 Great Agri-Food Debate.
The winning team, all students from University College Dublin (UCD) School of Agriculture and Food Science, opposed the motion: "Brexit will be good for the Irish agri-food industry".
The debating team comprised Patrick Hennessy (Stage 4, Food and Agribusiness Management), Una Sinnott (Stage 1, Agricultural Science), Anthony Jordan (Stage 4, Food and Agribusiness Management) and Niall Walsh (Stage 4, Animal Science and team captain).
Rachel Morris (Stage 4, Food and Agribusiness Management) and Ciara Cronin (Stage 3, Animal Science) were also members of the winning UCD team, acting as researchers.
Pictured: The winning UCD Great Agri-Food Debate debating team, front row, Una Sinnott, Niall Wlash (captain), Rachel Morris; back row, Patrick Hennessy, Ciara Cronin, Anthony Jordan
Una Sinnott also claimed the prize for best overall speaker in the debating final.
The motion was supported by students from Waterford Institute of Technology.
The great Agri food debate #agrifooddebate #ucd @dawnmeatsgroup @ucdagfood @McDonalds @waterfordit @sean_holian pic.twitter.com/TeiBxLTh3L

— John Walsh (@johnw290) February 22, 2017
This is the second year that UCD hosted the event, which was held in the Garret Fitzgerald Debating Chamber and was sponsored by meat processing company Dawn Meats and McDonald's Ireland.
Students from the UCD team vigorously opposed the motion citing issues such as the potential reduction in agri-food exports and loss of the UK-Ireland trading relationship.
Irish agri-food exports to the UK account for one-third of the country's total merchandise exports to the UK. Just under half of Irish beef exports are destined for the UK market. In opposing the motion UCD drew on the importance of this trading relationship.
UCD's captain Niall Walsh argued: "The Irish agri-food industry, without demand from the UK, would be completely rudderless. Like it or not, for hundreds of years, Ireland and the UK have had close ties and a trading relationship. It's very hard to see how barriers and tariffs in this relationship could be a good thing."
Proposing the motion, students from Waterford Institute of Technology put forward their case for the potential opportunities that Brexit represents while arguing that Ireland will remain a special trading partner with the UK.
Following an energetic and informative debate, the team from UCD won the debate on a tight split decision.
The debate moderator was Justin McCarthy, editor of the Irish Farmers Journal and the judging panel included Niall Browne, CEO of Dawn Meats; Adrian Crean, managing director of McDonald's Ireland and Tara McCarthy, CEO of Bord Bia.
By: Jamie Deasy, digital journalist, UCD University Relations