€1.5m award for UCD study on developing framework for regional prosperity in Europe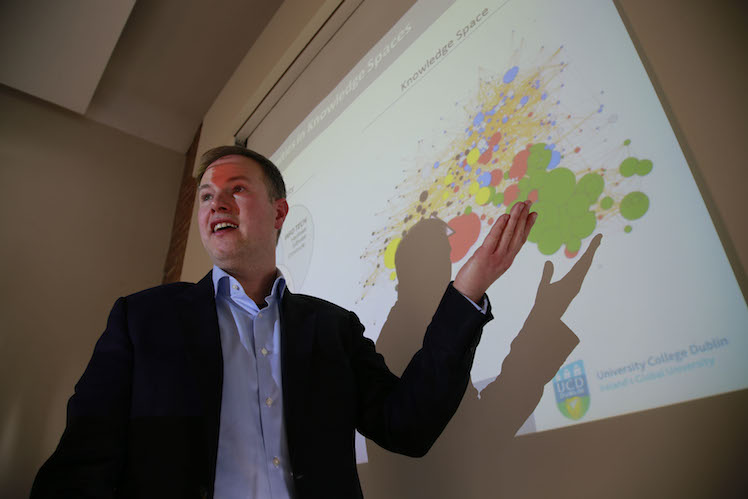 Posted February 24, 2017
Project to enable policymakers to smarter make location-based investment decisions
Study to deliver advanced science and technology policy evaluation tool
An investigator at University College Dublin has been awarded €1.5 million to carry out research that would enable policymakers to make location-based investment decisions to drive regional prosperity in Europe.
The aim of the project is to produce a series of economic indicators, models and tools which will enable firms and policymakers to boost innovation and drive economic growth across the European regions.
The project will also deliver an advanced science and technology policy evaluation tool.
Dr Dieter F Kogler, Associate Professor and early-career researcher in the UCD School of Architecture, Planning and Environmental Policy, will receive funding, over five years, for the study entitled, 'Technology Evolution in Regional Economies' or TechEvo. The European Research Council (ERC) are providing the funding for the research under the ERC Starting Grant initiative.
Pictured: Dr Dieter Kogler, Associate Professor UCD School of Architecture, Planning and Environmental Policy, who will carry out the TechEvo study on making smarter location-based investment decisions that will drive regional prosperity in Europe
The research will apply a 'bottom-up' approach to understanding and enabling knowledge-based economic growth. Using this methodology, local scientific and technical capabilities will form the basis of the development of regional strategic policies to boost innovation and economic growth.
To achieve this, Dr Kogler will employ his novel concept of 'knowledge spaces' – a tool capable of identifying current economic development deficiencies, as well as future opportunities for innovative activities, within urban centres and in regional economies.
Dr Dieter Kogler's research focus is on the geography of innovation and evolutionary economic geography.
"To date, the way in which specific regional knowledge capabilities influence the evolution of local technology trajectories and thus shape geographies of economic prosperity have not yet been considered systematically," he said.
"Through the TechEvo research project, we will provide groundbreaking insights into how innovative entities and individual inventors are embedded in social and cognitive, local and non-local networks, and how regional technological change is shaped through entry, exit, and selection processes."
Professor Orla Feely, UCD Vice-President for Research, Innovation and Impact said she was delighted that this funding award has been granted, as it corresponds to "one of UCD's major research themes, namely Culture, Economy and Society".
"I have no doubt that the results from this research, and the implementation of the models and tools generated, will result in delivering significant economic and societal impact, not only in Ireland but across Europe."
ERC Starting Grants are awarded under the 'excellent science pillar' of Horizon 2020, the European Union's research and innovation programme and aim to support a new generation of top researchers in Europe.
Professor Mark Ferguson, Director General, Science Foundation Ireland and Chief Scientific Adviser to the Government of Ireland, said: "Work like this is much needed in order to develop more effective policy measures in support of emerging technologies and smart specialisation strategies."
By: Jamie Deasy, digital journalist, UCD University Relations