Clifden Arts Festival donates its archive to UCD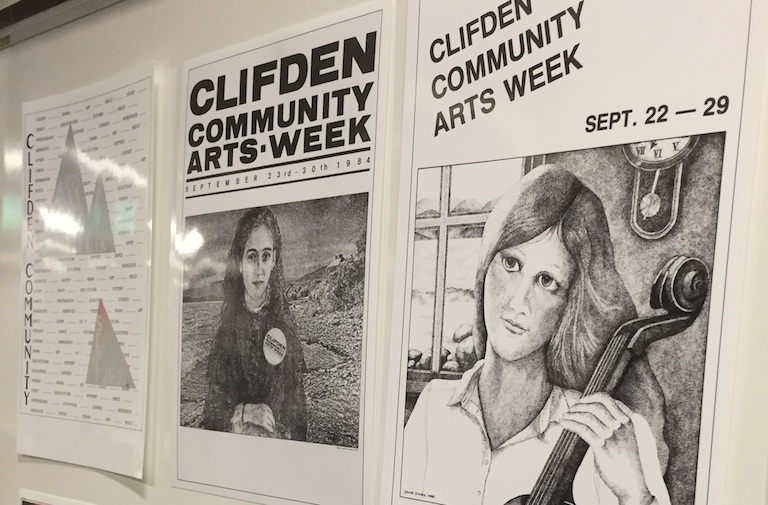 ‌
Posted February 28, 2017
Festival described as "Ireland's best-kept secret"
Archive to be stored in UCD Cultural Heritage Collection
Ireland's oldest community arts festival has handed over 40 years worth of print and digital material to University College Dublin for preservation.
The Clifden Arts Festival archive includes thousands of original photographs, video and audio recordings, posters, correspondence and minute books. It will continue to be updated to provide a record of the festival's development and its national and international impact.
Described by Man Booker Prize winner Kazuo Ishiguro as "Ireland's best-kept secret", the festival has grown from a local event to one that attracts an international audience.
Those who have performed at the festival include poet Seamus Heaney, musician Christy Moore and writer Paula Meehan.
Pictured top: posters from previous editions of the festival included in the archive; and below, Youtube clip of the handover ceremony,
held in ?UCD Library,

of

The ?Clifden Arts Festival's extensive print and digital archive which was placed into the care of UCD by ?Brendan Flynn?, founder of the festival, accompanied by ?Des Lally and Bernhard Sanders

Bernhard Sanders, a retired German sound engineer and photographer, has been documenting the festival since the 1990s. He attended for the first time 28 years ago.

"I was totally impressed by the marvellous mix of different kinds of arts," Sanders told RTÉ Drivetime. "I had to come back next year. For me it was the border from summer to winter."

UCD will keep the archive in its Cultural Heritage Collection. The collection is home to many of Ireland's historical manuscripts, recordings, and works of art as part of UCD's effort to record and preserve the country's cultural legacy.

The Clifden Arts Festival was founded by Brendan Flynn and colleagues from Clifden Community School to incorporate creativity and performance into the school curriculum. The festival celebrates its 40th birthday in September 2017.

The UCD Digital Library holds the "Data Seal of Approval", an accreditation recognised by the European Commission, which ensures that a sustainable infrastructure is provided for these cultural heritage collections.

UCD Library embraces the new demands of digital media and digital technologies, and provides national leadership in capturing and preserving digital expressions of our culture and our heritage. UCD Library is dedicated to preserving the Clifden Archives, and making them available for future generations.

The technical expertise of UCD Library staff helps to ensure that these materials are conserved and made available for teaching and research both at home and abroad, as well as increasing public engagement and creating new opportunities for artists.

By: Jonny Baxter, digital journalist, UCD University Relations