T.K. Whitaker: 08 December 1916 - 09 January 2017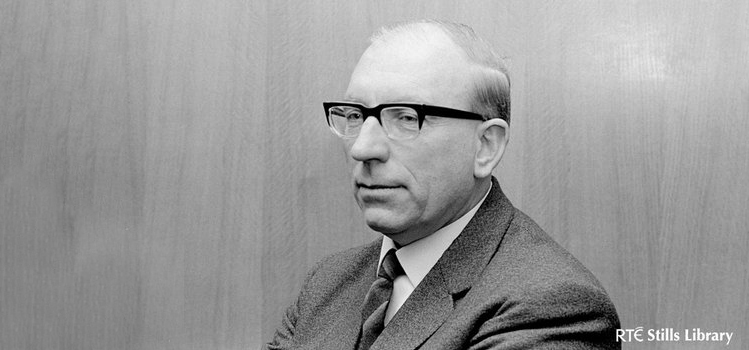 The death of T.K. (Ken) Whitaker has been met by an outpouring of tributes rightly combining a high regard for his achievements with a warm admiration for the 'smiling public man' and the engaging individual known to so many. He had been determined to see his 100th birthday, which he celebrated on 8 December last. 'The man who made modern Ireland' continued to play an active role in public life well into his nineties: the long arc of his life reminds us of how much has changed in Ireland over this time, and how great a role he played in bringing this about.
Ken Whitaker is perhaps best known for having stimulated a reorientation of economic policy in the late 1950s. Under his guidance, the economic stagnation and chronic emigration associated with economic protection gave way to a policy stance based on encouraging productive investment, building up industrial development, and encouraging export activity. These policy ideas had been under discussion for some time, and indeed the two inter-party governments (1948-51 and 1954-57) had already started the policy shift. Whitaker, as Secretary of the Department of Finance, brought his own traditionally conservative and cautious Department into line with these priorities, and through his good working relationship with Seán Lemass as Taoiseach, was able to provide a conduit for these priorities into the heart of government. Perhaps most crucially though, Whitaker, along with Lemass, changed the tenor of debate in Ireland away from an insular and inward-looking idealization of rural life. This made it possible for Fianna Fáil to commit to the modernization that the preceding coalition governments had been unable to drive consistently.
The shift in mentality can hardly be overstated. At this time, Ireland was not the only region of Europe experiencing a flight from the land and an inrush to the cities in search of a better life, whether from the southern Italian regions to the cities of the north, or from Greece and Portugal to industrial centres in Germany and Switzerland. This was an era during which much of continental Europe was benefiting from steady growth, based not only on postwar reconstruction, but also on deepening trade links and strengthening diplomatic and political connections across borders.
Whitaker and his colleagues drew pragmatic lessons from French planning measures and Italian industrial development policy. Whitaker, who spoke fluent French, was an instinctive Europhile – not unlike many of the leaders of European integration who shared a Christian Democratic value orientation and, in many cases, strong personal religious commitments. Moreover, if France and Germany could commit to economic and political cooperation after seventy-five years of recurring carnage, the implications for Ireland's historical antagonism to Britain were clear. Whitaker became actively involved in rapprochement between the Irish government and the Stormont regime, and advised on diplomatic and political peace initiatives throughout the Troubles.
Whitaker's fiscal conservatism informed his wariness of Ireland's strongly pro-cyclical fiscal policy orientation, and his tenure as Governor of the Central Bank (1969-1976) provided stability during difficult times. The same fiscal conservatism may also have limited somewhat his sense of the need for the 'inclusive growth' to which Christian Democrats elsewhere in Europe were committed, but which was poorly understood by most Irish politicians. This involved complementing structural economic change with investment in comprehensive social security coverage, and ensuring access for everyone to good-quality public services. Ireland is still sadly lagging on these fronts.
Whitaker was an intellectually curious and open-minded man who was alive to the changing times, and yet the animating values of his life remained consistent. His love of the Irish language was undiminished by its growing marginalization; he remained religiously observant, while also liberal in his sympathies, as religion ebbed from centre-stage in Irish life. He was deeply committed to the importance of education, and he made a profound contribution to reconstituting the National University of Ireland on a stronger and more durable basis during his tenure as Chancellor (1976-1996). Above all, he had a remarkably strong sense of public service and of what it means to act with integrity in the public interest. His death is a great loss.
Prof Niamh Hardiman,
UCD School of Politics & International Relations