Dermot Gallagher: 25 January 1944 – 15 January 2017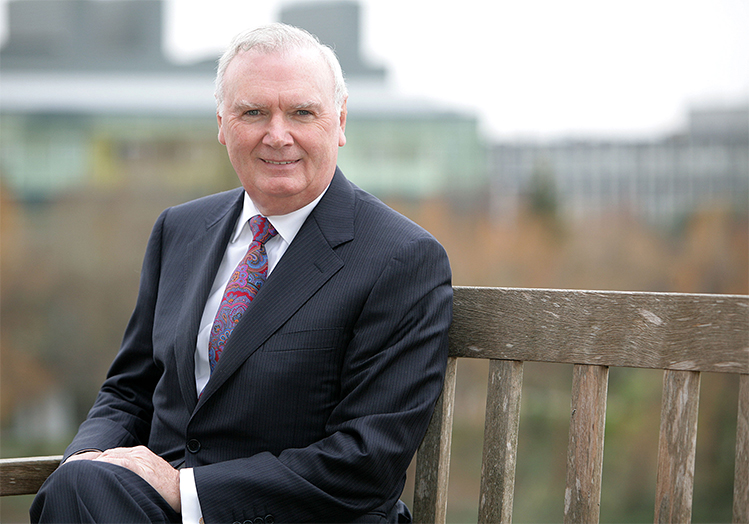 Posted January 16, 2017
It is with deep sadness that the UCD community marks the passing of Dermot Gallagher, Chair of the UCD Governing Authority 2009-2013.
Tim O'Connor pays tribute to Dermot Gallagher
There is a strange and sad symmetry about the fact that Dermot Gallagher has passed away in the same week as TK Whitaker. Both were giants of the Irish Public Service and each in his own way made a contribution in their time to the evolution of the Modern Ireland that was utterly game-changing.
The facts about Dermot Gallagher's career are impressive in themselves. A graduate of UCD, he joined the Department of Foreign Affairs in 1969 at the beginning of what was truly a stellar diplomatic career by any standards. Postings in San Francisco, London, and Brussels, interspersed with stints at Headquarters at Iveagh House, were followed by his first appointment as Ambassador – to Nigeria in 1985 at the age of 40. Two years later, 1987, came the beginning of the defining period in his career – leadership of the Anglo-Irish Division of the Department. His appointment coincided with a pivotal time in Anglo-Irish relations – two years into the Anglo Irish Agreement and a new intensity in the efforts of the British and Irish Governments to design a comprehensive Peace Agreement that would bring an end to decades of conflict. From that moment on, Dermot was central to those efforts – all the way to the ground-breaking Good Friday Agreement in April 1998, and to its implementation over the following 11 years until his retirement in 2009. Two more facts: In between, he spent seven years (1991-1997) as a hugely influential Ambassador of Ireland to the United States (he was crucial to the establishment and building of Ireland's close relationship with one William Jefferson Clinton) and in 2001, Dermot reached the pinnacle of diplomatic life when he was appointed Secretary General of the Department of Foreign Affairs, a post he held until his retirement in 2009.
Those are the facts. As I said, impressive in themselves. But they do not even begin to do justice to the extraordinary Force of Nature that was Dermot Anthony Gallagher. A personal disclosure: I was privileged to work for and with him, close up and personal, from 1987 until my own career in DFA came to an end in 2007. I will always be in his debt. This is what I saw: an inspirational leader, a passionate Irishman, a practical visionary, a forensic mind that could cut quickly and decisively to the heart of an issue and situation, great courage, deep wisdom, superb judgment, enormous energy and ferocious determination. One particular quality he had stood him out as a leader: he believed deeply in the power of a team to get more done than any one individual (even one as brilliant as himself) could do on their own, and he understood instinctively how to get the best out of that team. For those of us lucky enough to be on his team at any particular point, that was a life-changing experience. He didn't make us – but he most certainly ENABLED us. He saw things in people that they didn't even realise they had in themselves – and he gave that talent a platform to deliver in a national cause. To be around him in that setting was to be very privileged.
When the history of the Peace Process comes to be written, the contribution of Dermot Gallagher will have a deeply honoured place. The Presidents, Taoisigh, Ministers and the politicians North and South he served (that was how he saw the role) over the years knew they were getting the advice and support of an outstanding public servant and valued his input so highly. As a proud Leitrim-man (also central to understanding him), Dermot knew that our generation of public servants and politicians found ourselves in the midst of a once-in-a-lifetime chance to secure peace for our country and for future generations. And therefore our duty was to walk every mile, to push ourselves to every limit and do whatever it took to ensure that that opportunity was grasped. Under his inspiring and extraordinary leadership, we signed up and followed him knowing we were in the best and wisest of hands.
The last words though are not about his career, amazing as that was. They must be about the family who meant the most to him in the entire world – Maeve and their three great offspring, Fiona, Aoife and Ronan. Our loss, deep as it is, is nothing compared to theirs and our hearts and thoughts go out to them in this brutal week. I hope that the knowledge of the phenomenal contribution of their dear Dermot and the way he was revered by all who worked with him and knew him is some consolation in these sad days.
There will never be another Dermot Gallagher. Ar dheis Dé go raibh a anam dilis.