UCD's "engineering visionary" honoured by Irish Academy of Engineering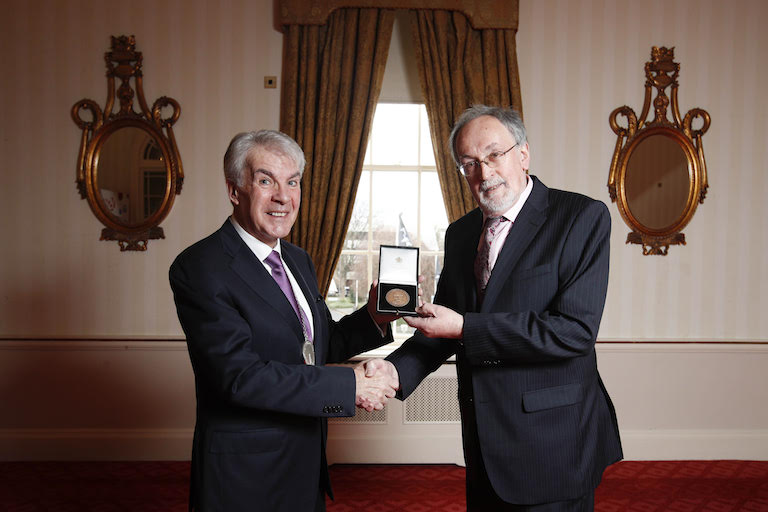 ‌
Professor Tony Fagan has been awarded the 2016 Parsons Medal for Engineering Research for his role in the improvement of global communication technology.
The Parsons Medal is awarded by the Irish Academy of Engineering (IAE) to those of exceptional ability who have achieved excellence in engineering.
Professor Fagan, UCD School of Electrical and Electronic Engineering, received the honour for his influence in the field of digital signal processing (DSP).
DSP is a technology that allows instant communication across the world. It is the technical brains behind television, the internet and devices such as phones and digital cameras.
Since the early 1980s, Professor Fagan has been "prominent in creating a high-tech DSP ecosystem in Ireland," said Eoin O'Driscoll, Irish Academy of Engineering.
"Dublin now has a 'DSP Valley' that is the envy of many high-tech regions elsewhere" and his impact meant that he can "rightly be described as an engineering visionary."
Pictured (l-r): Eoin O'Driscoll, President of IAE and Prof Tony Fagan
Professor Fagan received his PhD from University College Dublin in 1978. Following early career experience in Marconi Research Laboratories in the UK, he returned to UCD to set-up the DSP Research Centre in 1980.
The centre generated several spin-out companies that were responsible for key developments in the field of DSP. These include the first high-speed single-chip dial-up modem and first wireless high-precision system for locating objects or people inside buildings.
He has raised €4.5 million in funding during his career and published more than 130 papers.
The Parsons Medal was named after Sir Charles Algernon Parsons. Parsons was an Anglo-Irish engineer who invented the steam turbine.
By: Jonny Baxter, digital journalist, UCD University Relations